Pataki Returns Home for Presidential Campaign Rally
We are part of The Trust Project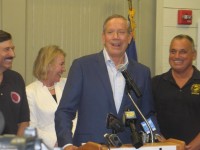 Three days after joining an expanding field of candidates seeking the Republican nomination for president, George Pataki returned to his Peekskill roots Sunday to join longtime friends and supporters who believe he can make it to the White House.
Several hundred people jammed into the Lincoln Depot Museum – where President Abraham Lincoln stopped to make a brief speech in 1861 – to hear the equally lanky Pataki, who has never lost an election, proclaim why he should be taken seriously.
"I'm home," Pataki declared to a throng of delirious, sign-waving believers. "Wherever I am, wherever I go, this is home. This is where my values were formed. This is where my heart is. I know the greatness of this country. We have to take this country back."
Pataki, 69, grew up on a family farm in Peekskill. He was elected mayor in 1981, before being elected as an assemblyman, state senator and then governor, where he served three terms, before leaving office in 2006. Each time, Pataki was considered an underdog, which he jokingly referenced.
"If you look at his history, people have always underestimated his ability to win elections," said former Peekskill Mayor Vincent Vesce, who served as a councilman during Pataki's time as mayor. "He's proven to be a very honest guy and a guy people warm up to very quickly. He's very articulate. He's very sincere. He cares a great deal about this nation. I think he's a longshot right now but he's been a longshot in the past."
Current Peekskill Mayor Frank Catalina said Pataki has "a knack for timing" when choosing what elected offices to seek.
"Those of us who know him know don't count him out," Catalina said. "I think there's a path, certain things have to happen. I think George Pataki is exactly what this country needs. It would be amazing to have the president of the United States right here in Peekskill."
In a four-minute video released last Thursday that officially kicked off his campaign, Pataki spoke about his beginnings in politics.
"When I was elected mayor the last thing in the world I thought of was that someday I could be governor of New York State. I was this unknown person from Peekskill, not exactly Manhattan or New York City," he said.
"America has a big decision to make about who we are going to be and what we are going to stand for. If we are to flourish as people, we have to fall in love with America again. We are all in this together. We, the people, can make a difference. When we stand together, we as Americans can accomplish anything."
With 15 other Republicans actively or considering running for the party nod, former Peekskill mayor and current Westchester County Legislator John Testa said Pataki "has the ability to stand out and move into the top tier of candidates."
"We all have seen what he can make happen then," Testa said. "We know he has been contemplating this decision to run for some time so for him to move forward is exciting. If the rest of the country gets to know the George Pataki we know he will do well. His record as an elected official and track record of campaigning are second to none."
Deb Milone, executive director of the Hudson Valley Gateway Chamber of Commerce, said Pataki's candidacy would provide an opportunity for Peekskill to showcase itself.
"Peekskill has a special place in political history. Our small community has produced senior statesmen at the local, state and national levels, as well as the notable achievement of having the first African-American Mayor (Richard Jackson) of a city in New York State," she said. "Then there's the story of a hometown kid named George Pataki who made it all the way to the Governor's Mansion. Now, with Pataki's sights set on the White House, regardless of politics, his presidential run will put Peekskill into the national spotlight."
Pataki was accompanied at the rally by his wife, Libby, who is Putnam County's director of tourism. The couple now lives in Garrison.
Pataki is currently Of Counsel with Chadbourne & Parke LLP, and president of the Pataki-Cahill Group, which works in energy, infrastructure and clean tech.