Pataki Endorses Councilman Murphy for State Senate Seat
We are part of The Trust Project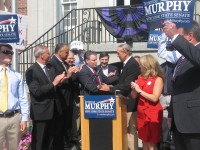 Former Governor George Pataki endorsed Yorktown Councilman Terrence Murphy last week for the State Senate seat he once held.
Standing in front of Peekskill City Hall, where he also served as mayor, Pataki said Murphy has the local government background and experience as a small business owner to make a difference in Albany representing the 40th Senate District, which covers northern Westchester, Putnam County and parts of Dutchess County.
"I represented this district for 10 years, eight as an assemblyman and two in the Senate. Believe me I know what it takes to win," Pataki said. "Terrence is an outstanding public official. It's rare how you find someone in the State Legislature with local government experience."
Murphy, a Republican, is running for the seat currently held by Senator Greg Ball (R/Patterson), who announced in the spring he would not be seeking reelection. Murphy said he was grateful for Pataki's support and would strive to follow in his footsteps.
"If I could emulate one man's style in office it would be Governor Pataki," Murphy said. "Any time you can get such a leader to back you it deserves special attention. My record is one that stands for itself. I'm the pro-business candidate. We need to make Albany an opportunity to succeed for everyone. New York needs to come to its senses."
Pataki, who served three terms as governor from 1995 to 2006, also criticized the current state of affairs in New York, remarking, "When I think of Albany I don't think of pride. I think of sadness. Albany is not broken. Albany is corrupt."
While Pataki never mentioned the upcoming September 9 primary between Murphy and former Assemblyman Robert Castelli, his appearance with other prominent local Republican officials, including Peekskill Mayor Frank Catalina, Yorktown Supervisor Michael Grace and Putnam County Executive MaryEllen Odell, was viewed as a direct message to registered Republican voters.
Castelli, who noted Murphy made four failed attempts to knock him off the ballot, maintained Pataki's endorsement would have "very little" effect on the primary, suggesting instead several endorsements from organizations he would be announcing this week would carry much more weight.
"I think people see through that," Castelli remarked. "While I respect Governor Pataki, I'm not surprised by the endorsement. It's further reinforcement of the fact Murphy is the handpicked candidate of the party bosses in Albany. There are a lot of people supporting me, someone who is known as a reformer in Albany. I've done what they're talking about. You can talk the talk or you can walk the walk. I'm not just talking about it. I'm actually doing something about it."
Democratic candidate Justin Wagner's camp also weighed in on Pataki's public endorsement of Murphy.
"Terrence Murphy is an anti-choice extremist who has been clear that he opposes protecting women's rights and would vote against the Women's Equality Act," said Steve Napier, campaign manager for Wagner. "The Republican primary in the 40th Senate District has devolved into a competition for who is the most extreme, out-of-touch option for the radical right to designate."