PHOTOS: Party Politics Put Aside for Ping Pong
We are part of The Trust Project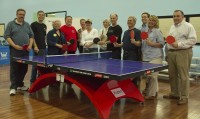 As the political season is about to kick start into full gear, a dozen elected officials put aside their political affiliations for an afternoon and competed in the inaugural Examiner Media Table Tennis Cup Saturday, April 14. The event, which was held during the open house of Westchester Table Tennis Center in Pleasantville, brought village, city, town and state officials together from throughout Putnam and Westchester County to see who had the fastest hand in the Hudson Valley.
Participating in the event were mayors Peter Scherer (Pleasantville) and Tom Roach (White Plains), town supervisors Paul Feiner (Greenburgh), Joan Maybury (Mount Pleasant), Susan Carpenter (New Castle), assembly members Robert Castelli, Sandy Galef and Steve Katz, White Plains Councilman David Buchwald, Brewster Village Clerk Peter Hansen and Putnam County Executive Mary Ellen Odell.
In the end it was Hansen, who came with his own paddle, who out served his way to victory and took home the cup.