Panthers Use a Big Inning to Defeat Briarcliff in the Class B Final
We are part of The Trust Project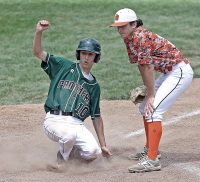 A dream season for the Briarcliff baseball team was spoiled on Saturday by a nightmare of an inning.
The Panthers of Pleasantville broke open a close game by erupting for 10 runs in the top of the sixth inning and were soon celebrating a surprising 12-1 trouncing of the top-seeded Bears in the Section 1, Class B championship game at Palisades Credit Union Park. Junior right-hander Brendan O'Neill limited the potent Briarcliff lineup to a mere six hits as the second-seeded Panthers avenged two losses to the Bears midway through the regular season.
"This is great," said delighted Panthers head coach Dan Iorio moments after his team had received its championship hardware. "We went in here from the start knowing that we can win today's game. We had complete confidence coming off two great wins. And we just showed today now we are the best team in Class B."
The Bears began to self-destruct in the game's opening inning, helping Pleasantville plate two early runs that left their archrival playing from behind the rest of the way. Nick Salzarulo and Michael Matica drove in the runs that gave O'Neill, named the game's MVP, all the support he would need.
"Our leadoff guy (O'Neill) got on and we played a little small ball there," said Iorio. "Applied pressure, and that's our game. That's what we've been doing all season."
O'Neill ran into a bit of trouble in the bottom of the second inning as Mike Hardy hit a one-out single and John Gross walked with two outs. But Jason Oppong was retired on a comebacker and the Bears would have to wait a lot longer to get on the scoreboard.
Salzarulo, who has now won a sectional title in three different sports, led off the Panther fourth with a single to right and then stole second base. But he was stranded there as Briarcliff starter Quinten Cooleen collected a pair of strikeouts and retired Justin Perlman on a grounder to third.
In the bottom of the inning, it appeared the Bears were ready to cut into the Pleasantville lead. Leadoff batter Spencer McCann was hit by a pitch and Hardy followed by ripping a single into center field. Danny Huegel's sacrifice bunt moved both runners up a base and, one out later, Oppong was hit by a pitch to load the bases. But Jack Ryan, first-pitch swinging, grounded to short to end the threat.
The Bears did finally manage to slice the Pleasantville lead in half an inning later. Joe Scanga led off the fifth with a line single to center. Noah Campo, who had three hits in his Briarcliff farewell, then drilled a single to left. Luca Lombardi moved both runners up by bouncing out to first. Scanga then scored on a sac fly as McCann lofted a pitch from O'Neill down the line that right-fielder Salzarulo caught in foul territory.
Campo also tagged up and advanced on McCann's fly ball, but he was stranded there as Hardy popped out to shortstop. Now trailing by just a run, the Bears had to like their chances over the next couple of innings. But what they didn't see coming was a 35-minute Panther top of the sixth in which 15 batters came to the plate and coach John Schrader was forced to make two pitching changes.
"The floodgates opened," said Schrader. "We weren't able to shut it down and they capitalized."
The first six Pleasantville batters all reached base in the sixth inning, driving Cooleen from the game. O'Neill led off with a single, then Danny Melillo reached on a bunt hit. Salzarulo smacked an RBI single to right field and Matica was plunked by a pitch, loading the bases. Nick Satriale lined a two-run single to right-center field, stretching the Panther lead to 5-1.
After Perlman was hit by a pitch to again load the bases, Schrader summoned the lefty, Matt Juvelier, to replace Cooleen. He got one out, but then a wild pitch scored another run. Guy Barzilai hit a fielder's choice grounder to first, but the throw home was too late to get Satriale. An infield hit to deep short by Danny Keon brought in the sixth run of the inning.
O'Neill's second hit of the inning loaded the bases once more. Melillo followed with a run-scoring single to right field, driving Juvelier from the game. The third Briarcliff pitcher, Ryan Nieto, fared no better. He walked in a run, then yielded a long fly to left by Matica that landed over the head of McCann for another two runs.
As the Bears came to bat in the bottom of the sixth, they were suddenly trailing by 11 runs and just three outs away from their season coming to a mercy-rule ending. O'Neill wasted little time putting the Bears out of their misery, retiring Huegel on a pop-up to short, Gross on a grounder to short and finally Oppong on a bouncer to second that started a Pleasantville post-game celebration.
"We've been playing our best baseball the last couple of games," said Iorio. "So we were extremely confident, especially coming in here, a neutral site. Brendan O'Neill, I mean he's been phenomenal all season and he just proved right there to everyone that he is the best player in Class B. And he is."
For the Bears, who had handed a then 8-0 Pleasantville team two straight losses a month earlier, Saturday's debacle was a bitter pill to swallow.
"When another team beats you, another pitcher pitches as well as he did, you have to tip your cap," said Schrader. "And tomorrow's another day. A long season, a long grind. Everybody put everything into it. When you get beat, there's no excuses. And Pleasantville played better than us today and they did the job and I wish them nothing but the best of luck moving forward."
Moving forward for the Panthers starts with a regional game in the state playoffs against Section 9 champion Marlboro on Thursday afternoon at Cantine Field in Saugerties.
"I guess in the back of our mind we didn't forget that we lost those two games during the season," said Iorio. "So we wanted to prove ourselves today. It's great. It's awesome. It hasn't set in just yet. I'm sure it'll start registering a little bit more tonight, but I'm proud of the guys."