Panthers Start the State Playoffs With a Rout of Highland
We are part of The Trust Project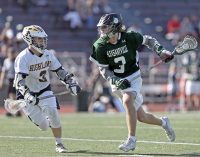 According to Pleasantville boys' lacrosse coach Chris Kear, the day is coming when the Panthers won't be able to take teams in Section Nine for granted.
"They've always had great athletes in Section Nine," he was saying last Wednesday afternoon. "It's just a matter of getting a stick in their hands earlier. It's only a matter of time before Section Nine is playing close games with Section One and beyond."
Right now, though, the Panthers are far too formidable for Section 9's current Class C champion, Highland, which stayed within shouting distance for two quarters before getting crushed after halftime in the opening round of the state regionals. All-Americans Brian Reda and Declan McDermott combined for 11 goals as Pleasantville defeated the Huskies 17-6 at Dietz Stadium in Kingston.
Reda, who finished with six goals and three assists, scored twice in the opening half, which ended with the Panthers holding a 7-3 advantage. As they gathered in a corner of the field for their halftime chat, the Huskies tried to convince themselves the game was far from over.
"We're still in this," one player shouted. "Four goals is nothing."
The Panthers' Kear had the same feeling.
"Yeah, they were in the game," he said. "They have some great athletes, they were hustling all over the field. They were outhustling us on groundballs. But in the end, I think our shooters were just a little bit better and we were able to pull away with some pinpoint shooting and were able to beat their goalie. And their goalie was good. Hats off to him."
Pleasantville midfielder Pat Doherty had opened the game's scoring just 59 seconds after the opening face-off and the Panthers never trailed. They scored three times before Highland got on the board with a goal from Roger Hegeman with three and a half minutes left in the opening quarter. Reda's goal with just six seconds on the clock gave Pleasantville a 4-1 margin heading to the second period.
The teams traded goals over the first few minutes of the second quarter, but no one found the back of the net again after Lucas Cohen scored his second goal of the game with 5:13 remaining in the half. The Panthers had to settle for a four-goal edge at intermission.
"To start the game, we scored on our first shot, which I really liked," said Kear. "I thought we were gonna come out hot. We kind of bogged down a little bit when they were playing their zone, and we misconnected on a couple of passes and a couple of shots that seemed to be pretty easy looks to me. So basically it was just a little bit of sloppy stick work. We didn't have the longest warmup, but that's not an excuse."
McDermott scored a pair of goals before the third quarter was even two minutes old, stretching the Pleasantville lead to 9-3 and sending a clear message to the three-time Section Nine champion Huskies that their season would soon be ending.
A goal by Christian Canino moved Highland back within five with 8:45 left in the period, but Reda scored three more times and McDermott fired in a shot with 13 seconds remaining in the quarter, enabling the Panthers to build their lead up to 13-5 with 12 minutes remaining in the game.
There was no letup for Pleasantville at the start of the fourth quarter as Nolan McAndrew and Reda scored just 12 seconds apart in the first half minute. As the clock ticked away the game's final moments, the Panthers could start to turn their attention to the future.
A 15-5 rout of Section 2 champ Glens Falls on Saturday, highlighted by McDermott's five goals, advanced the Panthers to their annual showdown against Long Island power Cold Spring Harbor in the state semifinals on Wednesday afternoon at Adelphi University.
Despite the easy time the Panthers had getting past Highland last Wednesday, Kear knows they'll have to raise their level much more if the third time is to finally be the charm against the Long Island champion Seahawks.
"We're gonna have to come out a lot sharper," he said. "It's something we talked about at the half. We felt like we were in a good position. We had a lot of good looks. But in the second half, we just needed to be a little sharper, connect on the passes, get our shots on cage. And they did that."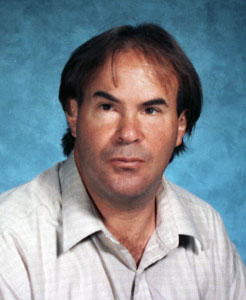 Andy is a sports editor at Examiner Media, covering seven high schools in the mid-Westchester region with a notebook and camera. He began there in the fall of 2007 following 15 years as a candid photographer for the largest school picture company in the tri-state area.
Read more of Andy's full bio here.
Read Andy's archived work here.