Panthers Rout Briarcliff in the Mt. Pleasant Cup Final
We are part of The Trust Project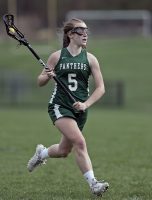 Sports fans looking for suspense-filled finishes on Saturday would've been in luck tuning into either one of the NBA's Eastern Conference playoff games or the 144th Run for the Roses at Churchill Downs.
But they wouldn't have found much drama by showing up at Westlake High School.
That's where the Pleasantville girls' lacrosse team scored three straight early goals on the way to a 13-5 rout of Briarcliff in the championship game of the 2018 Mt. Pleasant Cup. Kathryn Finnegan scored five goals, Grace Capko and Lauren Drillock each finished with three and tourney MVP Jess Mullane made six saves guarding the cage as the Panthers, now 10-2 this season, won in convincing fashion over their biggest rival.
"Coming off a win against a great Putnam Valley team and to be able to beat Briarcliff, a rival, keeps everything going for us right now," said Panther first-year head coach Jaime Williams afterwards. "We're hoping we can kind of take what we've done in the past couple of weeks of games and keep going with it."
On an overcast, breezy afternoon, it didn't take very long for the Panthers to gain the upper hand. They won the opening draw and Capko ran straight down the middle of the field to fire in her first goal just 16 seconds into the game. Less than two minutes later, Drillock took a pass from Katherine Guttridge and converted from point-blank range to give Pleasantville a 2-0 lead. The Panthers' margin grew to three goals less than four minutes in when Drillock scored on a free-position opportunity.
"Yeah, it didn't help going down 3-0," said Briarcliff assistant Dan Perito, speaking on behalf of head coach Jess McDonough, who was too dismayed to chat after her Bears dropped to 6-8 with the lopsided loss. "Then we got a goal and we were able to start to settle in. Turnovers did not help. I mean, first half, second half, we had way too many turnovers for us to be effective offensively and keep them from having chances on offense."
Nearly five minutes into the contest, the Bears scored for the first time, cutting Pleasantville's lead to 3-1 as Sam Kilman received a pass from Kelly O'Donnell and placed the ball past Mulllane from the right doorstep. Less than a minute later, though, the Panthers regained their three-goal cushion with Grace Hammond finishing on a break caused by a Briarcliff turnover.
The Bears soon provided another hint that the game might be competitive after all, with O'Donnell, a junior midfielder, running through a trio of P'ville defenders before firing a lefty shot past Mullane to move Briarcliff within 4-2 with 17:15 left in the first half.
But that was as close as the Bears would get the rest of the way. Pleasantville outscored them 4-1 over the final 16 and a half minutes of the opening half to build an 8-3 advantage at intermission. Finnegan had two of the Panther goals, the first one coming on a nifty spin to the right that set up her shot from just left of the cage.
"To get out early was huge for us," said Williams. "I told 'em coming into this game to come out with momentum right off the bat and try and maintain that the whole game."
According to Perito, the Panthers' 8-3 halftime lead wasn't insurmountable for the Bears.
"It's only five goals," he said. "We've come from behind a bunch of times this year. We've had a lot of close games where we've come from behind. So we knew that it was within us. We just had to play better and execute. We did it in spurts, but not enough."
Any chance of another Briarcliff comeback seemed to vanish soon after an apparent goal by Kilman 90 seconds into the second half was waved off by an infraction. A turnover by the Bears then led to Finnegan's fourth goal of the day that gave Pleasantville a 9-3 lead with 20:12 remaining. Just 48 seconds later, a shot from Capko trickled past freshman goalie Charlotte Baer and it was apparent the Bears would have to wait until at least next year to hoist the title trophy.
The Panthers answered a goal by Briarcliff's O'Donnell with three more of their own, starting with one from Drillock following a midfield defensive takeaway. A goal by Paige Long and then Finnegan's fifth extended the Pleasantville lead to 13-4 before Camryn Cohen concluded the day's scoring with a goal for the Bears with just 33 seconds remaining.
"Being this is my first year here, I hear about the rivalry from the girls," said Williams, who now has a much better idea what they were talking about. "The girls were definitely amped up for it. I'm happy for them that they got to experience this, but we've got some goals and other things. I said don't lose sight coming here and getting the victory. There are other things we want to do this year."
"We can play better, that's not our best effort," said the Bears' Perito. "They played better than us and they deserved to win. Mainly it was the start and then the turnovers that really hurt us."