Panthers Put Struggles Behind Them and Rout Fox Lane
We are part of The Trust Project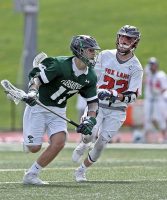 It took nearly nine and a half minutes for the Pleasantville boys' lacrosse team to finally get on the scoreboard Saturday afternoon. But once the Panthers got that first goal, a lot more soon followed.
With Brian Reda and Nolan McAndrew each scoring four times and Lucas Cohen and Ryan Drillock adding two goals apiece, the Panthers cruised to a 17-5 rout of host Fox Lane. The two-time defending Class C champs had dropped four of their previous five games, but scored seven times in the second quarter to build a 10-1 halftime cushion and were never threatened the rest of the way.
"There isn't a game we wanted more all season than this one," said Panthers head coach Chris Kear after watching his team regain the form missing the last two weeks. "The kids came out and just played almost flawlessly today and they really executed. It was great, especially in the defensive end."
On a warm, humid day at Memorial Stadium, the two teams were still scoreless late in the opening quarter after the Panthers had repeatedly sent wayward shots in the general direction of Fox Lane goalie Walker West.
"It wasn't nerves or anything," said Kear. "I think it was just technique with shooting. We were getting good looks, our offense was clicking and we were just not getting it on cage. And every time we would have a timeout, we'd say, 'Hey, guys, you're doing everything great. We've just got to get our shots on cage and give it a chance."
Cohen finally broke the scoreless tie, converting on a fast break with 2:31 left in the quarter by sending a one-hopper past West. Within moments of Cohen's goal, the Foxes would suddenly find themselves reeling as Pleasantville erupted for three lightning-quick scores in the span of 21 seconds. McAndrew and Reda each scored their first goals of the day seven seconds apart, enabling the Panthers to take a 3-0 lead into the second quarter.
Reda scored again, with an assist from Cohen, just 19 seconds into the second period. Just over a minute later, Jack Howe fired a shot past West from right of the cage to give Pleasantville a 5-0 advantage. The Foxes managed to get on the board with 10:36 left in the half as Matt Leader, who, along with Dillon Morgan, finished with two goals, slipped past a trio of Panthers before sending a lefty shot past Jack Fitzgerald.
But the Panthers responded by piling on five more goals over a six-minute stretch, starting with Reda picking up a rebound and easily depositing the ball in the back of the net exactly four minutes into the quarter. James Daniele and McAndrew followed with goals just 10 seconds apart that opened up an 8-1 lead with just over five minutes left in the half.
With 2:54 to go, freshman Jake Coleman, after a cross-crease pass from Reda, scored from the left doorstep. Not quite a minute later, Drillock dodged his way in from behind the cage to provide the last goal of the opening half, which ended with the Foxes' West thwarting Daniele from point-blank range as the buzzer sounded.
"We just played too much defense," said disappointed Fox Lane coach Craig Henley. "You've got to be more disciplined on offense, you've got to finish on the opportunities that you've worked for. Too many turnovers, too many opportunities to clear where we weren't able to. It allows them to get more and more shots, and eventually they're gonna fall."
With his team leading by nine goals at intermission, the Panthers' Kear had a simple message for his players.
"Foot on the gas," he told them. "We had a couple of games this season where we let up a little bit at halftime. Usually we were able to pull it out. Mamaroneck on Tuesday, we were only up by four, but the kids kind of relaxed and Mamaroneck came back on us. So the message this week, not just today, was no relent, no quarter, make sure we take it to them until the final whistle."
Goals by Reda and McAndrew, sandwiched around one from the Foxes' Morgan out of a timeout, stretched the Pleasantville lead to 12-2 midway through the third quarter. But the period concluded with just two more goals, both by Fox Lane, and the Panthers had to settle for an eight-goal margin with 12 minutes remaining.
"We just got a little sloppy," said Kear. "We didn't really stick to what we said we were gonna do, which was just keep running our offense, keep sharing the rock. And fourth quarter, you could see we shared the rock better and we settled back in."
McAndrew scored three more times in the first five minutes of the fourth quarter, with the final one increasing Pleasantville's lead to 17-4. The Foxes' Leader provided the game's final goal with two and a half minutes remaining, but it did little to change his coach's mood.
"Not many positives to look at today," said Henley. "It wasn't our day. We didn't come with the energy Pleasantville came with. No matter who you're playing, if that's how you're gonna approach it you're not gonna have a good day. We talk about improving every day and today that wasn't the case."
For the Panthers, the lopsided victory over Fox Lane might provide some much-needed momentum after an extremely difficult stretch.
"I think with what everybody went through with the tragedy at our school," said Kear, "it was a really tough week emotionally, mentally, physically for everybody. But I do think we're in a much better place than we were 10 days ago. And the kids' spirits are better, they're refocused. Everybody's real positive, looking forward to a great stretch run."