Opinion Advocates for ideas and draws conclusions based on the author/producer's interpretation of facts and data.
Panthers Make Hoops History, Win 1st NYSPHSAA Title
We are part of The Trust Project
Panas' Evangelista: "We Didn't Come Here for Participation Trophies"
By Ray Gallagher, Examiner Sports Editor @Directrays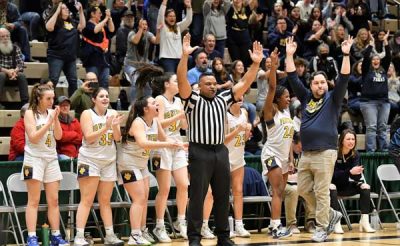 Business is a booming for Section 1 girls' and boys' basketball teams after storming off with six NYSPHSAA title appearances and a pair of state titles – awarded to the Panas girls and Tappan Zee boys – over the weekend in upstate New York where the counties of Putnam, Westchester and Rockland represented on behalf of 72 Section 1 boys' programs and 69 girls.
We've always been spoiled by the finest representation Section 1 has to offer at places like 12-time NYS champion Mount Vernon and standard-setting CHSAA powerhouse Stepinac, but to watch the emergence first-timers – Class AA White Plains, Class A Walter Panas and the Class B Putnam Valley girls – making their initial foray to state championship appearances in Troy, NY, was truly riveting.
When the Panas girls' bus pulled up to Hudson Valley Community College on Friday and Saturday, opponents from state-ranked (No.2) Section 2 Averill Park and state-ranked (No.3) Section 5 champion Canandaigua Academy saw a young, undersized unit that doesn't instill instant fear in their foes on account of those "alleged" deficiencies.
But Coach Matt Evanelista's state-ranked (No.4) Panthers (23-5), seeded sixth out of Section 1, set the tone right out of the gate when senior F Julia Gallinger, all 5'-6" of her, went right through a 6'2" Averill Park center for the first two points in Friday's semifinal. Out of an initial timeout by the reigning state champs, Evangelista told his Panthers: "They know now that you don't fear them, and I saw a group of dad's behind us from Averill Park who were nodding their heads in agreement. I mean, Gallinger just attacked their kid in the lane and set the tone immediately, and that's when I told the girls, 'we didn't come all the way up here for a participation trophy'."
No, Panas, which pressured its foes to submission, came to tell its story, maybe the finest tale in school history. Panas may have the best core of Class A underclassmen in NYS with sophomore hotshots like Cadence Nicholas, Sophia Tavarez, Kiara Williams and Katie Hoffman on board, but the leadership and grit provided by senior grinders Sarah Chiulli, Kelsey Cregan, Gallinger and others were every bit as vital in the Panthers' 47-42 win over Section 2 champion Averill Park. Nicholas and Tavarez have grabbed much of the limelight since emerging on the varsity circuit in December of 2021, and the seniors have sacrificed a lot of glory because they know talent when they see it. That's called playing as a team, understanding your role and being selfless, qualities that Evangelista called vital to the Panthers' success, including last year's run to the Section 1 finals when this unit began to mesh and stick together as one, forging a run to Saturday's 61-51 state-title-clinching win over the Canandaigua Academy, the first NYS title in Panas hoops history (girls and boys).
"It's a really special group of players with a core group of seniors who bring what they bring to the table, joining a super-talented group of sophomores," Evangelista said. "Julia's been here before with volleyball, so that experience was vital. Sarah is the class valedictorian and is as polished as they come, and if I can get my daughter to be the kind of kid Kelsey is, well, where do I sign that contract?"
"We relished the underdog role," he added. "People underestimated us and we used that to our advantage. These girls love each other. You see them in pictures holding hands, jumping up and down. That's what we're all about. No sniping at each other, no nasty emails from parents, not one, even when we went through that little spell where we lost some games. It's been like no other team I've coached or any experience I've ever had coaching."
Panas has had some great ones before this 2023 unit: Danielle Hood and Kerry Sullivan, among others, come to mind. But the state champs set new standards last weekend in Troy, and we'll see how they handle the expectations of getting back there next year, but for now… ENJOY!
"The one thing I can say about this group that returns is that I never have to coach effort," Evangelista said. "Effort is always there and Cadence and Sophia may be the best guard combination in Class A already, so their evolution, along with Katie (Hoffman) and Kiara (Williams) and the others is something we look forward to next year."
The combination of youth and experience was on full display at all three – Panas, White Plains and PV – over the weekend. WHITE PLAINS junior Ineiva Plata scored 21 points, and grabbed five rebounds and three steals while Rider-bound senior Aliya McIver notched a triple double (13 points, 10 assists and an other-worldly 14 steals) in the Tigers' 57-46 NYSPHSAA Class AA semifinal conquering of Section 3 champion Liverpool Friday at Hudson Valley Community College to reach their first NYS title game. McIver and Co. followed up that effort with a 49-41 loss to Section 5 Webster-Schroeder Saturday night, but the state-ranked (No.6) third-seeded Section 1 champ Tigers (23-4) died trying and went out heads held high…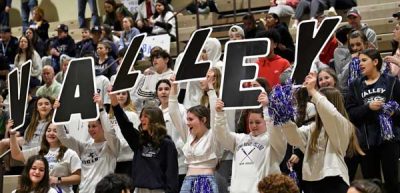 Little ol' PUTNAM VALLEY had the best Class B female player in NYS, maybe the best regardless of classification, in URI-bound senior point guard Eva DeChent, the reigning Class B Player of the Year, who might have pushed for 3,000 career points if not for a Covid-shortened career. Her toolbag was on full display in Troy where her Tigers fell one win short of just the second NYSPHSAA team championship in school history, excluding cheerleading. The Valley has suffered some tough losses over the years in a variety of sports, including last year's 61-39 semifinal loss to Class B finalist Waterloo, but Saturday's 58-48 loss to Section 5 champ Waterloo in the NYSPHSAA Class B finals took the cake, whatever that means.
With PV holding a seemingly solid 10-point lead heading into the fourth quarter, I went up to my son and said, 'Barring a complete and total breakdown, PV got this'.
What ensued was a complete and total breakdown, which should take nothing away from the greatest single season in PV girls' hoops history.
Nobody worked harder than DeChent, who has been the last player at PV to leave the gym every day. Her work ethic has been second to none in PV history. Her drive to improve, fostered by her dad, Ed, a high school principal at Roosevelt High School in Yonkers, and round her game into form at both ends of the floor, is the primary factor in PV's run for the roses."It is a difficult time for me," said DeChent. "I really wanted nothing more than to bring a state championship to PV."
"It is a difficult time for me," said DeChent. "I really wanted nothing more than to bring a state championship to PV."
And you died trying, kid, #HeadHigh!…
HALDANE boys' Coach Joe Virgadamo has these unique qualities that make the kids in Cold Spring, Philipstown and Nelsonville run through walls for him, and they did it again over the weekend before crashing into Section 6 champion Randolph and playing through the bitter end of a 58-55 NYS Class C championship loss Saturday afternoon in Glens Falls.
Trailing by 18 entering the final quarter, Haldane, almost miraculously, had three attempts to force overtime, but narrowly missed on a left-wing pull-up, a right corner three, and one final left corner three, all near-misses. Thus, the first or second greatest boys' basketball story in Haldane history – depending on who you ask – was sold short by one win. But, largely on the back of two-time All-Section senior Matteo Cervone, folks found out that kids from Putnam County banks of the Hudson River were in it to win it.
Personally, I watched this game in awe of Randolph's prowess from downtown and similar awe of the Blue Devils' never-say-die-attitude. It was tough for Coach V to hammer out a thought or two having lost his second chance at a state title since 2016, but, in typical fashion, he had his boys' backs.
"I feel for the kids, they were a special team," Coach Virgadamo said. "They are tough, they are winners. They did anything we asked them to do. They were just so coachable. These kids and the community will remember this year forever."
Take that to the bank!