Panthers Lose to Cold Spring Harbor in the State Semifinals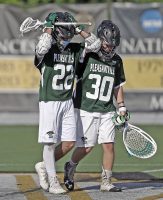 Ever since climbing to the top of Section One in 2015, the Pleasantville boys' lacrosse team has come to realize the road to a state championship passes through Cold Spring Harbor.
Last Wednesday afternoon, for the third year in a row, the Panthers had their quest for New York's Class C title halted by the Seahawks from the small hamlet on the north shore of Long Island. Despite building a two-goal, first-half lead, Pleasantville wound up dropping a 9-6 decision in a state semifinal playoff game on the sun-splashed turf of Motamed Field at Adelphi University.
"The game plan was to keep the score low and to limit their runs and not let them get a big lead like they did in most of their other games," said Panthers head coach Chris Kear shortly after the undefeated Seahawks ended Pleasantville's season for a third straight time. "I thought we did a great job with that. We kept 'em off the board, our game plan was working. We just didn't stick our shots."
Kevin Winkoff finished with three goals for Cold Spring Harbor, including a pair only seven seconds apart just past the midway point of the third quarter that enabled the Seahawks to open up a 5-3 advantage and finally take control. His third goal, with the Seahawks down a man four and a half minutes into the final period, thwarted a Pleasantville comeback bid that had sliced a three-goal deficit down to just one.
"Even though we only lost by two last year, and three this year, it felt like we had a better chance this year," said Kear. "We were in the driver's seat, for at least the first half, it felt like."
Panther All-American attackman Brian Reda, who ended his junior season with three goals, broke a scoreless deadlock when he converted with only eight seconds remaining in the opening quarter. Just over a minute into the second period, Ryan Drillock dodged his way around the Seahawks' Teddy Bentley left of the cage and fired a shot past goalie Chris Borzelt to increase the Pleasantville lead to 2-0.
But the Seahawks, who would go on to beat Jamesville-DeWitt on Saturday for their third successive state title, finally got on the scoreboard with an Ian Laviano goal with 10:19 left in the half. Goals by Matt Licciardi and Will Reed 24 seconds apart gave CSH a 3-2 edge with just under five minutes left, and the teams soon left the field at intermission with the Panthers once again having to play from behind against the Long Island champion.
"Still very optimistic," said Kear about the mindset of his players despite suddenly trailing at the break. "Our guys knew that if you can keep a team like that to three goals at halftime, you're in a great position to win. So very optimistic, very positive. Everybody really felt like we still were gonna win this game. It was just a couple of backbreaking plays that shifted the momentum in the second half that sort of turned the tide."
Just 24 seconds into the second half, Reda tied the game at 3-3 by sending a shot past Borzelt from right of the cage after taking a pass from Drillock, who had nearly lost his footing twice moving the ball up the field. The score remained the same for over six minutes before Winkoff provided his two goals in seven seconds that gave Cold Spring Harbor the lead for good.
The Seahawks took a 5-3 margin into the fourth quarter and added to it nearly two minutes in when Laviano grabbed an errant Panther clearing pass in front of the cage for an easy goal. But the Panthers were hardly finished. Little more than a minute later, Nolan McAndrew spun a couple of times on the left side of the cage and then beat Borzelt. Just 21 seconds after that, Pleasantville All-American Declan McDermott moved the Panthers to within 6-5 by scoring with 8:42 left on the clock.
But that was as close as they would get. A potential tying shot was soon stopped by Borzelt and the ball caromed 20 yards in the other direction, leading to a Cold Spring Harbor fast break that ended with Winkoff's third goal with 7:39 to go. Another goal, this time by Taylor Strough, built the Seahawks' lead back up to 8-5 with 6:10 remaining.
A goal by Reda with 4:40 to go gave Pleasantville some hope, but the Seahawks all but sealed the Panthers' fate when Licciardi scooped up a loose ball in front of the cage and deposited it into the wide-open net with 91 seconds left. A few moments later, the dejected Panthers were left to ponder their latest loss to Cold Spring Harbor.
"I think me and all the other seniors pretty much left it all out there," said Panthers defenseman Greg Driscoll. "I don't really have many regrets, but I just wish we could've gotten over the hump and beaten them one of those three years."
"We had a few really good looks, especially in the first half and early second half that just didn't connect," said Kear. "If those connect, it might be a different game. The goalie made a few good saves, hats off to him, but I thought we had some amazing looks and we either bounced it over the goal or we missed the cage. Those fall in, you know, and we may be on our way to Rochester."
Driscoll, one of eight Pleasantville seniors who won't be back next year when the Panthers set their sights on another shot at the Seahawks, can still take pride in what he and his teammates have accomplished over the past three seasons.
"I think this senior class, we've seen it all," he said. "We've left a nice legacy for the guys to come try and raise the bar that we've already set really high."