Panthers Finally Get Over Their State Semifinal Hurdle
We are part of The Trust Project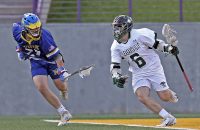 The biggest hurdle in the Pleasantvllle lacrosse team's quest for a state championship the last three years turned out to be no obstacle at all last Wednesday afternoon.
After being ousted by Cold Spring Harbor in the Class C state semifinal game in 2015, 2016 and 2017, the Panthers put an emphatic end to the streak, overwhelming a different Long Island champion, this time Mattituck, 20-7 in a Class D semifinal played on a picture-postcard afternoon at Casey Stadium on the campus of SUNY Albany.
Declan McDermott had four goals and two assists, Brian Reda three goals and four assists, Pat Doherty three goals and three assists and James Daniele three goals as the Panthers turned a close game after one quarter into a rout. The Tuckers, from the North Fork, scored the game's first two goals and still led 3-2 after the first period. But Pleasantville responded with nine second-quarter goals and it was apparent the rest of the way the Panthers were Rochester-bound for the state championship game.
"Yeah, it's a relief," said Panthers coach Chris Kear afterwards. "It's something we've been talking about since the day our season ended last year with Cold Spring Harbor. We were so close, yet so far. We felt like we were just one or two bad plays away from being there last year."
"It's definitely new territory for us," said Reda, now Section 1's all-time leading goal scorer. "We've never won this game, so it means a lot to us. It's really special, being that it's our senior year, all the captains. So we definitely wanted to win this one and get over the hump."
But at the start of the contest, the Panthers quickly found themselves playing from behind. Just 37 seconds in, a goal by Ethan Schmidt gave Mattituck the early lead. With 9:05 left in the opening quarter, the Tuckers' advantage grew to 2-0 as Max Kruszeski rose in the air and fired a shot past Jack Fitzgerald.
The Panthers, who never had possession in the game's opening minutes, finally got on the board with 7:10 to go in the quarter as Cullen Dell's takeaway at the defensive end started a Howe-led fast break that ended with McDermott, open on the left, sending a rocket into the back of the cage. But the Tuckers won the ensuing faceoff and soon built a 3-1 lead on a goal by Gregg Hauser, leading to a Panther timeout.
"I was a little concerned, but I also knew we've been in this position before," said Kear. "I think one part of it was it seemed Mattituck was a little more hungry than we expected them to be and we weren't as hungry as we could've been. Once we turned up the intensity a little bit, I think the momentum went back the other way."
With just 7.9 seconds left in the first quarter, Doherty provided a hint of things to come, scoring on a rebound in front of the crease to cut the Tuckers' lead to 3-2. Only 14 seconds into the second period, Daniele tied the game. Almost a minute later, a goal by Howe gave Pleasantville the lead for good. The Panthers' margin grew to 5-3 just 37 seconds later as Jake Coleman converted following a pass from Doherty, who had scooped up a loose ball.
Later in the second quarter, already leading 8-4, the Panthers got scores just 11 seconds apart from Doherty and McDermott to increase their advantage to a half dozen goals. With 1:11 left in the half, Daniele took aim from left of the cage and sent a shot whizzing past goalie Shawn Howell's right shoulder to give P'ville a 10-4 lead. Reda and defenseman Charlie McPhee added goals just eight seconds apart in the final moments and the Panthers walked off the field with a 12-4 cushion.
"We came out a little flat," said Howe about the slow start before the big second-quarter turnaround. "We played our game, settled down a little bit, and then we got 12 goals going into the half. They had a good goalie and a good faceoff kid. It was definitely big for them. But once the goalie sees so many shots like we gave him today, it's hard for him to stop it."
The intermission wasn't much help for the Tuckers, who returned to a continuing offensive assault from the Panthers. A pair of goals from McDermott, then a Reda score at the end of another lightning-quick transition stretched the Pleasantville lead to 15-4 just three and a half minutes into the third quarter. When Doherty scored with 2:48 left in the period to give the Panthers an insurmountable 18-4 lead, Kear removed his entire starting unit, except Fitzgerald.
"We definitely started discussing it as a staff in the middle of the third quarter about when to start pulling guys out, when to take Fitzy out of the goal, when to get our first team onto the sideline and not risk any injuries," said Kear. "That's always a tricky situation because you don't want to put the backup guys in and have the intensity level drop and they can make a comeback."
The Panthers got a fourth-quarter goal from Justin Lupo and then a final one from senior midfielder Rob Feeney that sent the entire bench into a wild celebration with just over a minute remaining. With the sound of the final horn, the Panthers, in search of their first-ever state lacrosse title, could finally turn their full attention to championship weekend up at St. John Fisher College.
"It's the only thing they've thought about for basically 12 months," said Kear. "So I think it's a bit of a relief. There was talk about going undefeated at the beginning of the season and I tried to squash that. I said it's not about going undefeated. It's about being prepared in May and June and they've embraced that. I think they're ready. They're as ready as they'll ever be and I think they can get it done."
Reda, chomping at the bit for a chance to play in a state final after missing the football team's similar run back in November while recovering from knee surgery, had an ominous basic scouting report for whichever unfortunate team the Panthers would be facing up in Rochester.
"Our bread and butter's been fast breaks all year," he said. "So we kind of understand that once we get out in space, once we're running quick and getting our legs underneath us and we're moving the ball, that's when we're the most lethal."