Panthers Defeat Westlake in the Class D Championship Game
We are part of The Trust Project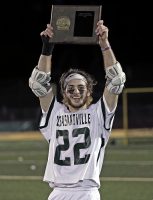 Just when it seemed the Pleasantville Panthers' three-year reign as sectional champions might be in danger of coming to an end, they decided it was time for a parade.
A parade of goals, that is.
The Panthers erupted for 10 goals in succession, obliterating a 5-4 deficit midway through the third quarter, and went on to a 14-6 rout of Westlake in the Section 1, Class D championship game at Lakeland High School on Wednesday evening. Jack Howe finished with four goals and Declan McDermott three, while Brian Reda, James Daniele and Jake Coleman added two each as Pleasantville punched its ticket once again into the state tournament.
"It's definitely extra special," said McDermott about winning another sectional title, this time as a senior. "But we're not done yet. The last three years, we lost in the state semifinal. We're gonna do our best to not let that happen again."
Pleasantville, winner of the last three Class C championships before moving down to D this season, found itself in the unfamiliar position of trailing after halftime when the Wildcats began the third quarter with three straight goals to erase a 4-2 deficit. Rob DiNota's goal with 6:02 remaining in the period capped the Westlake run and provided plenty of apprehension for the large Panther cheering section.
"I don't think there was any panic," said Panthers head coach Chris Kear about the deficit his team was suddenly facing. "We just had to get back to what we do well. We started to make some plays on the defensive end, got some turnovers. And once we get up the field in transition, we can make plays."
The Wildcats, defending Class D champs, held their third-quarter lead very briefly. Just 11 seconds after the DiNota goal, Reda, now the all-time leading goal scorer in Section 1 history, finished off a lightning-quick Panther break that began with a scramble for the ball at midfield. His goal ended the Westlake run, tied the score and turned the momentum back to the Panthers.
"Really big," said Kear about the tying goal by Reda. "If I remember correctly, that was when Rob DiNota came out. He wasn't taking the faceoff and Garrett Carney came in and James Daniele came in and won a ground ball. That was a big ground ball that created transition and that swung the pendulum back the other way."
"Oh, that turned the entire game around," added McDermott, "not only for our team, but for our crowd. A lot of fans here from P'ville. And it just turned the entire game around."
A goal by McDermott, on a straightaway missile with 2:45 left in the third quarter, gave Pleasantville the lead for good. Coleman added another with just 12.7 seconds to go, enabling the Panthers to take a 7-5 advantage into the fourth quarter.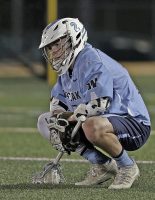 After a scoreless first couple of minutes in the final period, the Panther goal-scoring parade began in earnest. Howe and Reda scored 27 seconds apart to stretch the Pleasantville lead to 9-5 with 9:28 remaining. Then Howe and Daniele provided two more goals just 10 seconds apart and suddenly the Panther margin was up to six with eight and a half minutes left on the clock.
"You know, I think we just sort of ran out of gas there," said Westlake coach Hunter Burnard. "We gave them our best shot, but ran out of gas in the fourth quarter. They're dangerous. If they can get going in transition, it's tough to stop 'em."
The overwhelmed Wildcats had to endure three more Pleasantville goals in the fourth quarter before Dylan Donnery finally ended the huge Panther run with his second goal of the night with 32.5 seconds remaining. Much earlier in the evening, though, Westlake had gotten off to a promising start with a goal by Ryan Donnery just over a minute after the opening faceoff.
Westlake's zone defense kept the Panthers off the scoreboard for the entire first quarter. A shot by McDermott found the back of the cage just after the buzzer sounded and the Wildcats maintained their 1-0 edge until McDermott ran the length of the field to tie the game two minutes into the second period.
Just 12 seconds later, Howe tallied his first goal of the game after scooping up a ground ball on the faceoff. With 7:58 to go in the half, Daniele gave Pleasantville a 3-1 lead, depositing a rebound in a crowd in front of the crease past Wildcat goalie Nick Ryan. The Panthers' advantage grew even larger with 4:29 left as Patrick Doherty scored, assisted by Howe.
A dazzling goal by Dylan Donnery, running to his right and then tumbling to the turf as he sent a shot past Jack Fitzgerald, ended the nearly-20-minute scoring drought for the Wildcats with 3:45 left before halftime.
"Well, 4-2, we were in good shape," said the Wildcats' Burnard. "Two goals to that team, we're in striking distance. So we were confident. We were where we needed to be and we felt good about holding them to four goals in one half. A big focus was stopping them in transition and not letting them run. I think we did that for about three quarters."
Westlake closed to within 4-3 just 35 seconds into the second half as Ryan Donnery converted with the Wildcats a man up. With 7:09 left in the quarter, Greg Cafaro tied the score from the left doorstep, faking once and then shooting high past Fitzgerald. Just over a minute later, DiNota provided the Wildcats with their brief second-half lead with the final goal of his spectacular varsity career.
But it proved to be the last highlight of the night for DiNota and the Wildcats, who had no answers for the fourth-quarter Pleasantville explosion.
"I respect him as one of the most talented players in the section," said Kear about DiNota. "When you have a talented player offensively and defensively, and he wins faceoffs, it's gonna make you nervous. So that was part of our game plan. We had to really limit him, we had to make him work hard. I think we made him work hard enough that he was really tired by the end of the game."
"He's the most special athlete I've ever coached," said Burnard. "So I couldn't say enough good things about him and what he's done for this program. We wouldn't be the program we are if it wasn't for him. He gives everything he has every minute that he's on the field."
"Nothing but respect for Rob DiNota," added the Panthers' McDermott, a rival in two sports. "I've been playing against Rob since I was in first grade, kindergarten. You've got to credit him, never gives up. He was out here in the fourth quarter grinding. He poured his heart out on this field and you've got to give him credit. He's had a phenomenal career at Westlake."
With DiNota and the rest of the Wildcats in their rear-view mirror, the Panthers turned their attention three days later to a state regional playoff game back at Lakeland against Section 2 champion Schuylerville. Reda scored three goals in the opening minute and finished with seven as Pleasantville won easily, 21-5, on Saturday morning to advance to the state semifinals against Section 11 champ Mattituck.
"We're just gonna focus on the game ahead of us," said Kear, trying not to look ahead to an elusive state championship for a hungry Panther team that was stopped in the past by Cold Spring Harbor. "You can't get to the finals unless you win the games before that."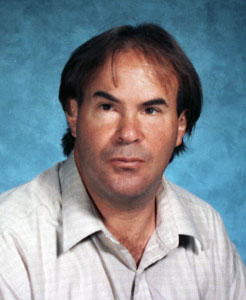 Andy is a sports editor at Examiner Media, covering seven high schools in the mid-Westchester region with a notebook and camera. He began there in the fall of 2007 following 15 years as a candid photographer for the largest school picture company in the tri-state area.
Read more of Andy's full bio here.
Read Andy's archived work here.