Panel Makes Case for Why U.S., State Benefit From Immigration
News Based on facts, either observed and verified directly by the reporter, or reported and verified from knowledgeable sources.
We are part of The Trust Project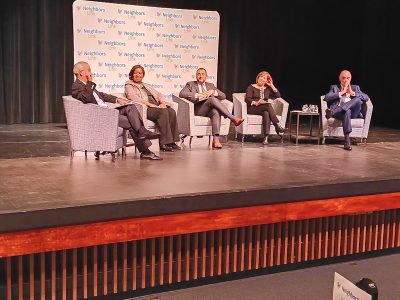 Leaders in government, education, business and a key Westchester nonprofit organization that helps immigrants adjust to the U.S. said the nation benefits economically and culturally from the contributions of new arrivals.
Westchester Community College (WCC) hosted a Neighbors Link forum last Wednesday evening on current trends in immigration as the debate on how to handle the influx of migrants to the United States simmers.
The panelists said that more than nine million jobs are currently unfilled in both professional and service industry capacities. In New York State there are more than 400,000 of those jobs, including great need in the tech and semiconductor industries, Rodriguez said.
"These jobs in the next 10 years can't be filled unless we dramatically change our strategy around immigration, integration and connecting people with jobs," Rodriguez said.
Also featured were WCC President Dr. Belinda Miles, Robert Weisz, CEO and chairman of the RPW Group, a Rye Brook-based development company, and Carola Bracco, executive director of the Mount Kisco-based Neighbors Link. Joe Torres of WABC Eyewitness News served as moderator for the hour-long discussion.
Rodriguez said one of Gov. Kathy Hochul's top priorities is working with the federal government to significantly reduce the wait for migrants and other newcomers to begin working from about six months to 30 to 60 days after entering the country. The designation by the Biden administration of Venezuelans receiving Temporary Protected Status helps, but now the challenge is to expedite the work authorization process for others, he said.
The migrants and other refugees are already helping to transform the economies in Buffalo, where they have had an estimated $3.1 billion economic impact in terms of GDP, and Syracuse, where they have had a $1.7 billion impact, Rodriguez said.
"These are jobs that are mostly not filled and are not going to be filled by existing residents," Rodriguez said.
Weisz, an immigrant from Uruguay more than 40 years ago, went to college in Brazil but didn't return to his native land in part because of political instability at the time. He started a small furniture company in lower Westchester and by 1980 transitioned into the commercial real estate business.
Over the years, RPW has regularly employed immigrants because they are highly motivated to succeed and have left their homelands, sometimes under harrowing circumstances, in search of a better life, Weisz said.
"Companies are desperately trying to find employees, from the restaurants to the landscapers to the PhDs to the doctors and nurses, etc., etc.," he said. "So we need the immigrants. The immigrants are essential to a community in addition to the fact that we're not having enough children."
Torres asked the panelists what might be different with the current wave of arrivals as compared to generations in the past.
Bracco, whose parents immigrated from Bolivia to the U.S. shortly before she was born, said there are many more families that are arriving without the support network of a previous family member or friend having paved the way first. As a result, there is a greater need for services and housing, she said.
Bracco said policies at the border are also playing a factor since the expiration of Title 42, which could empower the country to prevent asylum seekers for health reasons. It was enacted during the height of the COVID-19 pandemic.
With Title 42's expiration, it is incentivizing people to come through ports of entry to claim asylum. In the past, many entered the country between the ports.
What is often lost in the debate is mischaracterizing migrants as illegal.
"Most of the people coming to this area are coming through legal means and that's why they can apply for asylum," Bracco said.
The continued arrival of Latinos into Westchester helped WCC to become a Hispanic-Serving Institution in 2014, a designation applicable when a school's enrollment is 25 percent Hispanic, Miles said. Today about 40 percent of the student body is Hispanic. WCC has the largest Hispanic percentage of any SUNY and has become a hub to help the City University of New York.
With so many students that are new to the United States, that forces WCC to provide services such as English as a Second Language and other programs.
"Instead of serving only college-ready students, we have to be a student-ready college, and understand who's coming to us and what their needs might be and those needs are already quite significant for most community college students," Miles said.
The panelists agreed that while the wave of migrants coming to the U.S presents immense challenges, it also provides opportunities. For example, it was helped buoy once-moribund economies in central and western New York.
Rodriguez said New York City has become a destination for so many – roughly 4,000 new arrivals descend on the city each week – because there are so many services and organizations to help them transition.
Weisz disagrees with those who believe the current wave of immigration is something new. The U.S. has always had spikes and lulls in new arrivals, and this is no different, he said.
He recommended the government provide resources for immigrants to learn English and provide job training so they can quickly integrate into society. There are also an increasing number of organizations such as Neighbors Link that help with that. But there are still obstacles.
"The single biggest challenge is the political environment," Weisz said.
Bracco said the failure of the federal government to move with meaningful changes related to immigration likely won't change.
"We are not going to see any major piece of legislation from our Congress anytime soon," Bracco said.