News Based on facts, either observed and verified directly by the reporter, or reported and verified from knowledgeable sources.
Panas Team to Beat in Class A; White Plains No.2 in AA
We are part of The Trust Project
By Ray Gallagher, Examiner Sports Editor @Directrays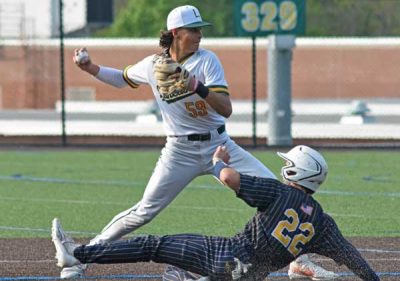 And just like that, the spring season of 2023 will be history, and what we make of it in the postseason days and weeks ahead could be the stuff of legend or a brutal conclusion, depending on which foot you put forward.
In the case of the top-seeded Class A WALTER PANAS baseball team, it's boom or bust as Coach Anthony Fata's Panthers swept rival Lakeland last week while locking up the League II-D title with a 12-0 mark. The unit is comprised of four D-I prospects (Sammy Stafura, Dan Witters, Jackson DiLorenzo and Tony Humphrey), which meant nothing last year when Panas sent five D-I commits to the diamond and were ousted in the quarterfinals. But last year's team didn't hit to the collective tune of .406 BA. Nor did they mash 19 yard bombs in 20 games to go along with 48 doubles, 174 runs (8.7 per game) and 156 RBI (all well above the national average).
But the Panthers know full well it isn't how you hit as much as it's who's pitching on any given day and the Panthers will draw the aces whenever possible, including Examiner-area hurlers from No.8 YORKTOWN, No.11 MAHOPAC, No.12 FOX LANE, No.13 HORACE GREELEY, No.14 SOMERS, No.16 HEN HUD, No.17 BREWSTER and No.18 LAKELAND.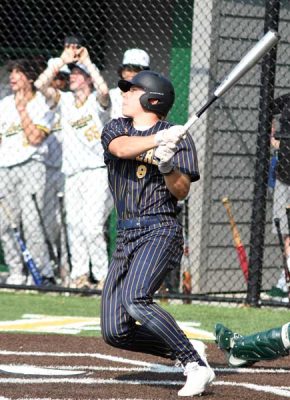 It happens every year: Brackets are busted, hearts are shattered and somebody that nobody saw coming emerges to claim or challenge for glory, just ask defending Class A champions Somers, which rose from the depths of a 12-seed to win the Tuskers' fourth sectional title since 2007, the start of a remarkable three-peat under former Coach Joe Wootten.
If pitching depth matters, and we all know it does, Somers (9-11) could rattle off a few wins, but the regular season ended with a pair of losses to John Jay – CR and Brewster, which saw ace Colin Brennan fire a two-hit gem in a 2-0 shutout of Hen Hud Saturday. He fanned eight as the Bears (9-12) advanced to the field of 16 to face Panas in last night's opening round. Brewster is one the come of late, winning for the third time in five tries in a 2-0 win over Somers where Bear P Trevor Ottly outdueled Tusker hurler Stefan Swee. Ottly went the distance in a six-hit shutout, whiffing four Tuskers.
Carter Dineen singled and scored while Brennan scored once and drove home another off Swee, the hard-luck loser who tossed six innings without allowing an earned run while sending 11 Bears packing on strikes.
Getting back to Panas, though, the Panthers (18-2) swept rival Lakeland but did suffer a 2-0 loss to Class AA New Rochelle, an obvious challenger to No.1 RCK and No.2 WHITE PLAINS. Still, the Panthers are stacked and Stafura put on quite a display last week as MLB scouts from far and wide came to see the Clemson commit (see P1 for more on that). The pressure was on and the 6' 187-pounder delivered.
"I'm just fully confident in my abilities and I simply don't have fear of failure," Stafura said. "For the past four-plus years I've spent basically every single day at the baseball field sharpening my craft, and when I'm on the field I feel like I'm at home. I'm doing what I love and it doesn't really affect me when there's a bunch of people watching. Baseball is a game of failure and having a bad game, striking out, or making an error quite literally has zero effect on my confidence levels, regardless of who's watching."
And onlookers from across the state will be watching his Panthers to see if they stumble or secure the first Section 1 baseball title in school history.
"As a team, we're ready," said Stafura, who stroked to the tune of a .587 BA and broke John Vota's previous record for batting average (.517, 1989) in a single season. "Our approach still hasn't changed and we're simply worried about one day at a time. We know that if we do what we've been doing all season, we'll be okay. We're gonna go out, have a good time, and take it one pitch at a time."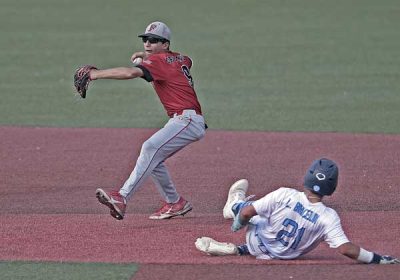 That was Lakeland's approach in its thrilling 6-4 come-from-behind win over Nyack in Saturday's play-in game. Coach Justin McCarthy's boys trailed 1-0 on the road in their final at-bat, but Nick Frobose drilled a two-run inside-the-park homer and Dom Toscano drove home two more runs to push the Hornets (8-13) to field of 16 where they were set to challenge No.2 Pelham last night. P Anthony Frobose went 6.2 IP with eight whiffs to earn the win. Coach McCarthy agreed his team has "a puncher's chance to upset the Pelicans."
A chance they didn't have against Lakeland when Stafura went 3-for-4 with a home run, double and four RBI in a 15-5 Panther win. Reliever Anthony Jaeschke went 1-for-2 with two RBI and picked up the win while Stetson-bound C Witters doubled home a pair. Mike Scozzafava (2-for-3, RBI), Phil Diaz (2 RBI) and Austin Pagliettini (2-for-3, 2 RBI) all came out swatting. Lakeland's Logan Crilly (2-for-3, HR, 2 runs), Anthony Frobose (3-for-3, 2B, 3B, 2runs) and Frankie Kowal (2B, 2 RBI) kept it close before the Panthers pulled away and swept the series, winning 14-0 win earlier in the week.
After beating John Jay CR, 3-1, Yorktown was impressed by the performance of Jack Esposito, who whiffed six Wolves in a complete game where he allowed one earned run and put a halt to a nasty four-game slide. Table-setter Brian White was 2-for-2 with two runs scored for the Huskers (11-9), who were set to host No.9 Clarkstown North in last night's opening round of the tournament while getting back on track after losing five of the last seven headed in.
Fox Lane (9-11) had a three-game win streak come to an end in a 10-8 loss to John Jay EF, but the good outweighed the bad the host Patriots and Foxes raised $10,000 in their annual Strike Out Cancer Game at Dutchess Stadium where Nick Dellorso tripled and knocked in three runs and Danny Spolanski drove home two. Sophomore P Logan Mammola pitched well in relief and could provide another arm behind ace Tyler Renz (5-1, 38.2 IP, 81 K's, 1.63 ERA), who gives the Foxes a better than average chance to bust up a bracket when Fox Lane was set to visit No.5 Pearl River in last night's opening round.
In a 20-5 win over Port Chester, the foxes improved to 8-2 in league play when Will Rudolph had four hits, six RBI and three stolen bases and Mark Schwartz (3-for-4, 2 @B, 3 RBI), Peter Portugues (2-for-4, 2B 4 RBI), Spolansky (RBI 2b) and Jack Shurgin (two hits, 2-run 2B) all supported winning P Dellorso.
Greeley's Cole Stein went five innings with one hit and walk allowed in a 10-0 win over Saunders, fanning nine along the way. Ben Schulman (2 RBI), Zach Bond (2 RBI) provided support as the Quakers (9-9-1) closed out the regular season and were set to visit No.4 Rye last night in the playoffs.
CLASS AA
Scalding WHITE PLAINS, the No.2 seed, completed a sweep of No.13 OSSINING to close out a 15-5 season with nine consecutive wins and 14 in the last 15. It seems Coach Steven Fugarino's Tigers are poised to challenge top-seeded RCK (18-1), which are the favorites to repeat. Both the Indians and the Tigers have clinched their respective league titles, but the road runs through Dutchess County as it often does with three of the top nine seeds coming from the north, including No.4 John Jay EF and No.9 Arlington, which could draw RCK in the quarters should they eliminate No.8 Suffern, one of many perennial contenders, including No.5 Mamaroneck, No.6 North Rockland and No.7 Clarkstown South.
Ossining checks in at No.13 after getting shutout by White Plains P Gavin Townsend, who tossed a tidy three-hit with nine whiffs on one walk. Hard-luck loser Joe Post went the distance, allowing two earned runs while emerging as a threat if the Pride can support him.
White Plains Joseph Gonzalez had a pinch-hit single for two RBI in the sixth inning, which turned out to be the most important runs of the game in a 6-4 win over Ossining, who saw Dylan Amster (2-for-4, 3 RBI) and Jake Dymond (2-for-4, RBI) come up big.
White Plains received a first-round bye in the tournament and Ossining will visit No.4 John Jay EF.
CARMEL has been slowly rebuilding after a ton of success in recent seasons, and the Rams (7-12-1) snapped a three-game skid in a 6-2 win over Pawling to secure the No.10 seed and were set to face No.7 Clarkstown South last night. With ace Nevin Scaperotti on the mound, Carmel has a puncher's chance to break up a bracket.
"That's the plan. The kid's a warrior, he's always ready to go," Coach Joe Chackert said of the Scap Man.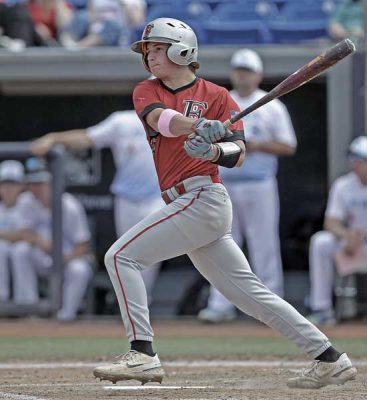 CLASS B
Remember, BYRAM HILLS is a dark horse this spring because of all the Bobcats' success in Class A where, over the years, Coach Scott Saunders has been to four Section 1 finals since 2012, winning it all in 2015, including a state title. Ninth-seeded Byram added a League II-E title in 2023 going 5-1 and 12-8 overall and was set to visit No.8 Dobbs Ferry last night.
Byram was humbled in the regular-season finale when the Bobcats were on the shy side of a 16-3 defeat to No.3 Class A Harrison, which they hope to recover from and get on another vintage postseason run.
VALHALLA has won five of its last six to secure the No.5 seed after knocking off WESTLAKE, 7-4. Trailing 4-1, the Vikings (13-7) scored six in the top of the seventh and were set to host the 12th-seeded Wildcats (8-9-2), who they swept in a pair of close ones this season.
CROTON has now won six in a row and moved all the way to No.6 in the seedings and was set to host No.11 Hastings last night. Coach Eric Rosen's Tigers (15-5) finished the regular as league champs on Senior Day in an 8-1 win over Pawling. Evan Kurtz (2-4, 2 RBI, run), Sam Weiner (2 RBI) and Mekhi Smithwick (3-3, RBI, run) all supported sophomore ace P Harry Kahn (7 IP, 12 K's, 1ER). Interesting to note that Croton has just two seniors on the current roster.
PUTNAM VALLEY checks in the No.7 seed after the Tigers (11-7-1) ended a two-game skid with a tie against HALDANE, not exactly the way they want to enter the postseason, in which they were set to host No.10 Irvington last night. The Tigers have had a solid season with quality wins over Croton, Westlake, Class A's Greeley and Hen Hud, plus Dobbs Ferry, but some head-scratching losses to Pawling and Haldane, so we're not sure what we're getting but they are capable of doing some damage with a handful of solid hurlers.
PLEASANTVILLE suffered a 5-3 loss to Blind Brook to wrap up the regular season with a No.14 seed, which put the Panthers (7-12-1) in the path of No.3 Rye Neck, who defeated P'Ville rather soundly in a pair of losses (21-8 combined score).
BRIARCLIFF finished the regular season with a 1-5-1 run that knocked them all the way down to No.13, which put them on the road at No.4 Magnus last night. On their best day, the Bears (7-12-1) can play with anyone, just ask Rye Neck, whom they tied 5-5.