Panas Rookie Pitcher DiMaso Delivers 1st Section 1 Title
News Based on facts, either observed and verified directly by the reporter, or reported and verified from knowledgeable sources.
We are part of The Trust Project
Panther Coach Fata's 24th Year Bears Fruits of Labor
By Ray Gallagher, Examiner Sports Editor @Directrays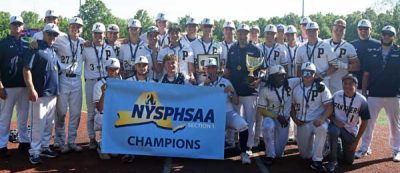 PURCHASE – Nearly a quarter century ago, Walter Panas baseball Coach Anthony Fata – full of piss and vinegar, and a pinch between his cheek and gums – arrived at Panas with a vision to change the landscape. Twenty four years later, to be exact, that foresight was finally realized in the top-seeded Panthers' 7-0 Section 1 Class A championship win over No.10 John Jay CR on the campus of Purchase College on a sun-splashed Sunday afternoon.
"It's something I've been waiting for a long time," said Fata, who eventually gave up dipping and became a heartfelt mentor to many along the way. "Not just for me, but for this program. The school, this community have been doing a great job of supporting us all year, and I couldn't be happier for this bunch of guys."
After suffering an unexpected 4-0 loss on Saturday night, there was no panic in the Panas dugout in Sunday's do-or-die game.
"I'm honestly speechless, it's amazing we did this," said two-time All-Section SS Sammy Stafura, who has drawn the attention of MLB GM's across the country as a likely 1st-2nd-round pick on June 9. "I grew up with these kids and we've been playing together since we were five years old, so it's super special to do this with them."
Panas (24-3) receives a bye to the regional final and will face the winner of the Section 4 champ and Section 9 champ, at a time and location TBA.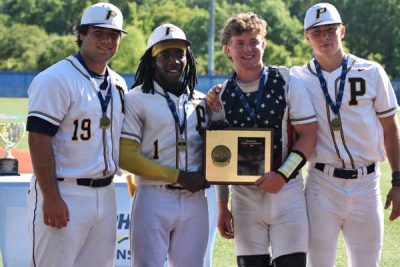 Locked in a pitchers' duel with John Jay's Nick Fasser (10 K's), Panas sophomore Nick DiMaso would come of age, emerging as the game's MVP after the Panthers (24-3) busted out of an 11-inning slump to score six fifth-inning runs.
"We had complete confidence in Nick," Stafura said of his rookie pitcher. "He threw strikes, did his job, so we're just out there cheering him on. All he has to do is throw strikes and he's got a great defense back there behind him. We got Jackson (DiLorenzo) on the bump next weekend, so we're just going to continue to roll. I have complete confidence in this team and today was just one step along the mission."
On a team that features four Division-I-bound players – DiLorenzo (ECU), Tony Humphries (BC), Dan Witters (Stetson) and sure-fire MLB draftee Stafura (Clemson) – it took a spark from LF Micahel Scozzafava to ignite a game-changing rally. His single to left field set things up for RF Austin Pagliettini, who slapped a two-run single to right field, to give the Panthers a 2-0 lead. A few John Jay miscues later, Panas had a six-run frame, which was triggered by a Stafura RBI double, a Witters sac fly RBI, and two more runs scoring off errors and a passed ball. Panas DH Randy Wiesner tripled home the final run of the inning.
"When we needed it big-time, Austin Pagliettini comes up with that big hit," Fata said. "Scozz started it off, and listen, these kids have been doing it all year for us, the big guys, but now it was great to see the bottom half of the order come up big and help us when we needed it most, because hats off to John Jay. They did a great job in both games keep us off balance. I just can't speak highly enough of how those guys at the bottom came through today.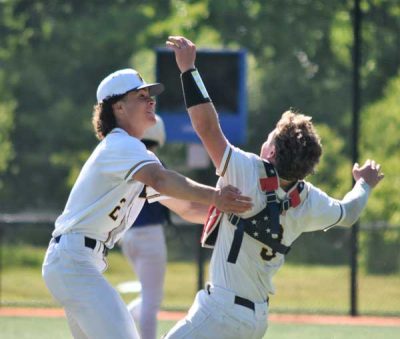 "DiMaso, not only today, he did it all year for us," Fata added. "I'm so happy for him that he came up this big in this spot. This is the best feeling in the world right now and we hope this train ride keeps going."
With two innings left, DiMaso hung by a thread. Pitching Coach Mike Anderson and Fata had several discussions but ultimately decided, with two outs and runners on first and second in the seventh, that DiMaso would get one more batter to finish. Game, set, match as DiMaso dialed in a complete-game shutout with a punchout to close it out. John Jay (15-11-1), which had a remarkable run under first-year Coach Teddy Lawrence (a former Section 1 champ and Detroit Tigers draft pick out of Mahopac), touched DiMaso for just four singles. His curve was most effective, leading to eight whiffs and praise from Anderson, who took the Panthers to a Class A title game in his heyday (circa 2006).
"Nick was unbelievable today, filling up the strike zone with all three pitches and competing," Anderson said. "Our pitchers know we have a solid defense behind us and we trust them every time out. But Nick held it down today. There's a blueprint set by the leaders of this team and Nick is filling right into those shoes. I can't possibly be more proud of him."
DiMaso, a likable, humble soul, heaped praise on those behind him.
"I really trust my team behind me," said DiMaso, who didn't leave a scrap on the table while feasting on Wolves. "They've been there for me all year. I'd say my curve ball was really working today. I had a lot of guys out there on their front foot.
"It feels great to do it for these seniors," DiMaso added. "From the very first day (of the season), this is exactly where we wanted to be and got it. We won the first title in school history and I just want to hang out with these guys tonight and celebrate."
The celebration will be short-lived as the Panthers were set to get back to work ASAP, trusting the system and personnel in place.
"Oh, yeah, 100%, Nick has contributed all season," said Witters, who called a great game. "It's a get-ahead, stay-ahead approach. If you throw strike one, you're gonna be good and he just kept getting ahead in the count, which leads to weak contact. Nick maintained himself very well. He's a great pitcher and I'm very happy for him. We didn't get too down after last night because we knew we were going to take care of business today and we've got a state championship to win, but winning the section for the first time, especially as a senior, means so much to me."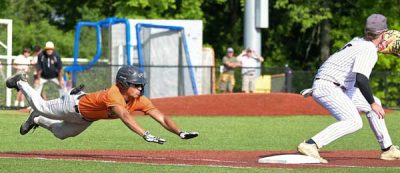 CLASS B CROTON-HARMON saw its amazing season come to an end in a 4-1 loss to Albertus Magnus Saturday at Purchase College. An RBI single by Evan Kurtz (2 for 3) was the lone run the Tigers could scratch off the surging Falcons, winners of 11 in a row and their first title since 2017. Coach Eric Rosen's Tigers (19-7) knocked off two-time section champ Rye Neck in the quarters before taking out Bronxville, 4-2, in the semis. Watch out for Croton next season: The youthful Tigers are certainly on the come.