Panas Pulls Houdini Act, Advances to NYS Class A Final 4
News Based on facts, either observed and verified directly by the reporter, or reported and verified from knowledgeable sources.
We are part of The Trust Project
Panthers Escape 9th-Inning Scare, Win on Witters' Heroics in 10th
By Ray Gallagher, Examiner Sports Editor @Directrays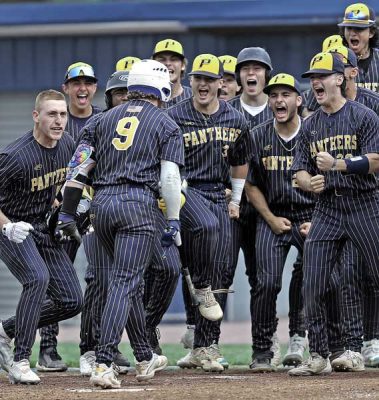 It's been quite a lavish spring for the 2023 Walter Panas High baseball team, rife with team and individual accomplishments the likes of which the Panas community has never seen before. Before reaching the NYSPHSAA Class A Final 4 for the first time in school history after the Panthers defeated Section 9 champion Wallkill, 6-1, in 10 innings last Saturday in Saugerties, All-Section senior SS Sammy Stafura became the third player in the Lakeland School District to be named the NYS Gatorade Player of the Year, joining two-time winner Jonathan de Marte (2010-11) and Joey Vetrano (2019), both of Lakeland High.
Oh, and Stafura was on base when All-Section C Dan Witters blasted the game-winning, three-run homer in the top of the 10 against Wallkill, handing the Panthers (24-3) the biggest win in program history and advancing them to the first NYS Final 4 in program history.
Panas will take on Section 6 champion Williamsville East in Friday's 2:00 p.m. state semifinal at Binghamton University in the hopes of reaching the state finals against the winner of Section 11 West Babylon vs. Section 2 Columbia in Saturday's 1:00 p.m. NYS championship.
Back to Witters, whose Panthers came within a pitch of losing in the bottom of the ninth before a Houdini-like escape saved their season.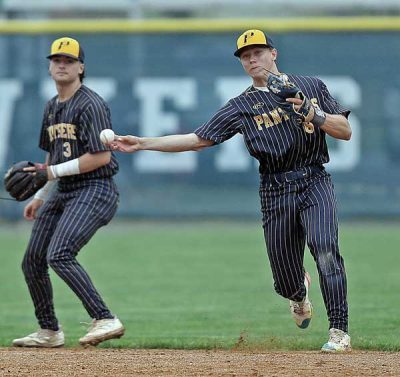 "It was a tied game deep into extra innings, and I was thinking out loud to (Coach) Fata to have Sammy and Jackson steal, but he was not down with the plan," the Stetson-bound Witters said.
He actually attempted a bunt, but pulled back on a ball to set up a 3-2 count.
"And I got a fastball to hit," Witters said. "Because the previous pitcher had good velo, I was a little out in front. I got a middle-in fastball, swung hard, got some good extension and hit one of the hardest balls of my life. I walked a little bit at first, because the ball hugged just inside the line, so I was wondering if it was fair or foul. I couldn't believe it. This is the best baseball moment of my life."
Which almost wasn't meant to be when Wallkill packed the sacks with one out in the ninth and had a 3-0 count on Panas P Anthony Jaeschke, who then wiggled out of the jam with three-straight strikes and no further damage after a pop-up, setting the stage for Panas in the 10th. Stafura (walk) and ace pitcher Jacskon DiLorenzo (HBP) both reached safely before Witters crushed it, and 1B Derek Hawley mashed a two-run single for insurance before Jaeschke closed it out in the bottom of the 10th with a fourth scoreless frame for a win that Panas, who hadn't had a hit through 5.2 innings, survived by the skin of its teeth.
"I'm so happy to help my team go to a place we've never been," Witters said. "It's an unreal feeling."
DiLorenzo went six innings, allowing one run while whiffing six during one of the finest seasons a Panas pitcher has ever chucked, rivaling the work of former Panas great and current Pitching Coach Mikey Anderson and former MLB draftee (Twins) Shawn Tarkington. Panas had just five hits and could barely touch Wallkill junior starter Kyle DeGroat (8.1 IP, 11K's, 0 ER), but made the most of them in the 10th against Wallkill relievers, to go along with seven walks on four hit-batsmen in the game.
"Incredible job by Jax, working against a tight strike zone," Panas Coach Anthony Fata said of DiLo. "Jaeschke did a great job after Jax and Witters hits a big bomb and we're moving on."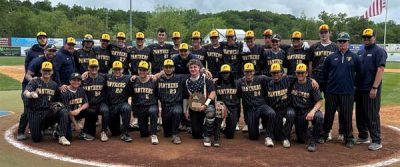 On to Binghamton, indeed!
But before doing so, Stafura, who has been unofficially linked to the NY Yankees in first round of July's MLB draft, had to endure some jeers from Wallkill fans, who chanted "You ain't no Volpe", a reference to current Yankee SS Anthony Volpe.
"To be honest, I wasn't even aware of anybody saying things to me until my family told me afterwards," Stafura said. "Doesn't really bother me, 'You'll never meet a hater doing better than you' is a quote I follow.
"It's certainly been a wild ride," Stafura said of the last week. "We've got a couple more games to go. I'm absolutely pumped with the Gatorade Player of the Year Award. It's been a goal for a long time and feels especially great after bouncing back from a tough season last year. However, the main goal is still to win a state championship and we're more locked in than ever."
Opponents, be forewarned.