Panas, Mahopac set to Collide in Colossal Class A Semis
News Based on facts, either observed and verified directly by the reporter, or reported and verified from knowledgeable sources.
We are part of The Trust Project
Put Valley, Westlake, White Plains Advance to Final 4's
By Tony Pinciaro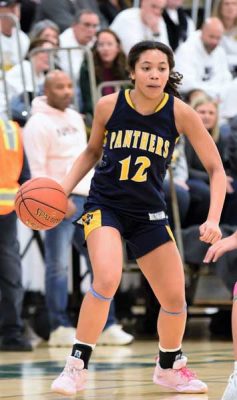 WALTER PANAS came into the current varsity girls' basketball season with high expectations based on its breakthrough 2021-22 year. The Panthers, led by a talented underclassmen group, played for the Section 1 Class A title against an experienced Tappan Zee team. Even though the Panthers came up short, they were excited about the next season.
Following a good December, injuries and illness set back the Panthers for a few weeks. Since everyone returned, the Panthers have rounded into sectional form and are returning to the final four for the fourth time since 2017.
Panas, seeded sixth, punched its ticket to the Westchester County Center with a 53-43 victory at No. 3 Pearl River. The Panthers play No.2 MAHOPAC in one semifinal, 3 p.m., Wednesday, March 1. Panas beat Mahopac, 42-29, in the Somers Tournament title game in December.
The other Class A semifinal has No.1 Harrison against defending champion and No.4 Tappan Zee. The victors play for the title, 5 p.m., Saturday, March 4.
The sectional final four for the girls and boys returns to the County Center for the first time since 2020. Last year, Yorktown hosted the girls' final four. In 2021, there was no final four because of Covid.
"Once we all recovered from our injuries and illness, we had a bit of a struggle putting everything together, but the last couple of games it feels like our playing is all fitting together and we feel like an overall unit on the court," said senior and captain Kelsey Cregan.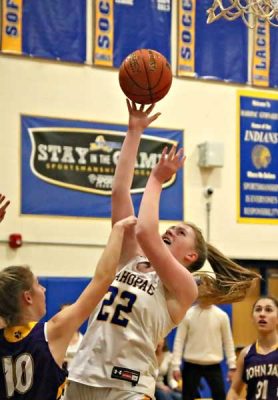 Pearl River is annually one of the top Class A teams and playing at the Pirates is always difficult. However, Panas limited Pearl River to an uncharacteristically-low 43 points.
"The keys to our win against Pearl River were staying composed and playing as a team ," said Cregan, who had 12 points and 13 rebounds. "We had big point contributions from multiple players."
Julia Gallinger finished with 12 points and six rebounds, Cadence Nicholas, the team's leading scorer, added nine points and seven steals and Sophia Tavarez contributed nine points and five steals.
The last time Panas played at the County Center was in 2019, so a return trip is special, especially for the seniors.
"It has been one of our team goals this entire season to make it to the County Center and making it puts us one step closer to our overall goal," Cregan said.
Cregan and her teammates know they will be facing a vastly-improved Mahopac team that the Panthers held to a season-low 29 points.
"We are all trying to keep the fact that we beat Mahopac in December out of our minds as we know a lot in a team can change in those couple of months," Cregan said.
MAHOPAC accomplished something its senior class has been planning for since entering high school. The Indians are going to the Westchester County Center to play in the Section 1 Class A semifinals after a dominant 66-37 victory over seventh-seeded John Jay-Cross River in a quarterfinal.
"Having an opportunity to play at the County Center is something our entire team has wanted this whole season," said Lauren Beberman, who had 14 points, five rebounds and seven steals against John Jay. "But, more importantly, the seniors have been wanting this since freshman year. Getting here is part one, winning is the second. We are all excited to play this week."
Mahopac (17-4) easily handled a very good John Jay-Cross River team behind a strong defense and balanced scoring effort. Three-point sniper Kristina Rush added 12 points, Gianna Rispoli had nine points and six steals and Jess Sterbens added nine points and six rebounds.
"We were very happy with how we played," Beberman said. "We did exactly what we planned on doing, especially on defense."
Beberman and her teammates are hoping to carry that defense into the Panas game.
"We played Panas our third game of the season, but we are now a completely different team," Beberman said. "Throughout the season we have found who we are and what works for us. Defense is going to be so important for us in this game. Panas is a great team, but we've worked hard all season for this."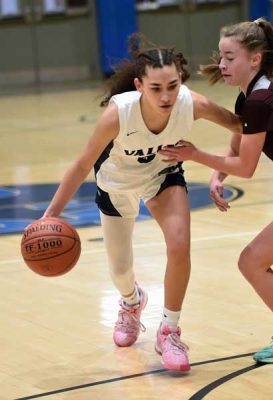 PUTNAM VALLEY is looking for a three-peat as it returns to the County Center for the first time since winning the Section 1 Class B title in 2020 before Covid shut down the New York State Basketball Championships.
The Tigers (21-1) played No.5, Ardsley Monday, in a semifinal. The other semifinal played was No.3 Westlake against No.7 Croton. Croton upset No.2 Irvington in a quarterfinal game. The winners play for the Class B championship, 5:15 p.m., Friday.
Senior Simone Gabriel debuted on varsity when Putnam Valley was last at the County Center, winning the Class B title in 2020. Now, Gabriel gets to return in her senior year.
"It's honestly a full-circle moment for me to be back at the County Center," said Gabriel, who earned a full merit-based scholarship for the University of Wisconsin-Madison where she will major in Biology on a Pre-Med track. "To be back at the County Center the year that I'm graduating is a gift considering it's my last chance to be here, and playing alongside not only my teammate, but friend, Eva (DeChent), during our senior year is honestly a gift in and of itself."
Putnam Valley dominated the opposition during the regular season and it has continued in sectionals. The reigning sectional champion Tigers are playing at such a high level, opponents don't know how to approach them defensively.
"A lot of things have just been clicking for us," Gabriel said. "Each person on the team knows they have a role to fulfill, whether they're in eighth grade or if they're graduating in four months. We know that when everyone does their job, we win.
"We have Eva, who is such a dominant force on our team along with a lineup behind her that's undeniably supportive. We also wouldn't be where we are today without our coaches. They push us on the court in ways that sometimes make us want to push back, but you see how far their coaching has brought us. At the end of the day, we've been learning to hold each other accountable, hustle harder than the girl in front of you, and are willing to listen a little better."
Putnam Valley understands that being the defending champion makes opponents play their best. Now that it is the semifinals, this is more evident.
"We know we're a great team, we work hard and still get to mess around because of what we produce," Gabriel said. "Nonetheless, we're taking into account that some teams feel they have nothing to lose. For us, we have everything to lose, and that's no joke. So, we're focused, and plan to play our game how we do best."
WESTLAKE is back in the final four for a second consecutive year after the Wildcats defeated No. 6 Briarcliff, 64-56 in a Section 1 Class B quarterfinal. It was Westlake's third win over Briarcliff this season.
The other semifinal featured defending champion and top-seeded Putnam Valley against No. 5 Ardsley, also Monday, 6:30 p.m. The winners play for the title, 5:15 p.m., Friday, March 3.
Westlake was led by Brooke Pfeiffer with a season-high 19 points. Allie Castellone scored 15 points, ToniAnn Mastracchio added 13 points and Maggie Plotkin finished with 11 points.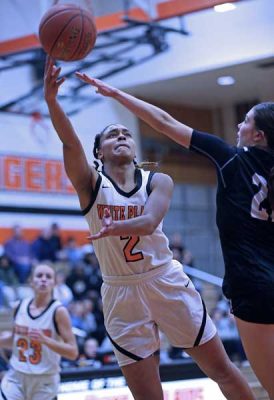 The last time WHITE PLAINS played in the final four, the current players were toddlers. The third-seeded Tigers are back in the final four for the first time since 2008 after a 65-42 victory over No.6 New Rochelle in a Section 1 Class A quarterfinal.
White Plains (19-3) will play defending champion and No.2 R.C. Ketcham in one semifinal, Thursday. Ketcham defeated White Plains in a regular-season game.
Top-seeded and heavily favored Albertus Magnus plays No.5 Ursuline in the other semifinal. The semifinal winners meet in the final, Sunday, March 5, 2:15 p.m.
Junior guard Ineivi Plata became the second White Plains' player to reach the 1,000 varsity point milestone this season. She joined backcourt mate Aliya McIver who reached 1,000 two weeks ago.
"It meant a lot because it felt good making it during an important game and in front of people that have been supporting me through my whole journey," said Plata, who swished a 3-pointer for the milestone.
White Plains is riding a 15-game winning streak. The main factor during this run has been a stingy defense, which the Tigers showed against New Rochelle.
"A main key has been keeping teams out of their comfort level and limiting their decisions," Plata said.
Former White Plains Coach Sue Adams guided White Plains to the 2008 final four. Plata and her teammates are looking forward to playing what amounts to a 'home' game.
"This means a lot to be back in the final four and to play at the County Center because it shows how our hard work and effort are paying off," Plata said.
In order for White Plains to play for a title, it must reverse the result from its first meeting with Ketcham. The Tigers know what has to be done, especially after reviewing the video.
"We are going to make the necessary adjustments to get the victory and we are going to prepare to stop their best players and not let anything stop us," Plata said.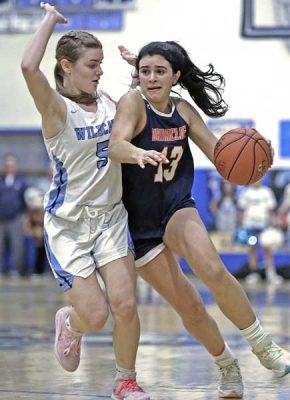 BRIARCLIFF had its season come to a premature close following a loss to No.3 Westlake in a Section 1 Class B quarterfinal.
The Bears conclude the season with a 14-7 record as do the brilliant careers of Cat Carrafiello and Caroline Barbalato.
Carrafiello and Barbalato, who each had 18 points in their final game, played for current Briarcliff Coach Denise Hamlin on Junior Varsity in seventh- and eighth-grade. The tandem was promoted to varsity their freshman year.
Carrafiello and Barbalato also had Hamlin for Math. The two will continue playing in college with Carrafiello going to Middlebury and Barbalato heading to Manhattanville.
"We fought hard," Carrafiello said. "We knew going into the game it was going to be a battle.
"We lost to Westlake two times earlier in the season. Both were tough losses. This game was back-and-forth. We took the lead at one point, but, unfortunately, Westlake went on a run in the final minutes of the game that led them to the win.
"If my last high school game was going to be a loss, it would be this one. Every minute was competitive and our success during the game was purely teamwork. I also grew up playing with and playing against the girls on Westlake. To see my old teammates and friends move on makes a better ending."
Carrafiello and Barbalato both enjoyed playing for Hamlin, who is retiring from teaching and coaching at the conclusion of the school year.
"Coach Hamlin is the sole reason my high school basketball career has been so special," Carrafiello said. "Not only is she a great coach, but also a great teacher and even better friend. She's pushed me as a player, as a student and been there for me always. She will always be an important person in my life and I'm truly thankful for the relationship we have."
No.4 HALDANE plays No.1 Tuckahoe in one Section 1 Class C semifinal, Tuesday, Feb. 28, and No. 2 Alexander Hamilton plays No. 3 Lefell in the other semifinal.
The winners play for the title, noon, Saturday.
"The coaching staff is very proud of this group," Coach Casey said. "They have left their mark on the program. We felt this was our year but we unfortunately came up short."