Panas Junior Launches Project to Help Families with Cancer
We are part of The Trust Project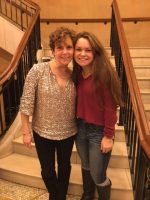 When cancer strikes an individual in a household, the whole family is affected.
Walter Panas High School junior Risa Repetto knows that firsthand having dealt with her mother Alison's breast cancer diagnosis in 2014. Fortunately, Alison's treatment was successful, but the memories of her battle are still vivid to Risa.
"It was a shock. It does really affect everyone," Risa said, noting there wasn't much family history with breast cancer. "During my mother's battle with cancer, I ate peanut butter sandwiches and cold cereal for dinner on many occasions without complaint. While women are dealing with surgeries, radiation and chemotherapy treatment, the last thought on their mind is the task of cooking dinner for themselves as well as their families. No family should have to experience this when there is so much that could be done to help them."
Last summer, Risa decided she wanted to lend a hand to other families struggling with fighting cancer so she created a project called "Taking a Break from Cancer." Her initiative, which she developed with the assistance of Support Connection, the Yorktown-based non-profit organization that provides free, confidential support services and programs to people affected by breast and ovarian cancer, involves asking local businesses and restaurants for gift cards that can be given to patients and their families.
"My goal is to bring hope and happiness to the brave women and families dealing with this difficulty," Risa said. "I just want to help as many people as I can."
So far, more than 20 area businesses have donated gift cards or services.
Support Connection Executive Director Katherine Quinn worked closely with Risa on launching "Taking a Break from Cancer."
"Risa's love for her mom, as well as her understanding as to the stress dealing with illness puts on the family, energized her to create this project. Not only will she be helping families in a practical way but also offering them encouragement and support," Quinn said. "Risa is a role model for other young people to take an idea and make it a reality. I am in awe of her passion, compassion and organization. The support she received from local businesses is a testimony to their belief in her project."
Risa, who lives in Garrison, said Support Connection played a significant role in her mom's recovery and are now "like another family."
"It's amazing how they are always there for you," Risa said. "They talk to you, let you know what to expect. Without them it would have been so much harder."
Any business interested in contributing to Risa's effort can send an email to aly3@optonline.net or call (845) 661-4533.