News Based on facts, either observed and verified directly by the reporter, or reported and verified from knowledgeable sources.
Panas Earns Top Seed in Class A, Carmel No.4 in AA
We are part of The Trust Project
Hen Hud Needs 13 Innings to Oust Brewster in Epic Battle
By Ray Gallagher, Examiner Sports Editor @Directrays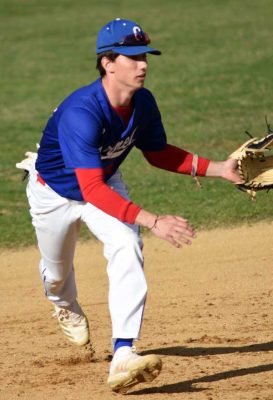 Defending Class AA champion CARMEL finished the regular season with a bang, thus securing the No.4 seed in this week's Section 1 tournament.
Arlington (Class AA), Walter Panas (Class A), Bronxville (Class B) and Tuckahoe (Class C) each secured the top seeds.
Coach Joe Hackert's Rams (12-8) are hitting their stride as they attempt to repeat, having unloaded on Panas, 11-1, and nipping No.3 RCK, 8-7, last week. Having earned the No.5 seed, OSSINING, which is having its best season in moons, is on track to face the Rams in the semis should the two survive. A 10-5 regular-season-ending loss to a sub-par Scarsdale club knocked the Pride (13-4) off course, but Coach Scott DeIeso is counting on the arm of All-Section P Nolan Sniffen (7-2 with a 2.63 ERA and has issued just eight walks all season) to carry the club on a rare ride deep into the playoffs.
Pitching is everything in the postseason, and Carmel will enter the fray without a definitive ace, though Michael Youngman will anchor a staff that includes senior lefty Mark Yorio and junior Nevin Scaperotti (5 K's, , who worked six delicious innings against Panas in a three-hit, mercy-induced win over the Panthers (18-2).
Ram 1B Brendan Murphy stroked three hits and 3B Kevin Heffernan (2 hits) and J.V. call-up Chris Echols each knocked in three runs for the Rams, who also saw Scaperotti get two hits.
The win over Class AA runner-up RCK was just as impressive, seeing how the Indians had gonged the Rams the day before. The game was sloppy by both clubs' standards, including a whopping 10 combined errors (four by Carmel). But trailing 5-0, the Rams rallied for two in the sixth, three in the seventh to tie, and three more in the home half of the eighth, after giving up two in the top half. Senior SS Kevin Dall and Scaperotti each had two hits and a run while Murphy and Yorio drove home a run.
"I'm very proud of these guys," Coach Hackert said of the Rams. "We had our best offensive day of the season against Panas and had to pull two kids up from J.V. to play RCK and really bounced back after getting gonged the day before."
CLASS A
No.15 HEN HUD advanced to the round of 16 after knocking off No.18 BREWSTER, 2-1, in 13 innings (not a typo) innings on a clutch Conor "Big Country" Harbolic walk-off single, his second walk-off hit of the year. Sailor starter Eli Negron went 5.1 innings before ace Josh Shea took over, going 6.2 IP for the win: his stat line was as epic as the win (13 whiffs, 2 hits, 1BB, 0 runs).
"It's a game the guys will talk about ten years after they graduate," Sailors Coach Van Vourliotis
said. "It felt like every inning each team had a chance to win. Harbolic did it once this year already and he was able to come up clutch again. He never wavers and is never scared of the moment. Shea is Shea – he's one of the best pitchers in the section and he showed why. We wanted to save him for Rye, didn't expect him to have to throw nearly seven innings in relief, but we had to adjust to win the game, and as always, he was down to do whatever it took."
The Sailors (11-10) advanced to face No.2 Rye, a club that rarely beats itself. The Bears finished at 9-11 and really came on strong after a slow start. Brewster Senior P John Gerfen was outstanding in the hard-luck loss, going 9-1/3IP, whiffing 11 Sailors and allowing just three hits.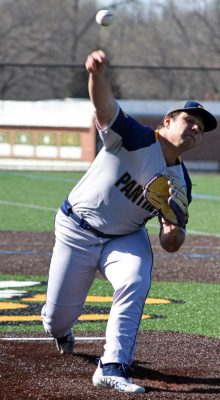 WALTER PANAS, with its five D-I-bound studs, is the crystal clear favorites, but baseball being baseball, nothing is a given. No.17 Pelham was set to have first crack at the Panthers last night before facing the No.9 Nanuet/No.8 Saundsers survivor in the quarters. Should the stars align properly, though, Panther Coach Anthony Fata's Panthers (18-2) are on track to win the first sectional title in school history.
"I think our guys are ready for this challenge," the veteran coach said. "Our battle-tested bats are coming around, and we are excited and ready to go. We know guys will be coming for us, so we have to be playing our best baseball.
"Carmel, we were disappointed with the way we played them," he added. "I think the guys were a little tired, but no excuse. Carmel smacked the ball around. We'll regroup and get ready for playoffs."
Smart money would be on Panas to rebound and make a monster run to the finals, but again, this is baseball and the Gods are unforgiving.
No.11 YORKTOWN (11-9) drew No.6 Harrison while No.12 SOMERS (10-9) visited No.5 Pearl River in last night's opening round. After advancing 12-1 in the outbracket against Lincoln, No.14 LAKELAND has an enormous task at No.3 Eastchester.
Lakeland senior IF Joe Torres was 2 for 3 and cracked a pair of triple. He scored twice and knocked in four while IF Dom Toscano (2 for 2, BB, RBI, run) and Brandon Forte (2 runs) had a day for the Hornets (10-11).
CLASS B
No.8 CROTON (12-8) was set to host No.9 Hastings last night in the hopes of facing top-seeded Bronxville in the quarters. No.13 PUTNAM VALLEY (6-12) was set to visit No.4 Valhalla in the hopes of busting up a bracket.