Pair of Rockettes Spend Time With Children in Chappaqua
We are part of The Trust Project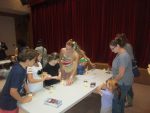 It may still feel a bit like summer, but it's only a couple of months before shoppers drive themselves ragged looking for all the right gifts and start hanging their holiday decorations.
Last Wednesday, there were two visitors at the Chappaqua Public Library who were already in the swing of the holiday season.
Natalie Reid and Mindy Moeller, two Radio City Rockettes, helped children and their parents with an arts and crafts project as part of a community outreach effort by Radio City Music Hall and the world-famous dancers. This year, The Rockettes were guests at six metropolitan area libraries, including Chappaqua, before rehearsals start at the end of the month for their signature show, The Christmas Spectacular.
"It's just kind of an outreach we do before the Christmas season starts, to get in the community," said Reid, who is in her eighth season as a Rockette. "This year we did some arts and crafts with the kids and really get to interact with our young and our old fans."
Dressed in their "12 Days of Christmas" red, white and green outfits they wear in the show, Reid and Moeller spent more than an hour assisting the children build a small glass with white holiday lights. Some of the adults joined in the activity as well.
Children looked in on in awe. After all, everyone knows about The Rockettes. The Christmas Spectacular, which made its debut in 1933, has been one of the annual traditions that has linked the generations, Reid said.
"It's timeless. It is a show unlike any other," she said. "It just transforms Radio City Music hall into this Christmas wonderland. But I think the most important thing is who you're seeing the show with. I think that's the coolest thing to seem, is these moments that are made and the traditions that are formed year after year, from grandparents who are now bringing their grandkids because their parents took them years ago."
The visit to Chappaqua comes just before The Rockettes will begin their grueling schedule in preparation for this year's show. Starting Sept. 29, the 80-member dance company will rehearse six hours a day, six times a week. In every show, there are 36 dancers on the line. The Christmas Spectacular opens Nov. 9 and runs through Jan. 1
"It makes our job even more special to be able to have these interactions," Reid said.