Pace Picks Former Iona, Fla. State Coach to Lead Men's Hoops
We are part of The Trust Project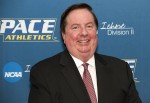 Pace University announced Monday afternoon that former Iona College and Florida State head basketball coach Pat Kennedy will lead the men's basketball team.
Kennedy returns to Westchester where he started his career as an assistant coach with the Gaels under the legendary Jim Valvano. He also has deep roots throughout the New York City metropolitan area.
Kennedy comes to Pace after 31 consecutive years as a Division I head coach. In addition to Iona and Florida State University, Kennedy also served at DePaul University, the University of Montana and Towson University. He has 487 career wins and eight NCAA Tournament appearances.
"During my time at Iona and throughout my coaching career, Pace University has always been admired as an outstanding academic institution producing quality graduates," said Kennedy. "The backdrop of the greatest city in the world and a highly competitive conference make Pace a special place for future student athletes."
Kennedy started his coaching career with the Gaels in 1978 as an assistant under Valvano. He was promoted to head coach in 1980 and guided the Gaels to back-to-back trips to the NCAA Tournament in 1984 and 1985. He posted four 20-win seasons in six years and earned Metro Atlantic Athletic Conference (MAAC) Coach of the Year honors in 1982. He finished his career at Iona with 124 wins, a .674 winning percentage and three MAAC Championships.
Success continued at Florida State in 1986 as he led the Seminoles to back-to-back 19-win seasons in his first two years at the helm and an NCAA Tournament appearance in his second year. He went on to post five 20-win seasons in his 11 years, including leading the Seminoles to a 25-11 record in 1992-93 That team advanced to the Elite 8 as the No. 3 seed in the Southeast Region. He was named the Atlantic Coast Conference Coach of the Year in 1992 following a 21-10 season as his team advanced to the Sweet 16.
Kennedy was a two-time National Association of Basketball Coaches District Coach of the Year in 1992 and in 1993. He guided Florida State to five NCAA Tournaments and finished with 202 wins at Florida State. Most recently, Kennedy was the head coach at Towson University in Baltimore.
"To attract a coach with the resume and credentials of a Pat Kennedy is a slam dunk for our institution," said Director of Athletics Mark Brown. "The overwhelming interest in this position speaks volumes to the reputation of Pace and the direction we are headed. I am excited that Pat has decided to return to his Westchester roots and know that his leadership and vision is just what our program needs at this stage of our development."
He succeeds Jim Harter who stepped down at the close of the 2012-13 season after 16 years.
Kennedy holds a bachelor's degree in political science from King's College in Pennsylvania where he played and coached for four years. Following graduation, he served as an assistant coach for the men's basketball team for two years at Lehigh University under future NBA Coach Brian Hill.
Pat and his wife, Jeannie, have three children, a son, Joey, who is a graduate of Northwestern where he played guard for the Wildcats and was a team captain in his senior year. Their daughter, Kimberly, is married to former U.S. Marine Zach Johnson and gave Pat and Jeannie their first grandchild, Landon Patrick Johnson. Their other daughter, Kathryn, is a student athlete on the track and field team at Towson University.