Pace Cans Men's Head Hoops Coach Harter After 16 Seasons
We are part of The Trust Project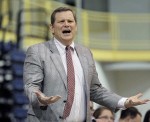 Pace University's athletic department announced on Wednesday that men's head basketball coach Jim Harter was fired after 16 years at the school.
Harter lead the Setters to a 9-16 overall record in the recently completed 2012-13 season and 6-15 in the Division II Northeast-10, falling short of a conference playoff berth. Harter went 224-213 in his career at Pace.
Pace University Director of Athletics Mark Brown made no mention of a possible replacement but said the school will conduct a search to fill the vacancy.
"I'd like to thank Coach Harter for his dedication and contributions to the men's basketball program over the past 16 years and wish him all the best," Brown said.
"Men's basketball is an important part of the Pace athletics program. We are committed to building our program into a perennial contender for the Northeast-10 championship and will begin to search for the best candidate possible to help us reach that goal."
Harter's teams qualified for the NCAA Tournament three times during his tenure–1999, 2002 and 2007. In 1999, when he led the Setters to a 20-8 record, he was named NIT/Metropolitan Coach of the Year. His teams also compiled records of 21-8 in 2002, winning its first-ever tournament game, and 20-13 in 2007.
Harter, a Beacon resident, played college football at the University of Delaware, playing as a linebacker on the Blue Hens' 1979 Division II national championship team. He graduated from the school in 1982. He served as a graduate assistant at the University of Alabama-Birmingham and worked as a scouting coordinator for Tulane from 1991 to 1993.
He is the son of longtime college and NBA coach Dick Harter.