Boys Class A Soccer Notebook
We are part of The Trust Project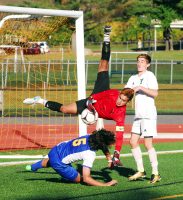 Yorktown, Somers, Lakeland, Put Valley Advance to Quarters
Through the first round of the Section 1 playoffs, the Class A soccer circuit is as advertised; compelling and competitive, with two of the three local teams surviving and advancing to the Great 8, including reigning NYS champion Somers and Lakeland. Brewster did not make the cut.
Meanwhile, in Class AA, Yorktown ended Mahopac's season and advanced, and Class B Putnam Valley won what might be the biggest win in program history, defeating Pleasantville on PKs.
CLASS A
No.3 SOMERS breezed past No.14 Rye, 5-0, with wing Jake Faigle and striker Lucas Fecci each baggin a pair of goals. Mike Ferrara also scored for the Tuskers, who look like a team that is ready to defend its title with dignity. Super soph Drew Lasher had a pair of assists for Somers while middies Nolan Fierro and Alex Maher each set up a goal.
"I feel like everyone is just out to get us and we have to be ready to play against anyone and everyone," Fecci said. "I wouldn't have been able to score if it was from the hustle from Jake and the beautiful ball from Drew."
The Tuskers were set to host Nyack on Monday in the semifinals.
"Just takin it game by game knowing each one could be our last," Somers Captain Jon Riina said. "It's relieving to take care of the first matchup with class, and it feels like it's all coming together, and people are stepping up when we need it most."
Indeed, Somers, which won with defense last season, is firing on all cylinders offensively with Nyack coming to town. Coach Brain Lanzetta, in his second season, knows Class A will be a dogfight from this point forward, as the heavily-targeted Tuskers would potentially see Tappan Zee/Lakeland winner in the semis and the potential Byram Hills/Beacon/Keio survivor in the finals.
"Winning isn't everything," the coach said, "but wanting to win is. All these boys want to do is win, and that's the most important thing. These boys are clicking. The vibe of the team is real. We feel every team wants us to lose, or is out to get us. We just want to focus on winning game by game, but I don't think they will accept losing. They have one mission, to repeat."
No.10 LAKELAND (10-6-2) went down to No.7 Eastchester (11-3-3) and win 1-0 in double overtime when senior Captain Kyle McHale hit the golden goal off a free kick in the game's 103rd minute. Big Ryan Mathis had eight saves in his second post-season shutout for the Hornets, who visit second-seeded Tappan Zee on Monday's quarterfinals.
In a season when Lakeland has really taken some mental lumps (injury after injury), this was a highlight finish, according to Coach Tim Hourahan.
"What a great moment this was for Mr. McHale and for this program," the coach said. "We have been playing the end of this season and these sectional games without two senior captains (Dhruv Girgenti and Arben Hoxhaj) as well as two other starters who were lost for the year due to season ending injuries. The kids just have so much fight in them and belief in each other that no matter who is on the field we can trust them to get the job done.
"For Kyle, personally, this was his second massive free kick goal of the season," Hourahan added, noting McHale's free kick in a 1-0 win over Somers that won the game. "He has a knack for the big moment and coming through for his teammates. The team understands that our margin for error is much less then it was when we began the season without these four starters, but to be honest they don't care."
It looked like it in Lakeland's 6-0 outbracket win over Lincoln last Thursday when Ryan Casey had two goals and one assist for the Hornets. McHale (1G, 2A), Carlos Del Monte, Nick Aryee and Sean Bussell also scored for the Hornets.
No.9 Pelham ended No.8 BREWSTER's season, 1-0, in OT. Brewster senior G and captain Michael Charbonneau stopped eight shots for the Bears. Pelham advanced to face top-seeded Byram Hills in Monday's quarterfinals.
CLASS AA
No.4 YORKTOWN vs. No.13 MAHOPAC provided a slew of local fare for soccer fans who were treated to a well-play match, the Huskers winning a 2-0 decision courtesy of Desim Bucpapa and Joey Carbone, who each scored for the Huskers, who were set to host Scarsdale on Monday in the quarterfinals.
The Indians were forced to play the final 22 minutes a man down, due to a red-carded player, but it was going to be tough for them to beat Husker G Mauricio Arango (7 saves) no matter what the circumstances.
CLASS B
No.12 PUTNAM VALLEY and No.5 Pleasantville went 110 minutes without a goal and then the Tigers (7-10) won on penalty kicks, finishing with a 5-4 edge when Alban Kalaj hit the Tigers; fifth marker and G Brian McBride stopped the Panthers' final attempt. The Tigers visit Rye Neck on Monday in the quarterfinals for one of the few times in program history.
NWE/Putnam Boys' Pitch Poll
No.1 Somers – Tuskers (14-2), ranked No.16 in NYS, are built to beat teams into submission when they hit on all cylinders, which they will very much need to do against the likes potential championship challengers Byram Hills, ranked No.10 or TZ, ranked No.9.
No.2 Yorktown – Huskers (12-4-1), ranked No.16 in NYS, have finally gotten their just due in the state rankings, but that won't matter much unless they can sneak into the Class AA finals.
No.3 Mahopac – Indians (7-9-1) were anything but an easy out for Yorktown, but there's work to do on many levels if they want to churn out an elite program. The dominant win over Lakeland last week gives them clear head-to-head edge in this poll.
No.4 Lakeland – Hornets (10-2-2) are alive and well as of this writing, despite being decimated by injury. One can only wonder, had they stayed healthy, what could have been.
No.5 Brewster – Bears (11-6) just didn't have the elite scoring unit one needs to compete at a championship level, but this was a solid campaign nonetheless.