We are part of The Trust Project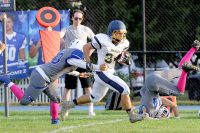 No.1 Yorktown, Panas Snare 2 of Top 4 Seeds in Class A, Carmel Grabs No.4 Seed in AA, Mahopac Snags No.7; Put Valley Tumbles in Class B
The year was 1998: Titanic and Saving Private Ryan were all the rage on the big screen. Enigmatic Marilyn Manson was freaking out "normal" folks with a bizarre guise that matched his odd genre of satanical music. U.S. President Bill Clinton denied he had "relations" with former White House intern Monica Lewinsky, shortly before the democrat's disgraced impeachment from the Oval Office.
Oh, and Yorktown High won the last of four Section 1 championships in the program's finest eight-year span. With an upstart cast that included the likes of Kris Kringus, Christopher Lupo, Mark Hodio and QB Steve Lewis, who now proudly owns and runs the Carriage House II in Mahopac, the Huskers went undefeated in Section 1 under second-year Coach Dan Callahan.
"It was one of the most talent-laden years that Section I ever had in Class A and we were picked dead last," Callahan recalled, also citing current assistants 'Big Joe' Bucello and Jason 'Longo' Longobardi as key to their success. "Fox Lane, John Jay, Ossining, Mamaroneck all muscled up, and Greeley was loaded, too. Went 10-1 and took the last sectional title Yorktown ever won before losing in the state semis."
Yeah, 1998 came out of nowhere for Yorktown, which just locked up the No.1 seed after Friday's 31-7 trouncing of state-ranked (No.6) host Our Lady of Lourdes. The state-ranked (No.2), undefeated Huskers (6-0) will host No.16-seed Lakeland in the qualifying round of the Class A tournament this Friday (7 pm) after RBs Brandon Meyreles and Brett Makar rushed for 200 yards apiece and Meyreles scored two touchdowns. The shifty Meyreles finished with 200 yards on 10 carries, including a 57-yard TD scoot. Husker QB Tommy Weaver rushed for 64 yards and a touchdown and threw an 8-yard score to Naim Sinanaj for the Huskers, who are every bit as tired of hearing about 1998 as we are reminding them.
"You are preaching to the choir," Yorktown Coach Mike Rescigno admitted. "Meyreles is a freak and you'll be hearing more from him for the duration. Our O-line may not be the biggest but they won the tug-of-war all day long."
If there were ever a time to end this drought, now would be it #GetErDoneShunnn…
WALTER PANAS went into "big-play" mode to sink HEN HUD's leaky defense and spoil the Sailors' homecoming with a 44-32 trouncing of the once-ballyhooed Sailors, who aren't nearly as consistent as needed to be prime time players in Class A. Panas (5-1), however, scored five TDs on plays that went for 63 yards or more while earning the No.4 seed in this week's playoffs when the Panthers will host No.13 Sleepy Hollow. The Sailors (3-3) will take the road of most resistance as the No.11 seed, paying a visit to No.6 Somers, the reigning NYS champs.
The biggest playmaker for the Panthers was Laukaitis, who put a gut-check on the Sailors when he went 66 yards to paydirt after the Sailors took an early 7-0 lead. Laukaitis also took and 86-yard pick-6 to the house after catching an 81-yard TD pass from QB Brandon Hodge that also went for 81 yards. Hodge himself, one of the most gifted QBs at Panas since Kyle Pierce, Sean Lindsay and James Luft, went 63 yards for a 34-26 lead heading into the fourth quarter. Laukaitis sewed it up with the pick-6 on the ensuing possession. Hodge hit on 6 of 15 passes for 265 yards and three touchdowns.
A big man/woman can admit when their wrong, and this scribe was wrong about the Panthers, who looked good for one quarter against Yorktown in Week 3 before falling apart. That impression stuck for weeks on end, but give credit where credit is due: Panas has had a fantastic year and deserves its recognition.
Sailor QB Manny Carbone did all he could to keep the Sailors in the game, rushing for 115 yards, completing 22 of 38 passes for 239 yards and four touchdowns. But the outcome was a microcosm of Hen Hud's season, according to Coach Mike Lynch.
"Their QB was very good," Lynch said of Hodge. "But we made critical errors: Story of our season. We haven't taken care of the ball. We had a ball bounce off our receiver's hands and returned for six. Then in the fourth quarter, we fumbled the snap on one-yard line. Two plays killed us."
SOMERS may have found the RBs Coach Tony DeMatteo can lean on when the reigning NYS champs host Hen Hud in the playoff qualifying round this Friday (7 pm). Tusker RB Rob Fazzinga bulled his way to paydirt for four touchdowns and Mike Somoza ran for 94 yards on eight carries as the Tuskers (4-2) ended a stunning two-game skid and crushed Beacon, 41-0.
CLASS AA
When CARMEL stormed the field on Homecoming Day last Saturday with more than 50 American flags in tow, the energy was beyond anything the @CarmelCrazies could have envisioned and the emboldened Rams (5-1) rode the wave to a convincing 41-12 victory over Spring Valley and locked up the No.4 seed in the upcoming playoffs. If we can take anything away from this game, it's the fact that Carmel does Homecoming Day as well as anyone in the region, and these Rams have achieved a high level of success in keeping with their fine football tradition.
"Our community is such a special place and I'm a lucky guy to be part of it," Carmel Coach Todd Cayea said.
The Rams, who will face No.4 Mamaroneck in next Friday's (7 p.m.) opening-round qualifier, set the tone right from the jump when Leonard Flocco took the opening kick to the house for a 6-0 lead, the first of two first-half scores for the shifty Ram RB. The Rams built a 27-0 lead when QB Peyton Cayea (6-of-11, 90 yards, 2 TDs) hit senior Dylan Seals for a TD grab and the rout was officially on. Flocco snagged the other TD. The Rams were able to throw as well as they did because the Tigers had to honor RB Sam Duke, who went for 97 yards and two scores on 10 totes. The Rams rushed 27 times for 184 yards collectively and continue to look like a dynamic outfit heading in to the playoffs against a program they are very familiar with in recent years.
MAHOPAC locked down the No.7 seed, pounding out a 20-7 win over host RCK last Friday. The Indians (4-2) set up a play date with No.10 North Rockland this Friday (7 pm) after QB Ryan Dugan threw for 130 yards on 9-of-13 passing, including a pair of TDs to Alec D'iorio (3 grabs, 74 yards) and Rheal Allen, his fifth TD of the year. Dugan has fired seven TDs this season against one INT.
North Rockland (2-4) has a ton of football history on its side and should not be taken lightly, but Mahopac is poised to make its own under first-year Coach Dominick DeMatteo, who has this unit playing better than anyone could have expected.
"We are collectively excited about our success thus far," DeMatteo said, "and the prospects of continued success in our future. At 4-2, we are just five points away from 6-0, which is an extraordinary accomplishment for any team in AA-North football. To achieve that level of success after all this program went through as a program and community is nothing short of astonishing."
CLASS B
PUTNAM VALLEY is in full-blown "let's-see-what-we're-made-of" mode after the Tigers were crushed by Pleasantville, 41-0, on senior night in the Valley. Eight teams will make the Class B playoffs and the Tigers (3-3), losers of two straight games to No.3 Ardsley and the No.1 P'Ville Panthers, are currently on the cusp of getting in at No.6. PV can ill-afford to lay an egg in the Week 7 matchup with struggling Briarcliff (1-5). The time to right the ship is now, or the playoff boat shall sail sans Tigers.
NWE/Putnam Examiner Grid Poll
No.1 YORKTOWN – Hate to harp on 1998, boys, but I get just as tired typing it as you do hearing it. Can we please end this 18-year drought now?
No.2 CARMEL – This is a team you can root for; ask anybody that saw them rush the field with 50 USA flags in hand.
No.3 SOMERS – Tuskers don't own a game-breaking threat like a Messiah Horne, a Matt Pires, a Matt Deiana or a Jordan Rabidou this season, so it's gonna take a Herculean T-E-A-M effort to mask their warts and get back to the Class A title game #StillDoable.
No.4 MAHOPAC – A home game and No.7 seed in Class AA playoffs: Not the type to say, "I told you so" but I reckon this is #BeyondExpectations. The new home uni's, which feature mostly black, are a major change from typical blue and gold, but so long as the kids dig 'em it's all good.
No.5 PANAS – In Hodge We Trust; this kid is dynamic and the Panthers will need to be taken seriously from here on out. And congrats to Panas senior Yvette Burcescu on her recent Con Ed award win for athletic and scholarly excellence. The two-time volleyball All-American and NYS Player of the Year surely ranks above most athletes in Panas history; quite possibly atop the list when you boil it down, but she's right there with the likes of Sean Lindsay and Tommy Cottrell and the rest of the Panther all-time greats.