Overtime 3-Pointers Lift Briarcliff to a Win Over the Panthers
We are part of The Trust Project
Caroline Barbalato sure picked the right time to catch fire on Thursday evening. The Briarcliff junior point guard swished a trio of shots from beyond the 3-point arc during a two-and-a-half-minute blitz in overtime, propelling the Bears to a 54-48 victory over host Pleasantville.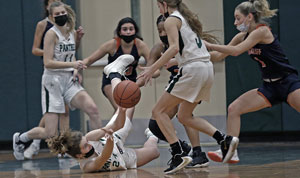 With just five points after four quarters, Barbalato, seeing the Panther defense focused on stopping teammate Cat Carrafiello, exploded for the Bears' first 10 in the four-minute extra session to send them to their sixth win in eight games this season.
"You know, she can do that. She can do that," said Bears head coach Denise Hamlin after watching the late-game heroics from Barbalato. "A lot of times she just defers and wants to make everybody else better. She realized that they were playing Cat in a box-and-one. And she stepped up. So give her a whole lot of credit. She stepped up big time."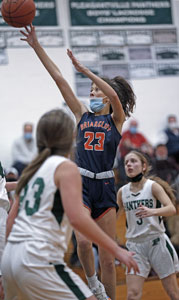 "We knew those were the top two players and made a conscious decision not to let Carrafiello beat us in the overtime, and the other girl beat us," said Panther coach Dillon Clark. "She made plays when they needed plays. I give her credit."
In a contest between two rival schools that each hadn't played a game in more than two weeks, the lead changed hands four times and the score was tied on a half dozen occasions before Barbalato gave Briarcliff the lead for good 17 seconds into overtime by connecting on a 3-point shot from the right wing.
Pleasantville cut the Bears' lead to 44-43 25 seconds later as Ruby Donohue made a 15-foot jumper, but Barbalato soon launched another 3-pointer, this time from four feet behind the arc that again touched nothing but the net. A pair of free throws by Reilly Byrne with 2:19 to go then brought the Panthers within 47-45.
But that was as close as they would get because Barbalato wasn't quite finished yet. With 1:17 left on the clock, her 3-pointer from nearly 25 feet away just right of the key swished one more time as she was being fouled on her follow through. She added the free throw, stretching the Briarcliff lead to 51-45. Despite a right-corner trey by Meghan Raefski 10 seconds later, the Panthers were unable to overcome the eruption from Barbalato and wound up with their fifth consecutive loss.
"We're not happy with the outcome, obviously," said the Panthers' Clark. "But we're gonna take it and build from it. We're still a green team at the varsity level and we're learning how to win. I think a lot of people contributed in a lot of different ways tonight and that's a good thing going forward."
The Bears, with Carrafiello back on the floor after missing the three previous games with an injury, used a 9-0 spurt late in the first quarter to grab a 15-6 advantage. But three consecutive baskets, one of them a 3-pointer, by junior guard Gianna Doto, who finished with a team-high 16 points, moved the Panthers to within two points just over a minute into the second quarter.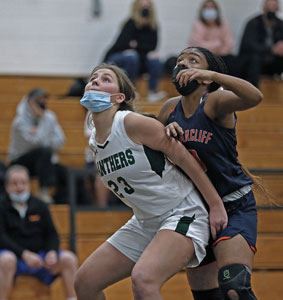 A 10-0 burst by Pleasantville, highlighted by 3-point shots from Donohue and Doto, enabled the Panthers to jump ahead 23-20 with 2:18 left in the half. The Bears regained the lead by a point with 1:15 to go on a trey from Luella Luttkus before Donohue closed the first-half scoring with a 3-pointer that sent the teams off at intermission with the Panthers in front 26-24.
"We let down a very little bit," said Hamlin, whose team was outscored in the second quarter 18-9. "Against them, you can't let down at all. They can shoot, they're tough, they beat us to the ball. You let down a second and they're gonna capitalize. And that's really how the second quarter went. They took over in the second quarter."
The third quarter began with Carrafiello, who finished with a game-high 20 points, driving to the left baseline to roll in a layup that tied the score. With Pleasantville ahead 34-30, it was a wide-open Carrafiello who ended the period with a buzzer-beating 3-pointer from the left elbow on a feed from Barbalato.
But in the final quarter, the Panthers built their largest lead of the night, 39-34, when Donohue, who wound up with 15 points, connected on a trey with 5:10 remaining. Briarcliff closed to within a point on a bucket by Rebecca Kratz with just over a minute to go and grabbed its first lead since the second quarter on two free throws by Carrafiello with 27 seconds on the clock.
The Panthers tied the game at 41-apiece on a foul shot from Byrne with 20 seconds left and had a chance to win in the final seconds. But a shot by Donohue was just short and then another by Byrne was just long, sending the game to overtime and setting the stage for the exploits from the Bears' Barbalato.
"I'm super proud of them, they worked hard," said Hamlin of her players. "I thought if we could get it to overtime, we could win because two of their kids had fouled out. So that's what I was hoping for, just try and tie it up."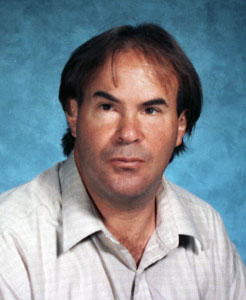 Andy is a sports editor at Examiner Media, covering seven high schools in the mid-Westchester region with a notebook and camera. He began there in the fall of 2007 following 15 years as a candid photographer for the largest school picture company in the tri-state area.
Read more of Andy's full bio here.
Read Andy's archived work here.