Ossining's 4-Year Run as NYS Champions Concludes
We are part of The Trust Project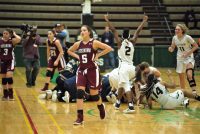 Well Runs Dry in Pride's 73-45 NYS Title Loss to Section 8's Baldwin
TROY – It was anything but the way a reigning four-time NYS champion should go out; until the bitter end when the seven-time defending Section 1 champion Ossining Pride displayed the class and dignity befitting the champions they are.
It was 32 minutes of living hell: A shelling unlike anything Ossining has seen in at least a decade: Their coach being ejected midway through the third quarter, and tears of misery spilling off their cheeks and onto the Hudson Valley Community College hardwood.
Indeed, it was tough to watch. With all that and more going against the grain of excellence they have become accustomed to at Ossining, the Pride fought off dejection and stood tall after their 73-45 NYSPHSAA Class AA championship loss to Section 8 champion Baldwin last Saturday night.
With Coach Dan Ricci returning to the floor from his ejection for a second technical foul, he rallied his team together, told them he loved each and every one of them, including UConn-bound senior Andra Espinoza-Hunter, the co-NYS Player of the Year. He then led the cheers for Baldwin – a worthy foe he expects to see again next year – and later saluted the sea of maroon within the crowd.
The state-ranked (No.5) Bruins (22-3) dethroned the four-time defending state champions and became the first NYSPHSAA team to beat the state-ranked (No.5) Pride (21-6) twice in one season since 2010.
"They're excellent and we fully expect to see them again next year," Coach Ricci said. "I just felt like my kids weren't getting a fair shot (regarding the officiating). I just wanted to stand up for my kids. It is what it is, but I just wanted to support my kids.
"We overachieved this year," Ricci added. "People laugh when I say that, but when you lose an All-State kid like Aubrey Griffin (torn ACL in Dec.) and still get back to the state finals, starting a young team like we did, that says a lot, but we return four of our five kids and we get Aubrey back next year, so we'll be fine. When Aubrey went down, this group proved a lot of people wrong. Aubrey can't wait to get back and we can't wait to get her back. Baldwin is a very, very good team. They did a great job and they were hungry. We've been there and we've been hungry like that, and we'll be hungry next year. We'll probably see them again."
Long Island-based Baldwin, which shot nearly 50% and retained possession time and time again on tap-backs, stifled the Pride with its marque up-tempo offense and tenacious full-court defense for the vast majority of the game.
That style led to an aggressive nature, which seemed to favor the speedy Bruins while drawing the ire of Ricci.
Ricci earned the first technical foul for criticizing the officials during a timeout, then picked up his second after a debatable charging call against Espinoza-Hunter. While Ricci seethed inside, he let out the following statement within earshot of a rabbit-eared official: "That's the exact reason why I was worried about you doing this game," Ricci told the ref, who is a Long Island-based referee.
Espinoza-Hunter, who played three years at the Blair Academy after starring as a 7-8th grader at Ossining, returned to the Pride for her senior year with one mission in mind; a state title. She finished with a state-record 995 points this season and wept while apologizing to teammates for not delivering a title. The last thing the UConn-bound senior had to do was apologize for anything after smashing a state record that stood since 1987.
"I'd give it all back for the state title," Espinoza-Hunter said after finishing with 19 points against the Bruins, 13 in the first half. "Baldwin was an incredible team."
Pride sophomore C Kailah Harris finished with 11 points and 10 rebounds and G Jaida Strippoli added seven points, but the Pride would need much more from both to keep up with the blink-quick, Aziah Hudson-led Bruins, who forced 18 turnovers, created nine steals and shot 45% from the field.
"We just took what we felt was ours," Baldwin coach Tom Catapano said. "Taking down a four-time champ was a long time coming."
Just getting to the finals was no easy feat for the Pride, who held off state-ranked (No.3) Section 5 champion Our Lady of Mercy, 76-70, in the state semis the night before. Little-known Pride wing Kelsey Quain, who has played in the shadows Division I-bound stars like Jalay Knowles, Shadeen Samuels, Aubrey Griffin and Espinoza-Hunter, became a household name in parts of Rochester when she came of age against far-West NYS foe Mercy.
The junior G went for 19 points, eight-straight late in the fourth, to advance the Pride into the finals. In a game of runs, Ossining had the final spurt, buoyed by Quain and Espinoza-Hunter, who finished with a game-high 32 points. Harris added 17.
"It really felt great, a real confidence booster once I got going," said Quain, who drilled 16 in the second half. "In the first half, I wasn't really hitting my shot but coach just kept telling me to shoot it. Hitting that first shot in the third quarter got me going, so I really needed to do it to help my team. It feels really great, and I'm just thrilled to do this for my team."
And as a senior going in to next year, the Pride, with every intention of returning to Troy next year, will need more of the same from Kelsey Quain and the returning underclassmen, who were last seen chomping at the bit to get back in the gym.