News Based on facts, either observed and verified directly by the reporter, or reported and verified from knowledgeable sources.
Ossining Rallies; Top Seeds Somers, Valhalla Advance
We are part of The Trust Project
Yorktown, Fox Lane to Square off; Panas Shocked; Class B Locals Thrive
 By Ray Gallagher, Examiner Sports Editor @Directrays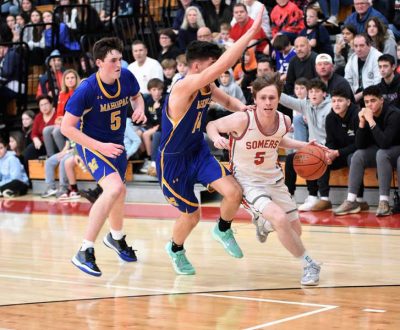 There were some wild upsets and some terrific theater to open the first round of the Section 1 Basketball Championship Tournament last week, but none were more dramatic than No.8 OSSINING's 64-63 overtime triumph of No.9 New Rochelle in Friday's Class AA tilt. Heroes abound at Ossining where the host Pride were down 45-40 after a sloppy stretch of play to open the fourth quarter, but the Pride dug deep and forced overtime when senior G A.J. Caparelli coolly buried a pair of free throws with under a second left in regulation.
The overtime stanza was frenetic, and, again, Ossining looked dead on arrival when the Huguenots opened up a six-point lead before the Pride summoned its best defensive pressure of the season and closed on a 9-3 run over the final two-plus minutes, concluding with Isaiah Ahlers' assist to Jaidan Newton in the lane for the winning hoop with 1.7 seconds left. Mayhem ensued as the Pride rushed the floor in Coach Mike Casey's most rewarding victory.
"This is a great win for the program," Casey said. "It felt like, other than the start of the game, we were fighting an uphill battle all game. Credit to New Rochelle, they played very well in a tough atmosphere. We had scouted them and knew what a tough match up it was going to be.
"We came out slow in the fourth quarter and OT," he added, "but all the credit to the players for making huge plays on several occasions. All the guys contributed. The bench and student section was electric. We never heard the gym that loud. The plays that stick out are Caparelli's free throws and Ahlers' pass to Newton for the win, but there were many game-winning plays made down the stretch."
Kris Singh (17 points, 5 boards), Dominique Bautista (11 points, 7 boards), Darien Blalock (14 points,7 boards), Caparelli (4 points, 4 assists), Ahlers (points) and Newton all came through at some point, leading the Pride to the quarterfinals where they will visit top-seeded and state-ranked (No.15) and top-seeded Clarkstown South Friday with a Final 4 berth on the line and Ossining's first run to the County Center in 40 years.
In other Class AA action, the rout was on from the get-go when fifth-seeded WHITE PLAINS opened up a 29-5 advantage over visiting No.12 RCK with 5:30 left in the second quarter en route to a 73-43 win. Menzy Carden (22 points) and Logan McCormick (18) were a pair of snipers for the Tigers. Ethan Senkyire added 11 points for White Plains, which will visit No.4 North Rockland Friday. Miles Johnson (6), Jake LaBrosciano (7), Anthony Crilley (2), Tra'von DuBois (3), Daniel Herzner (2) and Evan Elliott (2) all scored for the Tigers, who have seen Carden (9.3 RPG) and McCormick go for 20.7 and 12.6 PPG, respectively.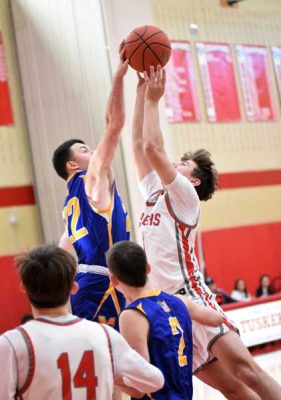 State-ranked (No.24) and second-seeded Mount Vernon eliminated 15th-seeded CARMEL. Aidan White, a promising young guard, led the Rams (7-14) with 14 points.
"Couldn't be more proud of this group for the way they battled all season," Carmel Coach Bobby Russo said. "The future is bright but we have a lot of work to do."
CLASS A
Nobody outside of a handful of folks in Cross River had No.11 John Jay upsetting No.3 PANAS, 46-33, on the small-school side of the Section 1 tourney bracket, but that's why we play the games. Without question, the Wolves' (8-14) win over the state-ranked (No.28) Panthers (16-5) was the upset of the Section 1 tournament. Stunned were Coach Mike Auerbach's Panthers, and devastated was All-Section senior G Alex Tavarez, the school's all-time leading scorer, who came into the fray somewhat limited with a knee injury and settled for just 12 points after averaging 25.4 PPG.
"Last night was heartbreaking for me and everybody on the team," Tavarez admitted. "Words can't describe how everyone's feeling, but we just couldn't get nothing to drop, and I was going into the game with a knee injury, which I'm getting checked out today. Props to John Jay, though, they are a tough team and have been fighting hard all season, so best of luck to them moving forward."
Will Sanz led the Wolves, who were crushed in two previous meetings against Panas by a combined 40 points, with 22 points and 13 rebounds.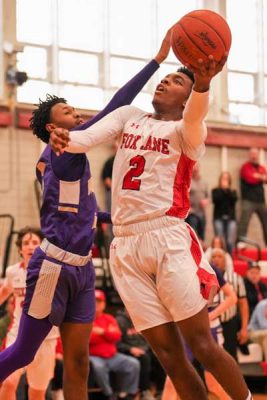 State-ranked (No.12) SOMERS worked a 73-48 start-to-finish win over eighth-seeded MAHOPAC, which never quit but couldn't match the top-seeded Tuskers' speed or tenacity at both ends of the floor. The pace the Tuskers play with can pose issues, and even though he sat for prolonged periods with some foul trouble, senior swingman Matt Fitzsimons (23.3 PPG, 8.3 RPG) dropped a game-high 21 points to go with six rebounds and five steals for the Tuskers (19-2), who will host No.4 Rye Thursday at 6 p.m. in the large-school quarters.
Tusker junior G Andrew Violante added 18 points and three assists while junior F Mac Sullivan got nine points and four boards. Dylan Ingraham (5 pts, 5 assists) and Nate Cohen (8 points, 3 steals) were a backcourt nuisance. Fitzsimons, who starred at QB for the NYS champion Tuskers last fall as the NYS Player of the Year, leads the section with 73 3's coming into the playoffs.
"To be honest, the best part about this team is the fact that we have athletes, who are actually basketball players, too," said Somers' 11th-year Coach Chris DiCintio, who will coach his last game this season when and if the Tuskers are eliminated. "It's not like we have athletes and just one of them can play basketball. They can all play basketball and use that athleticism really well to push the ball and play very fast, and we're pretty deep with those kinds of athletes, so we're able to push and run throughout the game. They're full of energy. We have some toughness and speed, but we have athletes and good athletes make a coach look good. They buy in on both sides of the ball."
Senior G Joey Koch was the hero in Mahopac's 47-45 OT win over visiting No. 9 Harrison last Thursday when he swooped to coral an air-balled 3-pointer to score a layup to beat the horn. Scanlon, despite foul woes, led the Indians with 13 points. Koch finished with 11 points while Danny Koch (10 points) provided a third double-digit scorer. Senior Jake Couzins led the Indians with 14.9 PPG this year while junior Liam Scanlon averaged 10.1 RPG.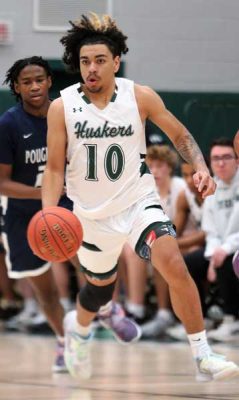 Second-seeded YORKTOWN took total control early and eliminated then-reigning Section 1 champion No.7 Poughkeepsie, 65-35, when versatile junior Justin Price (4.5 APG) displayed his well-rounded repertoire, going for 13 points, snagging six rebounds and dishing six assists for the Huskers (16-5). Wing Billy Feeks (15.1 PPG) dropped another 13 points while Kaden Gonzalez finished with 10 points and five rebounds. Brandon Montero leads the Huskers with 15.3 PPG and 8.1 RPG.
"We played great defense, and were able to turn them over," Yorktown Coach Mark Pavella said as he and his staff began preparations for Thursday's large-school quarterfinal tip-off against No.3 FOX LANE, which orchestrated a 48-43 opening-round win over Clarkstown North.
Conrad Hardie played one of his finest games, finishing with 15 points and six assists to lead the Foxes (15-6), who also got 11 points, three assists and five rebounds from Chris Redhead.
Arthur Shevick (10 points, 1 assist) and James Minotti (5 points, 3 assists, 10 rebounds) were key contributors.
"Any win during this time of year is tough," Fox Lane Coach Mike Tomassi said. "We are thankful to have another practice as we prepare for Yorktown. I was pleased with our balance and contributions from multiple guys. We have been a well balanced team all season and will need to continue that as we move forward. Yorktown is a very good team. We played a tough game already. We are excited for the opportunity and hope we can come out with a win."
Back on the small-school side of the bracket, state-ranked (No.6) and second-seeded LAKELAND trailed 9-6 after a sluggish first quarter, but senior G Chris Whyte-Luciano (20.8 PPG) buried 13 of his 16 points the rest of the way as the second-seeded Hornets (19-2) prevailed 66-42 over No.10 Roosevelt. Grady Leonard added 15 points, Logan Shiland dropped 11 and Sean Perry chipped in seven off the bench for the Hornets, who will take on a stubborn John Jay – CR club in Thursday's quarterfinals with a County Center berth on the line.
Feeks (59 3's) and Whyte-Luciano (55) were torrid from distance during the regular season.
HEN HUD would not go down without a fight, instead winning its first playoff game in five years in a 51-48 come-from-behind out-bracket victory over visiting No.9 Nanuet behind a Geno Wamack and Michael Gagliardi-inspired run that erased a 12-point deficit with less than seven minutes to play.
Coach Jordan Hirsh's eighth-seeded Sailors (11-11) closed on a 20-5 run, igniting the Donovan Gym to full throttle when "Big Shot Geno" Wamack scored 12 of his 18 points in the fourth quarter, putting Hen Hud on top 47-46 a 3-bomb with 1:11 to go. Nanuet answered to take a one-point lead, but Gagliardi (15 points) scored a put-back bucket with 34 seconds left to secure the win.
"I thought that Nanuet was a team that really improved throughout the season," Sailor skipper Jordan Hirsch said, "so it wasn't a secret that this was going to be a really tough game. Our guys showed a ton of toughness and grit in the fourth quarter. To Nanuet's credit, they really didn't give us much of a chance to chip away at the lead, and to our guys credit, they took it into their own hands in the fourth quarter to make plays and find a way to win. We're excited to get a chance to extend our season and have more time as a team."
Dean Hiltsley (9 points) and Thomas Popolizio (7) scored crucial points as well for the Sailors, who then visited top-seeded Tappan Zee in Saturday's opening round of the small-school tourney. The state-ranked (No.5) and top-seeded Dutchies (19-2) handled the Sailors in a season-ending 62-47 loss despite solid outings from Hiltsley (17 points) and Steve Raguso (11).
Justin Potack scored 24 to lead No.6 HORACE GREELEY, but it wasn't enough as No.11 Clarkstown North pulled off a modest 69-67 upset over the host Quakers (12-9) in Thursday's large-school out-bracket round.
In a pair of small-school out-bracket games, Poughkeepsie eliminated No.10 BREWSTER, 64-45, while No.5 Albertus Magnus trimmed an improving PEEKSKILL club, 61-55. Conner Griffin averaged a double-double (19.1 PPG, 11.9 RPG) for the Bears this year.
CLASS B/C
VALHALLA took a 19-1 record and a No.8 NYS-rank into the opening round of the Class B tourney where Coach Rich Clinchy's Vikings won for the 20th time this season in an 80-45 opening-round win over visiting No.16 CROTON Saturday.
Devan Cooper dropped 21 points for the top-seeded Vikings. Julian Amorosa added 14 points and Mikaele Martinez scored 11 in the win. Aidan Callahan and Orlando Gomez combined for 26 points to lead the Tigers.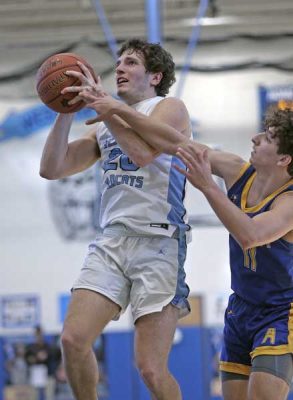 The Vikings will face No.9 Ardsley, a 52-49 winner over No.8 WESTLAKE in the quarterfinals. Wildcat Nick Castellano paced Westlake (11-10) with 16 points and Christian Occhipinti added 12 in a disappointing finish, which concluded with a skid of four losses in the last five games.
Valhalla knows that Ardsley is a sneaky good No.9 seed.
"Ardsley proved they're a good team, and when we played them last time they gave us some trouble," said Valhalla senior Basiaka Butcher, who is averaging 21 PPG and 8.4 RPG. "They are a really good three-point shooting team #5,#2 #34 are all guys that gave us some problems, so we know who to stop if we wanna win they might be the nine seed but they are a good bunch."
State-ranked (No.22) BYRAM HILLS, the No.3 seed, waxed No.14 Bronxville, 66-46, when
Brody Ceisler (20 points) pulled up huge when the Bobcats needed him most, and Zac Efobi went for a double-double (13 points, 10 rebounds) for the Bobcats (16-5), who draw No.6 Irvington in the quarterfinals. Tyson Repa (14 PPG) took control in the second half and added nine points and eight assists for the Bobcats, a decisive favorite to advance to the Final 4 where they would meet the hastings/Pleasantville winner.
"Brody Ceisler saved us in the first half against Bronxville when we weren't playing well," Byram Coach Ted Repa said. "He hit five 3's in the first half alone, and that was Efobi's best overall game of the season. He was dominant, and then Tyson took the game over in the second half.
"Irvington is tough," the coach added. "They have some scoring guards and a good big inside. It will not be easy, but getting to the County Center never is. Hopefully, we stay healthy and play well."
An athletic PLEASANTVILLE club, seeded No.10, defeated No.7 host Woodlands, 71-62, behind a balanced attack led by junior Daniel Picart (18 points), Dermot McSpedon (15), Caleb Bronkema (13), Aidan Picart (10) and Etai Nunberg (9). The Panthers (11-10 overall) will travel to second-seeded and state-ranked (No.11) Hastings (17-4) in today's quarterfinal round with a berth for the County Center Final 4 on the line. McDermott has 60 3's this season.
Orlando Gomez (26 points) and Aidan Callahan (24) each went off in No.16 CROTON's 65-64 thriller over No.17 Edgemont in Thursday's out-bracket round. Ben Reed added 13 points for the Tigers (10-13).
No.5 BRIARCLIFF bested No.12 Obama School, 55-40, and advanced to face No.4 Rye Neck despite not having the services of Jason Rosenbaum, the Bears' (11-9) top player. Rye Neck has defeated the Bears twice this season, including a 70-51 rout.
No.15-seeded PUTNAM VALLEY posted a 72-60 win over No.18 North Salem in Thursday's out-bracket round, setting up an opening round tip-off against Hastings where the Tigers (10-12) met their match in a 74-54 season-ending loss to the Yellow Jackets.
State-ranked (No.17) HALDANE will match up with No.16 Hamilton in the Class C semifinals on Feb. 28 at the County Center. The Blue Devils will need an epic game from senior star Matteo Cervone (21 PPG, 9.2 RPG), Matthew Nachamkin (13 PPG, 8.6 RPG) and the rest of the bunch to knock off the reigning champs.
CHSAA
In the NY Diocesan quarterfinals, STEPINAC advanced with a 72-57 win over Mount St. Michael when "Big Ben" Lyttle exploded for 23 points, 11 rebounds and two assists. Boogie Fland did Boogie-like things, scoring 13 points, dishing six assists to go with four steals. Dylan Perry (12 points, 6 rebounds), Braylan Ritvo (12 points, 5 boards) and Danny Carbuccia (7 points, 3 assists, 3 steals) were all big for the state-ranked (No.9) Crusaders, who will play in the CHSAA semis on Feb. 21.