Ossining Mayoral Hopeful Seeks Chance to Lead Village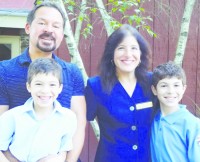 Linda Cabral Marrero believes as a lifelong resident she has a better pulse of the Village of Ossining than current Mayor William Hanauer, who has only called Ossining home since 1996.
"I know what Ossining is capable of. I've seen a slow deterioration of my village," Cabral Marrero said. "We clearly need someone in there who has a clear vision of where it should be going. I would like to be a part of the solution."
A mother of two boys, an attorney and a former teacher, Cabral Marrero ran unsuccessfully for the Village Board in 2002 and 2004 and Ossining Board of Education in 2010, but said she has a bigger base to draw from this year as she looks to unseat Hanauer, who has been mayor for six years.
"I have a lot of stake in this village. I'm not using this as a stepping stone," she said, noting her family roots in the village date back to the 1920s. "I think I can do a better job than he can. I believe I have more experience to start out than he did."
Cabral Marrero put her hat in the ring in 2004 for a vacant trustee seat that eventually was given to Hanauer. Hanauer has worked for more than 40 years in the entertainment industry.
Two trustee candidates, incumbent John Codman III and Victoria Gearity, are running unopposed with Hanauer on the Democratic ticket, while Cabral Marrero is campaigning solo on the Republican and Conservative lines.
"I'm trying to do the best I can. I have gotten a lot of support," she said.
One of the biggest issues Cabral Marrero feels is affecting the quality of life in Ossining is illegal  housing, which she feels is running "rampant."
"That has to stop. That puts everything at risk," she said. "It's not an easy problem to solve, but they haven't taken any steps. It costs the legal residents of Ossining too much money."
Some steps Cabral Marrero said she would take would be building a case against the illegal property owners by looking at water usage, garbage produced, vehicle registrations and the number of satellite dishes on the roof.
Cabral Marrero would also market Ossining better to fill empty storefronts.
"I believe part of the role of village mayor is to promote Ossining. We need a draw for our waterfront," she said. "We could use Sing Sing prison and a performing arts center, like Jacob Burns, would do wonders."
Meanwhile, she doesn't think fingers should only be pointed at Hanauer. "I think there's always blame to go around. He doesn't work alone. He works with a board that follows suit," Cabral Marrero said.