Ossining Drops Opener at Port Chester, 7-2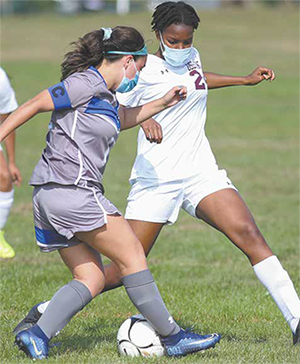 Class AA Mahopac set to Host Class A Somers Saturday in Battle of Sectional Runner-Ups
By Rob DiAntonio & Ray Gallagher
Coach Rodrigo Vargas and the Ossining girls soccer team were hoping for a different outcome than a 7-2 league loss to host Port Chester, but the Pride were also happy to have the chance to return to the field for their season opener on Oct. 10.
The start of the season was delayed by over a month due to the COVID-19 pandemic.
"This is great and the girls and coaches were all excited to be here," Vargas said. "It's super important that these girls get back to their athletics and being able to compete like this. I think they're demonstrating that they can do it safely and they're being responsible about everything. We would have wanted the win, but it's exciting to be on the field."
Ossining jumped out to a 1-0 lead less than three minutes into the game on a goal from Amanda Rios but an aggressive Port Chester squad responded by rattling off four goals to take a 4-1 lead into halftime. The Rams scored two goals in less than a 30-second span to go up 3-1 and added another goal on a breakaway with 5:50 left in the half.
"We just went flat and we weren't playing as clean as we normally do," Vargas said of the first-half woes. "The first touch could have been better. Port Chester was able to break down our backs a little. Our positioning wasn't down but in the second half we started tightening that up a little bit more. We made a couple player changes and we were able to defend their counter a little bit better. On the flip side of that, we had a lot of opportunities even after the first goal that we scored. The ball was just rolling across the mouth of the goal and we just didn't capitalize on it."
Port Chester extended the lead to 5-1 on a steal and quick strike with 13:58 to play. Ossining answered when Lily Pawliczak drilled a free kick goal from over 25 yards out. The Rams closed out the game by adding two more goals.
Vargas saw some positives in the second-half effort.
"We were trying to take it one goal at a time," he said. "We came off at that mask break and they were like, 'OK, we're doing this better and this better.' We're making that step forward. It's going to happen. We're going to turn this around and I think next time we face them it's definitely going to be a much tougher game and they'll find a different Ossining team."
Andrea Flores torched the Pride for three goals while Katherine Espinoza added two tallies.
Marie Felipe, a junior captain, had a busy day in net for the Pride and finished with 10 saves.
Ossining returns to action when it travels to Fox Lane for a 4:30 p.m. league game on Friday, Oct. 16.
BYRAM HILLS won its league home opener, 2-0, over Ardsley last Saturday. Alexa Jindal snapped a scoreless first half with a goal and an assist, setting up Elizabeth Corelli after the halftime break.
ON DECK
SOMERS has a very interesting week upcoming with three big battles against visiting YORKTOWN today (6:30 p.m.), host WALTER PANAS Thursday (4:30 p.m.) and a doozy with host MAHOPAC Saturday (2:30 p.m.). The 2019 Class AA runner-up Indians and and 2019 Class A runner-up Tuskers have always found ways to challenge and bring out the best in each other, so we suspect another vigorous effort from both. Mia Klammer (18G, 14A) and Hailey Pereira (10G, 11A) will ensure the Indians have the scoring pop to run with Tusker seniors Emma Kittredge, Dahlia Pepe Noelle DeMarinis, Kayli McMorrow and co.
The Indians were also set to travel Arlington Wednesday (4:30 p.m.) in a season-opening battle between two of Class AA's upper crust.
BRIARCLIFF was set to host defending NYS Class B champion PLEASANTVILLE yesterday in a war for the roses between the two bordering powers, but the game was called due to foul weather. Surely, this game, which will be rescheduled for a later date, will tell us a ton about the powers that be in Class B this fall. The Bears will also host Westlake Friday (4:30 p.m.) and visit Irvington Saturday (noon).
The Panthers will visit Valhalla Wednesday (4:30 p.m.), host Blind Brook Friday (4:30 p.m.) and travel to North Salem Saturday (11 a.m.).