Ossining Board of Ed Takes Stand in Opposing Nomination for U.S. Secretary of Education
We are part of The Trust Project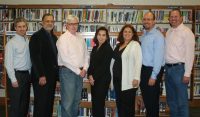 The Ossining Board of Education recently adopted a resolution opposing the appointment of Betsy DeVos as President Donald Trump's secretary of education.
The school board is urging a "no" vote on the grounds that DeVos supports school vouchers, has pushed for "unlimited, unregulated growth of for-profit charter schools" in her home state of Michigan, and "has no meaningful experience in education other than her work on behalf of corporate charters and the voucher movement."
The board sent the resolution to New York's U.S. senators, Chuck Schumer and Kirsten Gillibrand, both Democrats. Schumer and Gillibrand have stated that they plan to vote again the nomination. The Senate Committee on Health, Education, Labor & Pensions was scheduled to vote on DeVos' nomination today (Tuesday).
"We need to be sure that our next leader is a true advocate of children and supports public education," said Raymond Sanchez, superintendent of the Ossining School District.
DeVos is a billionaire philanthropist, chairwoman of an investment and financial management firm, and major Republican Party donor in Michigan. "DeVos has been a staunch supporter of school vouchers, which divert taxpayer dollars away from public education and direct that public money to private and corporate charter schools," according to the resolution, which school board members approved unanimously last month. "This undermines the American system of funding public education and the ability of public schools to provide a sound education for all students regardless of socioeconomic status."
With school vouchers, taxpayers are financially supporting private and for-profit institutions, according to the Board of Education. In many cases, the money supports religion-specific institutions, which violates the American value of the separation of church and state, the resolution said.
The school board also contended that the "school choice" programs promoted by DeVos tend to increase racial and socioeconomic segregation. "School vouchers rarely cover full tuition in private schools, shutting out lower-income students from any choice other than public schools that are forced to operate on budgets reduced by the cost of vouchers for more advantaged populations," the resolution stated.
Finally, school board members were critical of DeVos' lack of experience in the education field. "She has no degree of any kind in education, has never worked in a school or District office, has never attended a public school herself and has never sent her children to public schools," the resolution stated.