Ossining Bilingual Afterschool Program Receives $1.5M United Way Grant
We are part of The Trust Project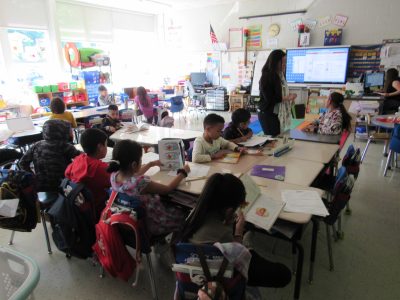 In a brightly lit classroom at Brookside Elementary School in Ossining, first-graders are busy writing in their workbooks, drawing pictures or studying the white board. The teacher speaks both Spanish and English to the students.
It's the end of the school day and students have come to several other classrooms like this one as part of a new free bilingual afterschool program tailored for children of immigrants and low-income families.
Money for the program was obtained earlier this year by the United Way of Westchester and Putnam, which received an initial $1.5 million in federal funds for the 21st Century Education Grant. The recurring grant will pay for the program for five years.
The fund started as a federal discretionary grant in 1998, and in 2020 was renamed the Nita M. Lowey 21st Century Community Learning Centers Program in honor of the former congresswoman's advocacy and commitment to afterschool programming in inner cities. There is much competition for the money, available to schools nationwide.
The United Way has partnered with the Boys & Girls Club and the Ossining School District to oversee the program at Brookside, which has been serving 183 students since it was formally established in February. The program will expand to serve another 200 students and be available to first- and second-graders in September.
Funding was also granted to the Greenburgh Central School District to serve 400 students for the same program starting this fall.
Tom Gabriel, United Way of Westchester and Putnam president and CEO, said nearly 40 percent of Ossining School District residents are living in poverty or paycheck to paycheck.
"Parents struggle to make ends meet, often holding three jobs or more," said Gabriel during a public presentation of the program at Brookside last Thursday. "The opportunity for each family to enroll their children in a free, afterschool program will enable them to earn a few more dollars to pay their bills and save for the future."
Currently, $1 million of the funds pay for six teachers, eight aides, two family engagement specialists who work with parents, four enrichment instructors and one education liaison who helps incorporate the school curriculum into the afterschool program. There is also a United Way site coordinator at Brookside. The remainder of the money covers supplies and other expenses.
Classes start at the end of the school day and run to 6:30 p.m. The program is designed to help many students adjust to what might be a new living circumstance.
At the beginning of each class, the children are engaged in a social-emotional segment modeled after the Trauma Informed Services for Immigrant Children Program that focuses on traumatic exposures many refugee children experience related to war, persecution, displacement and resettlement in the U.S.
The remainder of the students are helped with homework, take English lessons, work on math problems and other enriched STEM programs, including robotics.
Katherin Crossling, president of the Ossining School Board of Education, told parents about the need for an afterschool program seven years ago when her daughter was a first-grader at Brookside.
"We knew we needed an afterschool program and we knew the kids wanted it," Crossling said. "We didn't want a sports or a gymnastics club; we wanted an enrichment, academic program that would be fun."
At that time, Crossling organized a night for parents to see who might be interested in participating, expecting about 10 or 12 families to attend. She was surprised when a crowd of 150 showed up. That idea spawned a small, unfunded program that would serve a limited number of children, but served as a springboard for the current effort.
"They came from all walks of life that night, from all areas of the community, which showed us how many wanted an enrichment, after-school program," she said.
Parent Melissa Ferraro said her daughter always looks forward to the program.
"Her academic homework is always done and she loves the enriched math and other STEM subjects and gets to play with her friends," Ferraro said. "It's such a wonderful experience for her and we are very grateful."