Oppenheimer Announces Retirement; Won't Seek Re-election
We are part of The Trust Project
State Senator Suzi Oppenheimer, one of the area's longest-serving public officials, announced Thursday morning that she will not seek re-election in November to her seat in the 37th Senate District.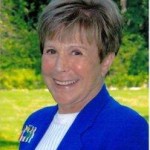 Oppenheimer, 77, in her 28th year as senator, said in a statement she decided to retire because she needs to undergo major shoulder replacement surgery later this year and will not be able to withstand what is likely to be a hard fought campaign.
"It had always been my plan to seek re-election in November and continue to serve the people of this district," Oppenheimer said. "When considering my responsibilities as senator, the extensive effort that will go into rehabilitation and physical therapy following my surgery, and the added work of the hard fought campaigns I always wage, it became clear to me that I could do only two of those three important tasks."
The Democrat had to fight off one of the toughest challenges of her political career in 2010, when she narrowly survived a bid by Republican challenger Bob Cohen. It took the Board of Elections about a month before officially announcing her as the victor.
It was not immediately known which Democrats may be interested in running to succeed her.
Oppenheimer, a former four-term mayor for the Village of Mamaroneck, was first elected to the Senate in 1984 from the old 36th Senate District. After the last redistricting, which took effect in 2003, she has represented the 37th District. The district extends from the Sound Shore, through the middle of the county and northward and includes White Plains, North Castle, New Castle and Ossining.
Oppenheimer is the ranking member of the Senate Standing Committee on Education for more than a decade. She became the first woman to chair the committee in 2009 after the Democrats won a majority in the Senate for the first time since 1965.
Fellow Democratic Senator Andrea Stewart-Cousins said in addition to being one of the leading advocates for education, Oppenheimer has been a stronger supporter of women's rights, government reform and the environment.
"Her distinguished career has been an inspiration to women in government, and I am proud to call her my friend," Stewart-Cousins said. "Suzi's presence in our conference will be missed, but I wish her, her husband, children and grandchildren the very best for years to come."
Senator Oppenheimer graduated with a degree in economics from Connecticut College for Women and became one of the first women to earn a master's degree from Columbia University's Graduate School of Business. Before entering public life, she worked on Wall Street as an industry analyst for L. F. Rothschild & Company.
She is married to Martin Oppenheimer, an attorney for a New York City law firm. The couple has four grown children and seven grandchildren.