News Based on facts, either observed and verified directly by the reporter, or reported and verified from knowledgeable sources.
Opera Written in a Concentration Camp Holds Message for Audiences
We are part of The Trust Project
It's hard to believe outstanding music and art could have been created out of the ashes of the Holocaust, by people who would be murdered in the death camps.
Arguably, Austrian composer Viktor Ullmann's most prolific period was his final two years, starting in 1942 following his deportation to Theresienstadt, one of the Nazis' transitional camps meant to deceive the international community and hide the atrocities that were being committed elsewhere.
It was a haven, at least temporarily, for artists, musicians, performers and writers, who until many of them were sent to their deaths or liberated in 1945, created copious amounts of work. Ullman would die two days after arriving at Auschwitz in October 1944.
This Saturday and Sunday evening, Feb. 25 and 26, the Ullmann Project, established in 2015 by Dominique Hellsten to feature the works of Ullmann and his contemporaries, will present two performances of his opera, "The Emperor of Atlantis" at Arc Stages in Pleasantville in conjunction with the Harold & Elaine Shames JCC on the Hudson and the UJA-Federation of New York. The libretto was written by Petr Kien, an artist and poet who was also sent to Auschwitz from Theresienstadt and died from illness the same month as Ullmann.
Hellsten, a Swedish-born soprano, discovered Ullmann's works while in London where she studied and performed after graduating from the School of Music at Gothenburg University. When she became aware of Ullmann's compositions, she quickly took to what she described as a sort of "weird classical music."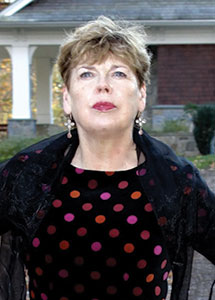 "I was living in London and it was there that my agent introduced me to Ullmann's music," said Hellsten, a Pleasantville resident who arrived in the United States in 2000 who adapted the work and is directing the two performances. "It was something about his music that really spoke to me, and then, of course, you add on his fate, but it was his music that caught me first."
The opera is the story of an emperor who is waging a universal war until no survivors remain. However, one of the characters, Death, is disgusted with the emperor for usurping his role to end people's lives, Hellsten said. Soldiers who are trying to die to get out of their existence are unable to perish. Some have viewed the emperor as a satire of Hitler.
When Ullmann was being deported to Auschwitz, he handed off the manuscript to the camp's librarian, who survived the Holocaust and passed it on to Dr. Hans Gunther Adler, a friend of Ullmann's and another survivor, who held onto them for about 25 years after World War II ended.
It wasn't until the late 1960s or early '70s when Adler passed them on to a conductor he knew, Kerry Woodward, Hellsten said. Woodward, based in London, was the first person who saw the material since Ullmann handed off the work. He worked through the material to fill in the gaps and get it ready for performances, which were presented by the mid-1970s.
"What we have today is not the whole opera because some pieces were lost, so it's not the complete work," Hellsten said. "Today it's very often performed in conservatories, the way it's formatted. It's about an hour long, and it's gaining attention."
Hellsten, who will play the emperor, leads the cast of seven performers. Also featured for next weekend's performances will be Anita Lyons, soprano, as the character Loudspeaker; Gabriela Garcia, mezzo (Drummer); Steven Tompkins, tenor (Harlequin); Steven Fredericks, bass (Death); Arushi Kaushik-Chandra, soprano (Bubikopf); and Nick Simonelli, tenor (Soldat). Craig Ketter serves as music director.
In early 2020, Hellsten had initially planned to present the opera locally, but shortly afterward the pandemic hit. The project was placed on hold until now.
With the rise in anti-Semitism and hate incidents throughout the U.S. and the world in recent years, Hellsten believes the story of Ullmann and "The Emperor of Atlantis" is one that needs to be told throughout the generations.
While not Jewish, Hellsten said her parents experienced the hardships of war after Stalin invaded Finland, where her mother and father were born. They had to be sent away to safety elsewhere as World War II progressed.
"They were lucky in many, many ways, in every way, but I realized their generation, my father's (generation) is going away from us," she said. "The next generation has some kind of proximity to what happened about 90 years ago, and we do not learn from history, obviously. But this is something I think we have to keep alive."
Saturday and Sunday's performances are scheduled for 7:30 p.m. at Arc Stages, located at 147 Wheeler Ave. in Pleasantville. Tickets are $28.76, including fees. For tickets, visit www.tinyurl.com/yb5jk4ek.