News Based on facts, either observed and verified directly by the reporter, or reported and verified from knowledgeable sources.
Olympic Fencer Shares Expertise, Passion With Beginners at Local Gym
We are part of The Trust Project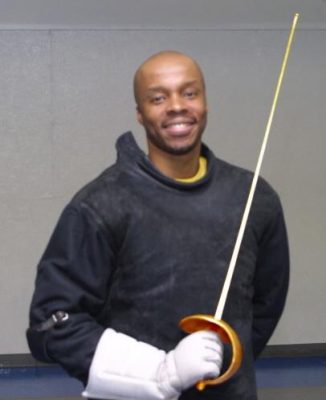 The Saw Mill Club in Mount Kisco recently partnered with Thrust Fencing Academy to bring the sport to its members.
The club's new fencing program is led by the academy's founder, director and head coach, Mika'il "Obi" Sankofa, a three-time Olympian fencer (1984, 1988, 1992). He's also a Pan American Games silver and bronze medalist, the first four-time NCAA individual fencing champion, a 12-time national champion and a 2005 inductee into the United States Fencing Hall of Fame.
Sankofa's been coaching for more than 20 years, producing national champions, Junior Olympic champions and six members of the U.S. Junior World team.
Like many star athletes, Sankofa said he became interested in the sport at nine years old under the tutelage of Tanya Adamovich, a member of the 1972 U.S. Olympic team.
"The way I started fencing was the result of taking a wrong turn," Sankofa said. "I went left versus right and discovered the sport after wandering into several gyms, which had other sports. Gymnastics was first, then wrestling, then judo and then the last one had fencing."
Open to students as young as six years old, Sankofa said his lessons at the Saw Mill Club involve Sabre fencing.
Sankofa explained that there are three weapons in fencing – Foil, Epee and Sabre.  Sabre is the modern version of the cavalry swords, and the fastest of the three weapons. Everything above the waist is a target.
Competitors fence for five or 15 touches or points, Sankofa explained. The first to score five or 15 points wins.
Sankofa helps his students not to be intimidated by the seeming complexity of fencing.
"It's a fun and easy sport to learn," he said. "There are enormous opportunities for kids to get into a great college – I went to NYU on a full scholarship – and its popularity has grown tenfold over the years."
The U.S. has produced two Olympic champions, several Junior world champions and currently has two fencers atop the world senior rankings, Sankofa said.
In addition to learning a new sport, students will benefit from fencing.
"It improves focus, decision-making, awareness, mobility, timing and coordination," Sankofa said. "It's great for both athletic and non-athletic types."
All equipment is provided as part of the lessons.
Sankofa said fencing is accessible to people of every age and skill level, with only a few requirements to make the most out of the experience.
"Interest in an unconventional sport, being an independent thinker who likes to rely on their own actions to succeed, and being an individual who likes a challenge and enjoys being competitive," he said.
Learn more at www.thrustfencingacademy.com or call 917-371-5603.