News Based on facts, either observed and verified directly by the reporter, or reported and verified from knowledgeable sources.
Officials Apply Pressure on Holtec to Reconsider Wastewater Discharge
We are part of The Trust Project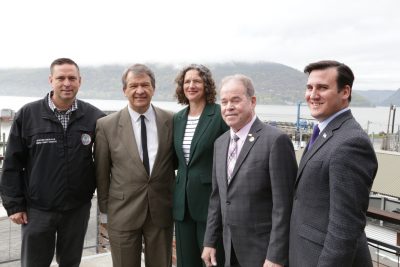 Elected officials and environmental activists are applying full-court pressure on Holtec International despite the company's decision last week to postpone dumping 45,000 gallons of radioactive wastewater from Indian Point's spent fuel rods into the Hudson River.
On April 13, Holtec, which is decommissioning the shuttered plants in the Village of Buchanan, notified the Indian Point Decommissioning Oversight Board that it would not be going forward with the planned discharge in May as it had indicated earlier this month.
"While Holtec notes that the U.S. Nuclear Regulatory Commission (NRC) has ultimate authority over radiological liquid releases at Indian Point and at other sites across the country, we hope this voluntary pause will be viewed positively as an indication of our willingness to work together with the state and with the surrounding community," Holtec spokesman Patrick O'Brien stated.
In February, Holtec had stated it would discharge the wastewater from the 240-acre site in August, a time frame that sparked many boards to pass resolutions opposing the practice. Holtec has stressed that the discharge of the water has been occurring at the plants for decades.
On Monday, county executives from Westchester, Putnam, Rockland, Orange, Dutchess and Ulster counties displayed a united front at The Factoria on the banks of the Hudson in Peekskill. George Latimer, Westchester's top official, said they were speaking out "for the life of the river."
"The Hudson River is a community link to all of us," he said.
Rockland County Executive Ed Day called Holtec's plans "an atrocity to our environment."
"We can't let our guard down," he remarked. "The voice of the people still counts and can carry weight. The fight is on, and we will prevail."
On April 14 at Croton Point Park, Assemblywoman Dana Levenberg (D-Ossining) led a "call to action" rally that was attended by members of the Westchester Board of Legislators, elected officials in Cortlandt, Peekskill and the Town of Ossining and champions of the environment.
"We're not trying to be alarmists. We just want to be realistic," Levenberg said. "Enough is enough. We have to stop treating our river like a dumping ground."
About 500,000 people have signed a petition opposing the release of the wastewater into the river.
"We continue to prioritize industry over public health and it's time it stops," said Courtney Williams, a scientist and outspoken Cortlandt resident who has fought Indian Point for years. "We can't reverse this. Holtec's financial gain is the only thing in favor of this dumping."
Holtec representatives have said the discharge of the wastewater is regulated by the NRC) and U.S. Environmental Protection Agency (EPA), noting the company has permits from both the EPA and New York State that govern the releases.
Opponents have argued there are alternatives Holtec can consider to handle the wastewater, such as storing it on site in sealed containers.
"If we went forward with everything we've always done, we don't have much more time on this Earth," said Tracy Brown, president of Riverkeeper. "This community has been through the ringer. We've seen this rodeo before."
On April 6, U.S. senators Charles Schumer and Kirsten Gillibrand penned a letter to NRC Chairman Christopher Hanson questioning Holtec's plans and its "lack of transparency and clear communication with the public."
Levenberg and state Sen. Peter Harckham (D-Lewisboro) have proposed legislation that would ban the release of radioactive waste into the Hudson River.
"I really question the legitimacy of Holtec," said former longtime assemblywoman Sandy Galef. "I really don't trust them. They're not a company that really cares about the community and I hope they change their stripes now. We want them to do the right thing."