No Layoffs Included in Putnam County's 2021 Budget Proposal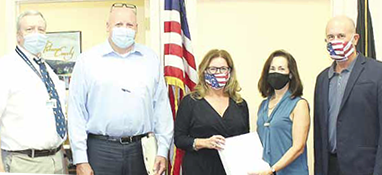 Putnam County Executive MaryEllen Odell delivered her 2021 budget proposal to the Putnam County Legislature on October 1.
The $164.2 million proposal, which is within the New York State tax cap, represents a spending increase of $477,000, or less than 1% over this year's budget, and does not include any layoffs. The average Putnam County homeowner, whose property is assessed at $357,000, would pay about $1,182 in county taxes under the plan, an increase of $25.
The budget, the ninth that Odell has prepared since she became County Executive in 2011, represents Odell's fiscally conservative approach, and is contingent upon Governor Andrew Cuomo providing the anticipated state aid.
"Despite the coronavirus pandemic creating a difficult year that resulted in an estimated 9.5% decrease in sales tax revenue, we have managed to present a budget that avoids employee layoffs and preserves the services that our county residents rely upon and deserve," Odell said. "If the governor goes through with his threat to withhold 20% of our state aid, however, then we, along with every other county in the state, will have no choice but to reassess."
Other budget highlights include the consolidation of dispatching services into the Bureau of Emergency Services and the addition of an EMS Education Coordinator, funded mostly through fee revenue. Odell noted that her administration continues to meet the need of strengthening the Bureau of Emergency Services.
"We are in the midst of a pandemic, combined with the continued major storms that affect Putnam County, the need to strengthen our Bureau of Emergency Services and our incident command center has never been greater," Odell said.
Odell maintained the budget process was challenging due to the Covid-19 pandemic. "Despite increases in mandated employee benefit costs such as health insurance and retirement, we eliminated some vacant positions, allowed very few equipment purchases and decreased overtime funding in this budget," she explained.
"We recognize the difficult times that are upon us and have responded accordingly. I can only hope the governor does the same when it comes to distributing state aid," she added.
This year, Odell will give her annual budget summary presentation to the Legislature on Tuesday, October 6 at 7 p.m., via telephone, without the usual public hearing at the Putnam County Golf Course, in order to comply with Covid-19 restrictions. The Legislature is expected to revise and adopt the 2021 budget by November1