NWH Ready for Sunday's Annual Support-A-Walk at FDR Park
We are part of The Trust Project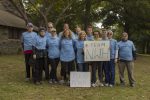 Hundreds of organizations and thousands of walkers will put on their windbreakers and walking shoes on Sunday for the 2016 Annual Support-A-Walk at FDR State Park in Yorktown Heights.
It is perhaps most fitting that there will be a team from Northern Westchester Hospital (NWH) in Mount Kisco that will participate when the crowd begins its three-mile journey for the 22nd consecutive year. Not only is the hospital a key healthcare provider in the area but it has been a longtime partner of Support Connection, the Yorktown-based nonprofit organization that provides counseling and emotional support for women with breast and ovarian cancer.
"The big thing is they do so much for our patients and it's the least we can do," said David Natoli, the administrative director of imaging and cardiology services at NWH and the team leader for Sunday's walk. "We want to be part of this. They do such good work."
In his professional capacity, Natoli has had a firsthand look at the good work Support Connection has done for legions of patients. Breast and ovarian cancer patients come to the hospital to get the best medical care possible to restore them to health but Support Connection provides them with free and confidential information, answering questions by peer counselors, all of whom are cancer survivors, regarding diagnosis, treatment, recovery and many other issues that arise. Questions from a patient's family members are also answered.
Although located in Yorktown, Support Connection's reach is far beyond Westchester. It serves women throughout the United States via its toll-free number.
Late last week there were 20 to 25 team members signed up from the hospital with the likelihood of a greater turnout than that when factoring in friends and family members who will join as well.
Natoli said the NWH alliance with Support Connection goes much deeper than showing up to an annual event for a few hours.
"It's about a commitment of a partnership, it's not about once a year we give them money and that's it," Natoli said. "We really value ourselves on being their partner and helping in any way we can."
"It's about supporting the people and whatever they need," he continued. "It's what it's about and that is why we make such a connection with them."
Support Connection holds a breast, ovarian and gynecological cancer support group meeting the first Wednesday of each month at the hospital's location at Chappaqua Crossing.
Since 2009, Team NWH has raised more than $10,000 for Support Connection at the annual walk, said Barbara Cervoni, the organization's director of services and communication. The hospital is also a major sponsor of the event, and has been for many years, she said.
Support-A-Walk was created to bring attention to the needs of people affected by breast and ovarian cancer. Participants arrive from throughout the Hudson Valley and the tristate area for the event. Last year, there were more than 9,000 participants.
Money raised goes toward Support Connection's cancer support services.
Pre-walk activities, including music, welcoming remarks, team photos, face painting and characters for the children, plus warm-up and stretching to music led by staff from Club Fit, will begin at 9 a.m. The walk will begin at 10 a.m.
There will be a Survivors Welcome Area and information will be dispensed about Support Connection's cancer support services. After the walk there will be free refreshments and a live musical performance.
For more about the Support-A-Walk or to make a donation, call 914-962-6402 or visit www.supportconnection.org.