Noted Jazz Organist Brings His Sound to Mount Kisco Club on Friday
News Based on facts, either observed and verified directly by the reporter, or reported and verified from knowledgeable sources.
We are part of The Trust Project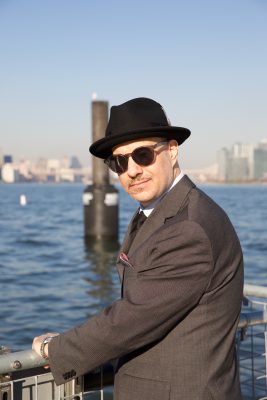 The organ may not generally be associated with jazz music, although it's hardly an uncommon sight or sound in the genre.
But whatever the public's perception is, New York City organist Brian Charette has fashioned quite a career sitting at his Hammond B-3 organ putting his own stamp on modern jazz.
"A lot of jazz music, I would say it's not even traditional jazz," said Charette, a composer and band leader who has not only played with jazz luminaries but alongside the likes of Joni Mitchell, Chaka Khan, Paul Simon and Cyndi Lauper. "I play a lot of synths. I do play a lot of traditional jazz, but a lot of times it's more toward funk or rock with synths. I do everything really. I play all of the permutations of jazz music."
Local jazz lovers who enjoy Charette's music are in for a treat. This Friday night he returns to Mount Kisco for two shows at Jazz on Main starting at 7 p.m. He'll be part of a trio called the Mighty Grinders, accompanied by Matt Chertkoff on guitar and Diego Voglino on drums.
While Charette performs with a wide variety of players, he's looking forward to Friday evening's performances.
"They're both wonderful musicians, they both have amazing resumes and have both played in all areas of music, and they have all played and specialized in organ music," said Charette, who last year placed third among Hammond organists in DownBeat's Critics Poll, the magazine that follows the jazz and blues scene.
A native of the Hartford, Conn. area, Charette grew up playing the piano, introduced to music by his mother. While the keyboard is the same, his foray into becoming a preeminent figure in jazz organ happened by accident.
In his early 20s Charette moved to New York City and wanted the latest keyboard technology, which included the Hammond XB-2, the first portable digital model from the organ maker.
"It was a big deal when I was a kid," he said. "I think I was 20, 21 years old. So I was literally unpacking the thing in my apartment – I still live in the East Village – and I lived in the building on the cover of "Physical Graffiti," the Led Zeppelin album. So I get the organ, I'm unpacking it in my kitchen and that night I get a call to play at what was then called St. Mark's Bar. This was where The Rolling Stones shot their video (for) "Waiting on a Friend," and I had never played organ before. It must have gone okay because I started to work at this place a lot."
In the roughly 30 years since that moment, Charette has performed and recorded in a lot of places. Not long after, he became a fixture at Showman's, the noted Harlem jazz venue and "where I really learned how to play organ." He also credits his luck in sharing a studio with George Coleman Jr.
"Just by these connections, I started to become more known as an organ player than a pianist," Charette said.
He has made frequent trips to Europe and loves performing in Berlin, where the audience seems to gravitate to Avant-garde.
But wherever he performs, it's still all about connecting with the people, something he plan to do this Friday night in Mount Kisco. It's a venue that he has performed at before and enjoys. In fact, the last time he was there, Paul Shaffer and Chevy Chase were in the audience, and they both came up and did a bit at the end of the set, Charette said.
Charette can't promise any celebrity sightings, just a night of great jazz.
"I like the way it feels to play music," he said. "It's much more to me about the feeling. I mean I want it to sound good, but for me, my thing about it is the state of consciousness on it."
The two shows at Jazz on Main are at 7 and 9 p.m. Tickets are $30 each. Jazz on Main is located at 37 S. Moger Ave. For more information, visit www.jazzonmain.com.