Northwell Holds Educational Event to Help Women With Breast Cancer
News Based on facts, either observed and verified directly by the reporter, or reported and verified from knowledgeable sources.
We are part of The Trust Project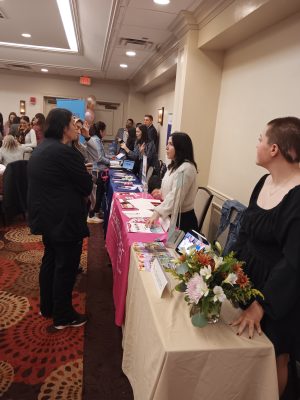 A breast cancer diagnosis can shake a woman to her core, but today's treatments and surgical and breast reconstruction techniques have helped millions of women around the world continue to lead full lives.
That was one of the takeaways during Northwell Health's Breast Reconstruction Awareness (BRA) Day held recently at Hotel MTK in Mount Kisco. The Oct. 17 event brought together medical professionals specializing in breast cancer treatments who were part of a panel discussion and dozens of their patients that they helped to set on a path toward health.
"It can be a very difficult journey, but there's light at the end of the tunnel, and we see a lot of the success stories thereafter, and many of these women here tonight are very much a part of these big success stories," said Jackie Gerbach, program director for Northwell Health and a cancer survivor.
Gerbach is an example of how advances in screening, detection and treatments have saved lives and given countless women greater quality of life. With a strong family history of breast and ovarian cancer, Gerbach was tested for a genetic mutation about 20 years ago, when that was a relatively new step.
Along with superior breast imaging and increased awareness, including events like BRA Day, women like herself can take charge of their health like never before, she said.
Surgical oncologist Dr. Andrew Ashikari said the day isn't that far into the future when doctors with his specialty may be put out of business. Already over the past 10 years, improved targeted therapy and surgical techniques have increased survival rates by an average of about 1 percent a year, he said.
"Probably millions of lives have been saved just by changes in techniques and treatment, and probably the biggest hasn't been surgery," Ashikari said. "We talk about surgery like it's the holy grail of treatment, and everybody wants to get it out, but in actuality, it's probably the targeted chemotherapy, especially in the premenopausal patients, where we've had our biggest gains in survival."
Vast improvements have been made with reconstruction surgery, which many women still choose not to go through. Plastic and reconstructive surgeon Dr. Casian Monaco said one of the most important developments is ReSensation surgery, where nerves from the chest are placed in the skin after reconstructive surgery is complete, a step has come about in the last couple of years.
One of the women attending the event was Eileen Ryan of Sleepy Hollow. With a long family history of breast cancer, including her mother and sister who had an aggressive form, Ryan took the step to have a preventative mastectomy in March 2022. She was 38 at the time.
Earlier this year she returned for the reconstructive surgery, praising her caregivers. Ryan said she has had no regrets.
"They were incredibly supportive and answered any question that I had," Ryan said. "Your body is different, but I'm grateful for the opportunity and the availability of the procedure and their care."
Also attending BRA Day were organizations offering services. One of those, The Breasties, a five-year-old Metuchen, N.J.-based nonprofit organization with a mission to create community for survivors and caregivers impacted by breast and gynecological cancers, was on hand to help the roughly 100 women at the event.
It has grown with locations across the U.S. and abroad, said Trish Michelle, chief community officer and a cancer survivor.
Michelle said women must remain vigilant, especially those with a family history of cancer.
"The lessons we did learn during COVID is that cancer doesn't take a break and we need support wherever we can get it," she said.
This was the first BRA Day to be held since the pandemic. An annual event, this was the first time that Northwell has held it in Westchester. Previously, it had only taken place in New York City.