North Castle Ward System Debate Opens Fresh Wounds
We are part of The Trust Project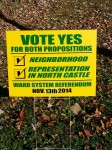 By the second week in November, the campaign mailers and signs usually disappear from view and the e-mails cease until the next election season.
That's not the case this year in North Castle.
Thursday's scheduled vote on a pair of propositions asking town voters whether they want to establish a ward system and to increase the size of the town board by two council members has rekindled some of the worst of the town's recent divisions.
Residents have been bombarded with an avalanche of e-mails containing charges of whether outside groups are funneling money to pay for campaigns for or against the ward system. Last weekend there were also accusations of sign stealing throughout the town.
North White Plains resident Anthony Futia, who spearheaded the drive to get the issue to a vote, said the town board's attempts to strike a more congenial tone this year may have worked temporarily, but the town's political parties have turned up the heat in the run-up to this week's vote.
"I think what this (vote) is going to show is how divided this town really is," Futia said.
Last week, Futia was rankled by e-mails questioning how literature supporting the ward system was paid for, with comparisons made to last year's nearly $80,000 campaign contribution from a political action committee with ties to the Brynwood Partners.
In an e-mail with the subject line "Who'$ Behind the Ward System,"  opponents also wondered why no one else in support of the propositions has spoken or stood publicly alongside Futia.
"Tony Futia has a right to lobby for his vision," the joint Nov. 8 e-mail from the town Democratic and Republican committees and the Conservative Party stated. "We, in turn, have a legal right to know who is behind his efforts and to know the sources of the money funding it. Please don't allow a clandestine group, funded by unknown sources, to change the way we are governed, to limit our right to choose the leaders of our town, and how we live our lives in our town!"
Futia said he thought it was inappropriate for the town's political parties to be waging a unified campaign against the propositions.
"Anyone who would come forward would be criticized," he said. "No one wants that."
Any costs, which Futia only described as "not that expensive," were paid for out-of-pocket by himself and other supporters. He refused to divulge how much money has been spent, countering that the political parties haven't revealed that  information.
The national grassroots organization Futia belongs to, We The People, does not focus or contribute to local elections and referendums, only on constitutional issues, he said.
Democratic Co-chairman Barry Malvin said it is any citizen's right to question funding sources and motivation when it comes to an issue that could change the way the town is governed.
"Someone's paying that bill and people feel that the persons behind this ward system are spending money but aren't revealing themselves," said Malvin who estimated the No Ward System signs cost about $700.
"We have the right to express an opinion on this matter, which is of utmost importance to our community," added co-chairman John Diaconis. "It's our responsibility to speak out."
There were also charges of sign stealing. Futia said on Monday that 33 out of 100 roadside signs that he had prepared are missing.
Last Saturday, he filed a complaint with the North Castle Police Department accusing resident Ed Woodyard of removing one of his signs from private property at 403 Bedford Rd. near Nick's Corner Deli. Futia also filed a  Nov. 5 to report missing signs in North White Plains.
Town resident and ward supporter Mario Ruggiero said  he was given verbal approval by one of the deli owner's two sons to place a sign at that location. He said Woodyard was walking back to his car ready to leave the property with one of their signs.
Woodyard denied Futia's and Ruggiero's allegations, saying he was moving the sign from private to public property.
"I went in and I spoke to the son of the owner, asking if he had given permission for that sign to be there," Woodyard said. "He said to me no permission had been given."
The Examiner contacted Nick's Corner Deli, and someone identifying himself only as Dan, said he had never given the green light to post signs there. Dan said that ownership looks to remain neutral in political campaigns and issues.
No charges were leveled against Woodyard.