North Castle Republicans Round Out Slate for November Election
News Based on facts, either observed and verified directly by the reporter, or reported and verified from knowledgeable sources.
We are part of The Trust Project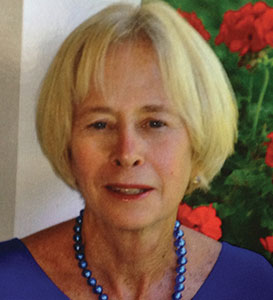 The North Castle Republican Committee completed its ticket last week for this year's general election with two first-time candidates set to run for town council seats.
Last Thursday, the committee announced that Planning Board member Larry Ruisi and attorney Jaclyn Goldberg would join third-term Councilwoman Barbara DiGiacinto and form a full ticket for the three available Town Board in this year's race. The committee had announced DiGiacinto's run for supervisor about two weeks ago.
"I think these people bring, certainly, worlds of experience…(they're) proven community leaders, incredible experience that would benefit the town for years to come through not only planning and zoning issues but planning for the finances of the future," said Republican Committee Secretary Sharon Tomback.
Prior to his current service on the Planning Board, Ruisi helped lead the town's Budget and Finance Advisory Committee, assisting the town in developing a financial strategy to fund an accelerated road repaving program, starting about 10 years ago. Professionally, Ruisi has served as a CEO, CFO and corporate board member for various corporations, including in the media and entertainment industry.
Goldberg is a labor and employment attorney with the White Plains law firm Keane & Beane. Tomback said she represents a younger demographic than her running mates and has displayed an excellent rapport with some of the department heads and employees in her professional capacity.
The ticket, the first time the North Castle Republicans have fielded a candidate for supervisor and two town council hopefuls since 2013, will be opposed by Democrats Joseph Rende for supervisor and incumbent councilmen Jose Berra and Saleem Hussain. That slate was announced by the Democratic Committee nearly three weeks ago.
Five-term Democratic incumbent Supervisor Michael Schiliro will be retiring from the board and did not seek re-election.
Tomback mentioned that going back to more than a decade ago, there had been a split among committee members, some of whom were loyal to longtime Town Board member and former supervisor, the late William Weaver. Others supported another former supervisor, Howard Arden, who immediately preceded Schiliro in 2012 and 2013.
Several years later some more friction surfaced between the pro- and anti-Trump forces within the committee, she said. However, the unifier has turned out to be DiGiacinto, a lifelong North Castle resident, Tomback said.
"This was an opportunity to breathe new life into the committee and we're all very excited about these candidates," she said. "I don't think we could have found better people."
DiGiacinto said as the deputy supervisor since the start of last year under Schiliro, a Democrat, she has watched and learned and has. She also has cultivated strong working relationships with North Castle's county and state representatives, all of whom are Democrats with the exception of County Legislator Margaret Cunzio, a registered Conservative.
Her running mates, Ruisi and Goldberg, also bring impressive professional accomplishments to the table, DiGiacinto said. Between Ruisi's corporate experience and work on two critical volunteer boards and Goldberg's background of working with municipalities and school districts, the town Republicans have a formidable ticket this year, she said.
"I think we are going to work well together," DiGiacinto said. "We may not always agree but that's part of being on a board. I'm very, very pleased that both of them have decided to run and I look forward to campaigning with them and hopefully winning."
Petitioning beings Tuesday for Democratic and Republican candidates looking to get on the ballot in New York State, and extends into the first week of April.