North Castle Officials Weigh Taking Over Operation of Ehrman Pool
We are part of The Trust Project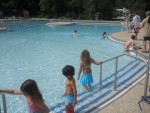 North Castle officials are exploring the possibility of the town taking over operation of the Anita Louise Ehrman Pool in Armonk through a licensing agreement and to evaluate whether it should incur the responsibility on a long-term basis.
The town's Budget and Finance Advisory Committee has been helping the town board study its options and whether the pool could be operated at a reasonable cost, said Councilman Stephen D'Angelo, the board's liaison to the Recreation & Parks Advisory Board.
An agreement between North Castle Pool and Tennis and the Anita Louise Ehrman Recreation Center that has been in place for the past three summers is set to expire, forcing officials to weigh alternatives to keep it open, D'Angelo said.
He said the pool wouldn't necessarily have to be profitable for the town to pursue it, but officials don't want it to be a drain on town finances either.
"We all know that as a town pool it's an asset to the town, and while we strive to make profits on the property, it isn't necessarily our first goal. It's to provide a pool to the residents of the town," D'Angelo said.
He expects the Budget and Finance Committee to return with concrete ideas within the next two months to see how the town should proceed. A licensing agreement would be similar to a lease and could include an option to buy.
Supervisor Michael Schiliro said the town isn't interested in buying the pool at this stage, but wants to determine whether it would be a wise choice to assume control. The best way to do that would be to undertake a "test drive" to see if the municipality can gain some cost certainties, he said.
Under the town's operation, the Recreation & Parks Department would have greater flexibility to schedule swimming for the town's summer camp, which uses the Greenway Road facility. It could also be in a position to try and increase revenues by offering expanded programming such as lifeguard certification courses, aquatic classes, swimming lessons and parties, said Matt Trainor, the town's superintendent of Recreation & Parks.
Trainor, who was in charge of running Mamaroneck's Hommocks Pool before coming to North Castle, said it is also critical for the town to set the price for a summer membership at the right level to entice more residents to join, which could increase revenue.
"I think it's going to take a couple of years to find that out," Trainor said. "We can certainly do better from an affordability standpoint in terms of how much we charge for memberships and programming and things like that."
Last year there were about 145 members, said Larry Ruisi, a member of the Budget and Finance Advisory Committee. That was down from 230 in 2013.
He estimated that total operating expenses last year were about $300,000, but revenues from memberships were only about $130,000. That does not include any money the town could derive from additional programming and concessions.
"I understand the town wants to make this affordable, but reducing the number (for membership) from nine (hundred) to six (hundred), then you need to increase your membership by about 50 percent," Ruisi said.
"From the point of view of the Budget and Finance Committee, I think our thoughts would be we understand you want to do this, but really think long and hard about how long you want to commit," he added.
There is also maintenance work that needs to be done, including redoing the deck and resurfacing the pool's interior, Trainor said. Cost estimates for the deck are about $26,000, while the least expensive resurfacing option would run about $100,000, he said.
However, the town has been spending about $55,000 a year to use the pool for its camp program, an expense that would be eliminated.
Trainor said he is eager for the town board to make a decision, with some residents anxious to make plans for their children and wanting to know the pool's immediate future.
Town Administrator Joan Goldberg said regardless of how the matter is resolved, she is confident the town will have a pool for camp this summer.