North Castle Looks Forward to 52nd Armonk Outdoor Art Show
We are part of The Trust Project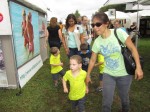 The start of fall traditionally kicks off one of the most highly anticipated events of the year in North Castle and this year is no different.
This Saturday and Sunday is the Friends of the North Castle Library's 52nd Armonk Outdoor Art Show, considered by industry experts as one of the top juried shows in the metropolitan area and the United States. About 185 artists from all over the country will converge at Armonk's Community Park to showcase and sell their work in a fun, family atmosphere for everyone of all ages to enjoy.
The event serves as the top fundraiser for the Friends of the Library and all proceeds help to fund library programs. Last year, an estimated 8,000 to 10,000 visitors attended the art show, many of whom come from around the metropolitan area, said Marian Hamilton, an Armonk resident and one of the show's many volunteers.
With any luck from the weather–and the forecast is promising for the weekend–art show organizers expect a similar turnout.
"It's just a wonderful celebration for our town and we get so many people from different areas of Westchester and from New York and Connecticut," Hamilton said. "It's not just North Castle."
Included in this year's lineup are 50 new artists to keep the show fresh and exciting. The artists represent a wide range of styles and media including oils and acrylics, watercolors, mixed media, printmaking, drawing and pastels, sculpture, photography and digital art, wearable art and fine crafts.
Once again, the show will feature docent tours, which proved popular last year, providing background on some of the artists and their work, Hamilton said. New for this year's renewal are personal shoppers, who are there to help visitors more easily find pieces that suit their style, taste and budget, she said. There are pieces available for purchase in every media that range from inexpensive to higher end.
Even if someone in your family isn't an art aficionado, they can still have a good time. There is a children's treasure hunt and other kid-friendly activities and a food court in case anyone gets hungry.
Activities actually kicked off on Sunday morning with Jamie's 5K Run for the Library. The raced was renamed this year in memory of Jamie Love, a former member of the Byram Hills High School cross country and track and field teams.
Festivities start on Friday night at 7 p.m. when the North Castle Public Library will show a free art-themed film with commentary by LIU Professor Valerie Franco. On Saturday night at Whippoorwill Hall, Fishtank Ensemble will perform world music, blending gypsy jazz with international influences. The concert is scheduled for 8 p.m.
The art show is rain or shine from 10 a.m. to 5 p.m. on Saturday and Sunday. Admission is $10; $8 for seniors and adults who go online to retrieve the discount coupon. Children under 18 are admitted free.
Community Park is located at 205 Business Park Drive in Armonk, off of Route 22. For more information, visit www.armonkoutdoorartshow.org.