North Castle Honors Officers Who Saved Runner's Life
We are part of The Trust Project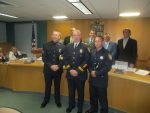 Two members of the North Castle Police Department were honored last week for saving the life of a 72-year-old man who was stricken with cardiac arrest during the Sept. 17 Jamie's 5K Run for Love.
Officer Anthony Sabatella and Sgt. Tom McCormack were recognized by the Town Board for their quick response, where they administered two-man CPR that resulted in the stricken man being able to resume breathing and regain consciousness.
"Ultimately, a huge amount of credit and praise goes to the swift actions of Police Officer Anthony Sabatella and Sgt. Tom McCormack who dove in head first, without hesitation, and saved this man's life," said Police Chief Peter Simonsen.
The incident occurred at 9:51 a.m. on McDonald Avenue in Armonk, several moments after the start of the race, according to the police report. Sabatella, who was on a traffic post on Bedford Road and MacDonald Avenue, noticed a crowd of people gathered in front of 4 McDonald Ave.
The crowd was surrounding one of the race runner who was lying motionless while face down in the front yard. Sabatella immediately communicated on his radio that a runner was down. After unable to get a response, he rolled the man onto his back and noticed that the man's eyes were open, but his body was rigid and his face and tongue were purple. He was also bleeding in several places.
Sabatella called out on his radio that the victim was in apparent cardiac arrest and began administering CPR. McCormack arrived and provided rescue breaths while the two officers continued CPR.
After several minutes, the man began to breathe and move his limbs. Armonk Ambulance and ALS arrived on scene and took over the care, Simonsen said. The man was then transported to Westchester Medical Center, where he received treatment and has since been released from the hospital, he said.
Town Clerk Alison Simon who saw the incident unfold said she was "blown away" to see how the two officers reacted quickly and professionally even as some in the surrounding crowd of people were nervous and agitated.
"They were as calm as could be and handled the situation perfectly and obviously revived this man and saved his life," she said of Sabatella and McCormack "I just have to say I'm so proud of you guys. I'm just so impressed."
Supervisor Michael Schiliro said he is continually inspired by the efforts of the police department as well as the volunteer firefighters and ambulance corps members who never hesitate to rush out to help people in need.
"It's all part of what makes this community great and we all have that confidence that if there is an emergency and you pick up the phone and call 911 or call the police department or the fire department they're coming," Schiliro said. "They're somewhere close and they're going to get there."
Simonsen said a key factor in the successful response to the cardiac arrest victim was the police department's partnering with local EMS, including the Armonk Fire Department Ambulance and Westchester EMS. He said the extensive training and coordination between his department and the other first responders serving the town helps to quickly provide the best care possible to people in need with each agency's representatives knowing when to take over the care of a patient.
"The care that these officers provide works seamlessly in conjunction with our outstanding volunteer fire departments and ambulance services as it did in this instance," Simonsen said. "The care provided is swift and is much like the passing of a baton in a relay race."
Councilwoman Barbara DiGiacinto remarked how at a recent function to honor first responders in North White Plains, she marveled at how the men and women who serve in the town's volunteer departments and police force are extremely modest and are often embarrassed for being praised for doing their jobs.
"It was just amazing and I was privileged to be in a room with such dedicated volunteers, who didn't think they were particularly special, but they are," DiGiacinto said.