North Castle Approves Plans for New Armonk Passive Park
We are part of The Trust Project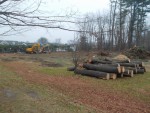 The North Castle Planning Board last week approved the town's plans for a new landscaped park near downtown Armonk on a parcel that saw most of its trees toppled during Superstorm Sandy.
Site plan approval and wetlands and tree removal permits were granted March 21 for Wampus Park South, a 2.7-acre property located at the southwest corner of Maple Avenue and Bedford Road and across the street from the larger municipal facility Wampus Brook Park.
About 1.6 acres is town owned, but North Castle has state Department of Environmental Conservation permission from the state to use the balance of the land.
Plans call for the area to have two lawns for passive recreation, said engineer Joseph Cermele of Kellard Engineering and Consulting. There will be an interior path that runs along the Wampus River, which flows through the land, and LED lighting that matches other lights in the area.
There will also be a parking lot with 20 spaces with ingress and egress from Bedford Road and park furniture that will be installed.
Cermele said once completed the park will provide "a much cleaner, greener area than what you see right now."
"We're all ready to go," he said. "We have some final details to work out with Parks and Rec at this point. We have bid documents ready to go out."
Two nights later the item came before the town board. Town Administrator Joan Goldberg said minor details such as the park furniture and trash receptacles need to be ironed out before the town can go out to bid on the project. It is expected that work will commence in June or July, she said.
It is unclear how long it will take to complete the project since a variety of specimen trees have to be planted in the fall to provide screening and shade, Goldberg said, although it is not considered an extensive job.
However, once done the new park promises to add to the area's attractiveness.
"It's going to be really beautiful," said Goldberg who expects the property to be fully completed by next spring. "This is going to look wonderful."
Water to irrigate the park will be derived from Wampus River so town water will not have to be used, Goldberg mentioned. In addition, the irrigation system within the park will be visually pleasing, she said.
Last week's approval came nearly three-and-a-half year after Superstorm Sandy decimated the once densely forested area. The majority of the trees were knocked over by powerful winds. After the town cleared the land, the site was first discussed as a possible location for a dog park.
However, opposition surfaced and plans were eventually redirected toward using the area for passive recreation.