Nonprofit Changes Lives of Residents with Disabilities Through Dignity of Work
News Based on facts, either observed and verified directly by the reporter, or reported and verified from knowledgeable sources.
We are part of The Trust Project
Irvington resident Angela Sforza, 25, is juggling two part-time retail jobs, one at American Eagle at the Westchester Mall and at Dick's Sporting Goods in White Plains. Like many her age, she's currently living at home with her parents (except during the weekends, when she visits her boyfriend in Pelham) and aspires to a full-time position.
Successfully holding down two demanding jobs would have seemed impossible for Sforza years ago. Living with special needs, Sforza was facing an uncertain future after graduating high school until her parents connected her with Valhalla-based CAREERS Support Solutions.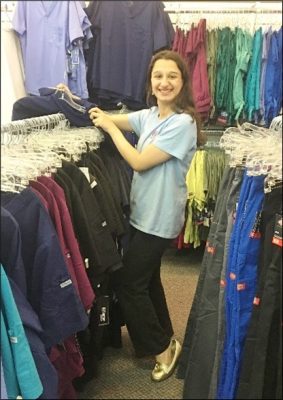 Headquartered in Valhalla, for the past 34 years, CAREERS Support Solutions has helped residents in Westchester, Putnam, and Dutchess counties with intellectual, developmental, psychiatric, and/or physical disabilities attain the dignity, financial independence, and sense of community they deserve through successful employment — at no cost to them, their families or employers.
"I had never heard about them until my parents told me about them," said Sforza. "My parents wanted me to either go to school to earn a degree or get a real job. They did not give me the option to stay home and do nothing. They also wanted me to learn the responsibility of having a bank account and have me earn my own money to buy things instead of relying on them for money to pay for things."
When Sforza became a CAREERS client, she was paired with a job coach and placed into a weekly group with other individuals with special needs. "I was pretty nervous starting the program, as I never had a real job before and was scared to start one for the first time," said Sforza. "We learned about the basics of the corporate job world, such as writing a resume and writing a cover letter. We were also taught how to dress appropriately and how to act for an interview."
It was a whole new experience for me and one of the first steps of adulting in the real world. Working with Allison and her team was quite a journey. I went into the program with very minimal knowledge about the corporate job world to come out of the program with the tools and resources I need to succeed in the job world and beyond. I am so grateful that CAREERS was able to do that for me. They provided me a stepping stone."
And a big one at that. After properly prepping her for the working world, CAREERS arranged an internship for Sforza at S&H Uniforms, which then progressed to a part-time and then a full-time position, which Sforza held for six years until last October. "They were moving to a new location and had to shut down for a few months, but I couldn't wait for them to open back up with no paycheck and bills and expenses to pay. My coworkers completely understood that and wished me the best."
Like so many other former clients, Sforza succeeded with the CAREERS program because the organization doesn't take a one-size-fits-all approach,
"CAREERS is the top employment agency in our area for people with disabilities," said CAREERS Executive Director Tina Cornish-Lauria. "I was very happy to present Angela with the Shining Star Award at our Annual Anniversary Celebration last fall. Angela is just one of many CAREERS success stories. Angela no longer requires support services from CAREERS, but we keep in touch to see how well she is doing, and we are extremely proud of her."
Cornish-Lauria noted that "in our decades of providing services, we've made more than 3,000 job placements over the years and provided services to many thousands more. Our services are personalized to meet the needs of each client and include training in workforce readiness skills, job placement, extensive on-the-job training, and long-term ongoing support services for as long as needed, sometimes for many years."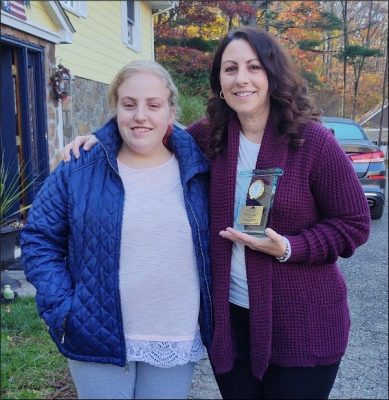 Tricia DeAngelis is grateful for CAREERS' indefinite commitment to their clients. Her daughter Victoria Faley, now 27, has been involved with CAREERS since she was a student at Carmel High School.
"Victoria is developmentally delayed," DeAngelis said. "She's fully verbal but very quiet and shy until very she feels comfortable," DeAngelis explained. "She reads and writes well and functions at an adolescent level. She can follow basic instructions, but she cannot be left alone for safety reasons."
Initially, Faley was part of a CAREERS program "where they placed her in different vocations throughout the community. She worked in the library, county personnel office, CVS, DeCicco's, and Marshals, to name a few. It was a good fit for her because she had a job coach with her at all times. Faley likes repetitive tasks, and many of the jobs they placed her at required that. She doesn't get bored."
Currently, Faley participates in their Ambition in Motion (AIM) program three times a week. "Right now, there are anywhere from two to four ladies at a time with a CAREERS staff member." After getting picked up at their homes in the morning, Faley and her group members kick off the day with coffee or breakfast at Dunkin or Starbucks, where they plan their day with the CAREERS staffer. Their activities range from recreational, like bowling, to volunteer work, to taking outdoor walks. "Victoria loves going to AIM. She has formed amazing bonds with the other ladies as well as the CAREERS staff. It gives her a sense of friendship and bonding outside of our family. She is very comfortable with everyone there, which does not come easy for her."
Additionally, she participates in their pre-vocational program. "She works on Tuesdays and Thursdays with her job coach for two hours at the CVS in Carmel. She loves it and has so much pride in the job she does. She stocks shelves, checks expiration dates, and straightens the items on the shelves. It definitely took her a little while to become comfortable with going. It was a whole new group of people that she had never met, so there were a lot of tears in the beginning. Now she loves it."
Faley will stay with CAREERS "as long as they let her," said DeAngelis. "There really is no end game. We don't foresee her moving on to employment without a job coach or being in a more independent situation, so the programs she is now involved in will remain in place."
DeAngelis said the CAREERS program has been life-changing for Faley and for their entire family. "Victoria has benefited in so many ways. I have seen so much growth in her over the years she has been with CAREERS. She is more social, open to trying new things, being accommodating, and aware of others and their needs and feelings. She is happy and fulfilled and wakes up with a purpose every day. I have had the pleasure of witnessing her interact with her CAREERS friends, and it's pure joy. To hear the laughs and see the smiles is priceless to me."