Nonprofit Brings Sports Programs for Kids to Special Needs Community
News Based on facts, either observed and verified directly by the reporter, or reported and verified from knowledgeable sources.
We are part of The Trust Project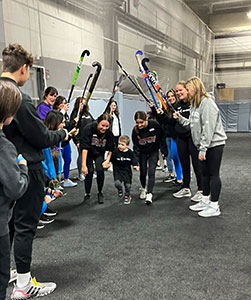 "She wasn't able to participate in mainstream programming due to the differences of the pace and the environment. She was overmatched," said Dias, a Scarsdale resident. "But they noticed when they played with her at home or in the yard, they were really successful in teaching her how to do the basics of lacrosse."
It turned out to be a watershed moment not only for the Dias family but for now dozens of families across Westchester who soon after began gathering with Dias in their backyards to hold recreational outings.
In 2021, Dias and families with children facing similar obstacles established Able Lacrosse, a nonprofit organization that began offering a program to introduce the rudimentary skills of the game for children from about four years old through high school who are physically or neurologically challenged.
Volunteer area therapists work with area coaches to devise an appropriate curriculum for the children's age and abilities, said Erica Maiorono, a therapist and the organization's co-director of curricular adaptations. Equipment such as the field hockey or lacrosse sticks may be modified to help some participants.
The progress that many of the kids make during sessions, which typically last four or eight weeks, is eye-opening, she said.
"If you came here a few weeks ago, some of these kids were just getting their first taste and holding their sticks up overhead, and now we have kids playing in games," Maiorano said. "It's really great to see their progress."
Other critical benefits are exercise and socialization for those who participate.
"A lot of these kids spend a lot of their after school hours in therapy sessions, they're insular, it's just them and their therapists.  We want to provide a program that provides development and social opportunities, we have our therapists to help develop the curriculum which help support these aspects," Dias said. "We're helping with motor skills that they work on in their practices, too. It's like therapy in a way, but there's a social aspect to it and I think that makes our program unique in the special needs community."
The lacrosse program was so successful during the first year that this past fall, with the help of another special needs parent, Melissa Ponzio of Somers, Able Lacrosse rebranded as Able Athletics and started a field hockey program. It recently completed a three-session class held on consecutive Saturdays at the Somers Sports Arena that attracted about 17 children and 40 volunteers.
Ponzio said providing recreational programs for the children is the primary goal, but it's also become a support system for parents.
"As a special needs mom, you have to do a little digging to find a program and sometimes it gets lonely as a special needs parent finding people who really get what your life is like," she said. "You come here and see these parents sitting on the sidelines and they interact with each other."
"It's a different kind of life, and it's nice to connect with families, and for the kids to meet each other as well," added Ponzio, the director of field hockey for Able Athletics.
Active coaches of high school varsity lacrosse and field hockey programs throughout the Westchester and even some from Connecticut serve as the volunteers as do high school athletes in those sports. Eric Ellison, a parent and lacrosse volunteer from Yorktown, said it benefits everyone who is involved – the children who play as well as the high school athletes and adults who lend their time.
"As a coach I brought a bunch of kids here," said Ellison, who is also the parent of a volunteer. "It teaches them some empathy, it teaches them respect, it teaches them to be helpful and to understand that not everybody has the same ability or opportunity that they have and this gives it to the kids who don't have it, and it's a wonderful program."
Currently, Able Athletics offers a third program, wheelchair lacrosse sessions. Lisa Canniff of Yorktown brought her son Lucas, a second-grader, to those classes, which he enjoyed immensely. Lucas survived a blood clot in his spinal cord when he was about a year old, which left him paralyzed from the waist down. Even though there weren't other wheelchair players with field hockey, Able Athletics has given Lucas an enjoyable outlet, so he attended the three-week session.
"This is really an awesome way to get him involved," Canniff said. "We have so many awesome opportunities. He went to a summer camp with his brother because of people we met here. There's just been amazing opportunities."
Another opportunity that will be coming up for Able Athletics during the first weekend in March is a trip with some of its athletes to USA Field Hockey's National Indoor Field Hockey Tournament near Lancaster, Pa., the first time the national organization is offering an adaptive division, Dias said.
The recent field hockey sessions were free because of a donation from the Andrew K. Dwyer Foundation, she said. For the upcoming eight-week lacrosse sessions starting next month, Rippowam Cisqua School in Bedford is donating its space and the Yorktown and Scarsdale High School field hockey programs will be providing its players and coaches for four weeks each. The only charge will be the required $15 membership to support USA Lacrosse, according to Dias.
The best part is the excitement of being part of something that too few of kids with special needs or disabilities get to experience, and Dias is hopeful that Able Athletics can add more sports over time.
"You see these kids thriving, their confidence building," Dias said." They're excited to come. I keep getting messages form parents (saying) my child is so excited to come they've already laid out their uniform."
To learn more Able Athletics, visit www.ableathletics.org.