'No More' Waiting: Hawthorne Man Publishes First Novel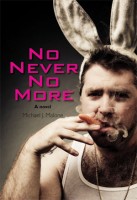 For years, Michael Malone had this unfinished novel sitting in a desk drawer. It bothered him that it remained there for years incomplete.
The Hawthorne resident, who may be best known locally for his "Notes From the Tasting Room" column on the Captain Lawrence Brewing Company website and his Train Jotting blog, was insistent that he finished the job that he started.
With the publishing of his first novel, "No Never No More," last month, Malone avoids being one of the thousands of dreamers who move to New York to become a famous something-or-other while doing everything else to feed themselves. It is the first part of a loosely-connected trilogy that Malone plans to finish publishing in the coming years.
"When I was living in the East Village, everyone was working on a novel," said Malone, whose day job is covering the cable industry for the trade publication Broadcasting and Cable magazine. "It became such a big cliché. That was a good motivator for me. Instead of being another one of those knuckleheads spouting about his great American novel that never gets done, I'm going to get this thing done."
The neighborhood he lived in as a single man before getting married and moving to Westchester provided the push for him to finish the book and served as the inspiration for the story. "No Never No More" is set in the East Village in 1999, with the once hardscrabble working class neighborhood once inhabited by Latino and Ukrainian immigrants being transformed into a playpen for young Wall Street and corporate types awash in bonus money and dot.com riches.
The story centers around an almost 30-year-old man, an associate editor at a trade publication, who grew up in the neighborhood that used to be referred to as Alphabet City and is disillusioned by what he sees. He's dissatisfied with life but he also sets goals for himself to achieve by his 30th birthday.
The character, Declan Coulter, won't even use the term East Village because it represents a trendy, bar hopping scene rather than a place to grow up.
"I just thought it was a fun story," Malone said. "I'm not sure how it came to be. There was a point in my life when I was out and about a lot, spending all my money on Guinness and pierogies and living a lot."
More than a year ago Malone decided to give the book another shot. Early on he had retained two agents but they fell by the wayside without success. Then life got in the way–marriage, a family, the commute into the city.
But Malone started pecking away at the task and eventually finished the work, having it self-published and released in April. He said the story may be more authentic since he had taken a break from it for about a decade because it has the feel of a period piece with a late 1990s New York City setting.
"I found the time (to get it done) because I'm home every night," he said. "I'm not sleeping my day away ad I did as a younger man. So once the kids are in bed I have a couple hours to work. I couldn't do it every night but if my wife is watching "American Idol" it's a perfect opportunity to bang out a couple of hours of work."
Unlike newspaper and magazine reporting–Malone has freelanced for The New York Times, ESPN.com and New York Magazine, among other publications–the novel was a new writing experience for him. He had complete control over which way the story would turn, which can be scary.
For Malone, however, the neighborhood that was a snapshot in time in his life, provided plenty of literary fodder.
"It was just a great place to be," he said. "Walking up and down Avenue A was a great scene and interesting stuff to see. The neighborhood never failed to give me something to write about."
"No Never No More" can be bought on www.amazon.com and at The Village Bookstore in Pleasantville.