No Migrants in Mt. Pleasant; Latimer Proposes Field Immigration Court
News Based on facts, either observed and verified directly by the reporter, or reported and verified from knowledgeable sources.
We are part of The Trust Project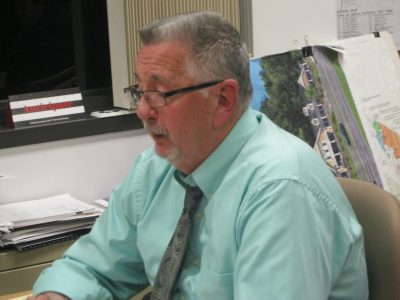 Mount Pleasant Supervisor Carl Fulgenzi has no plans to lift the state of emergency in Mount Pleasant despite the fact that no migrants will be housed at the Pleasantville Cottage School.
Fulgenzi said last week that he was happy to hear that he had received inaccurate information the previous week but he was leaving the emergency declaration in place as a deterrent for other facilities who might be tempted to reach an agreement with New York City or other entities.
He said there are at least a handful of other locations in Mount Pleasant that could conceivably house a fairly significant number of people.
"That's wonderful," Fulgenzi said of the circumstances, "but it's also putting everyone else on notice in the Town of Mount Pleasant that has a facility that could accept them that it is not allowed, whether they are approached or not, this is the town's standing on it. I'd rather be ahead of it, not behind it. Until someone can tell me that the situation is not going to impact the Town of Mount Pleasant, then we'll keep it enforced."
The action was based on what Fulgenzi said he believed to be credible information that he had received.
As of last week, the Ramada Inn in Yonkers remained the only location in Westchester than was housing migrants, said County Executive George Latimer. About 58 units at that facility were being occupied, he said.
Shortly after the emergency declaration was made, the JCCA issued a two-sentence statement debunking any rumors of migrants being housed at their facility, which would violate their license with the state.
"JCCA cares for young people, and our campus is not licensed to house families or single adults," its statement read. "We have no plans to house migrants relocated by Mayor Adams from New York City."
Just before the long Memorial Day weekend, Latimer sent a letter to Alejandro Mayorkas, secretary of Homeland Security, proposing that the federal government establish a field immigration court in Westchester to process any asylum seekers who may come to the area or elsewhere in the Hudson Valley.
He proposed it for White Plains because there is the already existing federal courthouse, which could be used for the proceedings. Retired judges and others with a legal background could be called upon to help reduce the caseload while ensuring a speedy and fair adjudication of cases.
"If the federal government, which has failed to address this issue of immigration, is going to address it forthrightly, then one of the things that we believe they need to do is consider this proposed solution," Latimer said.
In his correspondence with Mayorkas, Latimer also proposed expediting the process of work permits for asylum seekers instead of having people wait for months without a means to being self-sufficient. It is a suggestion he made in previous weeks.
One area immigration advocate gave Latimer a lot of credit for a solutions-focused idea was Neighbors Link Executive Director Carola Bracco said that having an immigration court as well as an expedited work permit process would help both the new arrivals who would learn of their status more quickly while also helping local economies where many jobs are going unfilled.
She called the reaction of looking to slam the door to migrants "shortsighted" from both an economic and humanitarian perspective.
"I think we have a pretty significant labor shortage in our country and in the state of New York, and I think that in addition to the humanitarian aspect of this, I think there's a reasonable opportunity in terms of economic potential," Bracco said.
As of last Thursday, 38 of the 57 counties in the state outside of New York City had declared a state of emergency, including Putnam and Rockland counties. Mount Pleasant joined Fishkill in Dutchess County and Riverhead in Suffolk County as the three towns that have an emergency in effect.