No. Castle Police, Fire Receive $36K for Equipment From Nonprofit
We are part of The Trust Project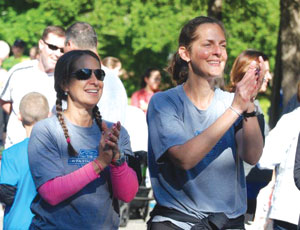 Three years ago Michele Berliner and Christy Saltstein didn't know what the future would hold for their husbands after they were rushed to Northern Westchester Hospital during the worst of Superstorm Sandy.
Now they are helping the emergency responders in and around North Castle who helped save their husbands' lives to do the same for countless others for years to come.
Two weeks ago the two Armonk residents presented $36,500 in checks to the North Castle Police Department and the four fire companies that serve the town through grant requests that had been submitted to their nonprofit organization to pay for critical equipment not included in their budgets.
The money was raised from proceeds collected from the first two years of the Stayin' Alive 5K Fun Run, a road race that Berliner and Saltstein established and have held the past two springs in their Windmill Farm community.
"I think it's been a very gratifying experience and I think that it was a great combination of a lot of work and effort from a lot of different people and just showing the community that it pays off," Berliner said. "It pays off to pull together and that you can make it happen."
Their husbands, Andrew Berliner and Doug Saltstein, were severely injured during Superstorm Sandy when they were struck by a falling utility pole. Not only did emergency service personnel arrive during the storm but so did the North Castle Highway Department to help the first responders navigate any blocked roads. Today both men are doing well despite long recoveries.
The two women, both avid runners, decided to create the Stayin' Alive 5K Fun Run to recognize the town's police and volunteer firefighters and ambulance corps members for risking their own safety that night and to try and benefit the emergency service outfits in the future.
Each of the four fire departments received $5,000 from Stayin' Alive Charity. The Banksville Independent Fire Company and the North White Plains Fire Department will use the money toward the purchase of a Bullard Thermal Imaging Camera, which allows firefighters to view heat in a given area. This helps the responders locate a fire or victims within a building or to find victims at a motor vehicle accident or as part of a large area search effort.
The money will help the Armonk Independent Fire Company buy a Lucas 2 CPR Chest Compression System, to help sudden cardiac arrest victims and improve operations for medical responders. The Thornwood Fire District is acquiring a commercial turnout gear dryer, which ensures that the gear is properly dried to prevent contamination from carcinogens and other toxins.
Meanwhile, the North Castle police received a $16,500 gift of a new high-pressure hydraulic rescue tool, also referred to as the Jaws of Life, which will allow for quicker and safer extrications.
"I think they all did a good job pinpointing a piece of equipment that can be used frequently or in multiple scenarios," Saltstein said.
Grants were dispersed from the first two years simultaneously, Saltstein said, because Stayin' Alive Charity hadn't received its nonprofit status until earlier this year.
Previously, another $20,000 had been donated to the town's emergency services, from money raised by Berliner and Saltstein at the Westchester Running Festival before they held their local race.
At the Oct. 28 North Castle Town Board meeting where the checks were handed to representatives of each department, Supervisor Michael Schiliro lauded the two women for their efforts to benefit their home communities.
"You represent all that's good and I can't thank you enough as a supervisor and as a resident," Schiliro said. "You just do some really good things for the community. You set a great example for all of us."
The third annual Stayin' Alive 5K Fun Run will be held on Saturday, May 14. For more information about the race and the charity, visit www.stayinalive.org. or visit on Facebook at https://www.facebook.com/stayinalivecharity.