No. Castle GOP Chooses Candidate for Special Board Election
We are part of The Trust Project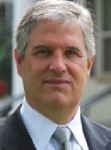 There will be a contested race in this year's North Castle special election after all.
The town's Republican Committee announced over the weekend that planning board member Guy Mezzancello will take on incumbent Jose Berra in November to complete Michael Schiliro's unexpired councilman's term. Schiliro was elected supervisor last fall.
North Castle GOP Chairwoman Anita Cozza said that Mezzancello has been active in the community in various capacities over the years and has the temperament and professional experience to be a strong councilman and interact favorably with the board's other members.
"We wanted to bring someone in who is able to do a good job for the town," Cozza said. "That's what we were looking for, someone who was not out for themselves."
For Mezzancello, 56, vice president of a Hawthorne-based mechanical, electrical and plumbing contractor's firm, this is not his first foray into local politics. In 2009, he came out on the short end of a three-candidate Democratic primary race for supervisor, losing to Becky Kittredge.
Attempts to speak with Mezzancello and Berra on Monday were unsuccessful.
Democratic Committee Co-chairman Barry Malvin said he was somewhat surprised at Mezzancello's candidacy after comments made earlier this month by Cozza stating that the Republicans were still searching for a candidate.
However, Malvin said he was more surprised that Mezzancello, a Democrat, has agreed to accept the Republican's endorsement. After his candidacy in 2009, Mezzancello didn't appear interested in running for office again until now, he said.
Malvin said the Democrats are pleased with Berra's performance since the remainder of the board appointed him in January to fill the vacancy created by Schiliro's ascent to supervisor.
"We're happy to have Jose," Malvin said. "I think he's done a good job and he's been very good in learning his way in government."
Unlike Mezzancello, Berra was unaffiliated at the time he accepted the Democratic nomination for town board last year, an important distinction, Malvin said. Berra has since registered as a Democrat, which will take effect on Jan. 1.
Cozza said that if Mezzancello wins the town will continue to see the collegial atmosphere that has marked this year's board rather than a return to the slash-and-burn politics that have marred recent elections.
"I think we wanted to find somebody to run a clean election," Cozza said. "Last election was kind of dirty. We lost a lot of respect as Republicans."
The winner of November's election would have to run again in 2015 in order to stay in office beyond the end of next year.